---
Accommodation
in Kuala Lumpur
---
All prices are subject to change
"Accommodation in Kuala Lumpur" was last updated on March 03, 2013
Looking for budget rooms in Kuala Lumpur?
To get cheap accommodation in Kuala Lumpur, head for Chinatown! Chinatown is the backpacker territory in Kuala Lumpur.
The usual standard on accommodation in Chinatown is: "You get what you pay for!" So, the lower the price, the shittier.
But then again, you're not traveling to stay in your room 24-7. Many backpackers prefer just a simple base, and that's why the accommodation in Chinatown is perfect!
CLICK ON ONE OF THE PICTURES TO START THE PHOTO GALLERY!
There are of course other areas to stay in Kuala Lumpur. The hostels/guesthouses around Puduraya Bus Station, Little India (just north of Chinatown) and a few budget places in the popular Golden Triangle (east of Chinatown).
But since I only stayed in Chinatown, I have only written about the places I stayed at in this exciting neighborhood of Kuala Lumpur. We also found a good hotel in Chinatown, which matched our expectations!
So, ready to find about Kuala Lumpur accommodation?
Kuala Lumpur Hostels
Backpacker's Travellers Inn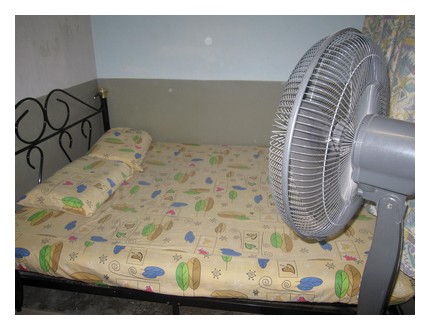 Price per night: RM 12-66 (RM 12 for dorms)
Internet: Yes
Open: 24 hours
Check-out time: Noon
Breakfast included: From 7 am
Backpackers Traveller's Inn is cheap accommodation in Kuala Lumpur!
So if you're on a tight budget, this is one of the few places which have rock-bottom prices! I also think that you're going to enjoy their roof-top bar.
They open the gate in the evening, and travelers from all around the world get together to just chat and drink.
But you do get what you pay for...
The first thing my boyfriend said when we entered our room: "Am I back in the barracks again?" (He has been in the military and that's apparently how barracks look like in Norway...)
Our room was small, had a bed, but no window. That night we were sweating and sweating because of the heavy humidity in KL, but we only had a fan to cool us to down with.. Aaahhh!
But then again, we got what we paid for :-) The social atmosphere make up for the small rooms.
So, where is Backpacker's Travellers Inn located?
Jalan Sultan! Next to Swiss Inn Hotel.
Reggae Guesthouse no. 2
Price per night:
Ordinary dorms/Female dorms: 30 RM
Double room: 90 RM All rooms have shared bathroom/air-con + fan
Internet: Free
Open: 24 hours
Without a doubt, Reggae Guesthouse nr. 2 is my favorite!
During the high season, it's usually full at Reggae. We literally arrived in backpacker's heaven!
Reggae is the type of accommodation in Kuala Lumpur which is rare, because you pay so "little" for an excellent room!
This guesthouse opened in January 2009 and you can clearly see it's new - they have even IKEA furniture, carpets and kitchen accessories. WOW! Our room looked like a hotel room - the bed was neatly tucked, super clean and everything just looked fresh. It was spotless!
It was hard for my boyfriend to leave the room - I had to drag him out of bed...! And we actually had HOT showers! When we woke up in the morning, the nice lady at the reception prepared the breakfast even though we were late for breakfast hours (usually 7 am-9 am). The breakfast was simple, but hey, it's included in the room! While we were watching sports on their flat screen TV, we ate toast with strawberry and blueberry jam and had a cup of black currant tea. Mmmmm...
But...
... the only thing I was confused about was the booking. We called Reggae to book one day before, and the lady in the phone confirmed it.
When we arrived in the night, we accidentally went to Reggae Guesthouse 1. One of the guys who worked there was like:
"Do you have booking?"
I was like: "Of course."
He looked at his computer and just looked at me and frowned. "I don't see you booking!"
I explained him that I called... and he was like:
"You called?! We don't do phone booking, only online booking."
Again, I had to explain that I did call them, and I even showed them their phone number on my cell. On my phone, he saw the number to Reggae Guesthouse nr. 2, and dialed the number on his own mobile.
He spoke loudly into the mouthpiece and I'm guessing that he was reminding the lady who I talked to, that phone booking was not the way to go....
We didn't appreciate his way of welcoming us, but we forgot it the second we stepped into Reggae 2. The staff there was just smiling and there was no hassle!
So, if you want to stay at Reggae, you have to apparently book online!
Where is Reggae Guesthouses located?
You can find Reggae Guesthouse 1 and 2 on Jalan Tun H S Lee. Reggae 1 is much closer to Petaling Market, while Reggae 2 is just 5 minutes down the street.
Oasis Guesthouse
in Kuala Lumpur
Price per night:
12 RM (dorms)
Otherwise rooms range from 20-60 RM.
Some of the rooms have attached bathroom/air-con + fan - 60 RM.
Internet: 2 RM per 30 minutes
Laundry service: Yes
Open: 24 hours
Check-out time: 2 pm
E-mail: oasiskl(at)yahoo(dot)com
We were hauled in from Petaling Street by this local guy, and he took us to Oasis. We already stayed at Reggae and held a pretty "high" standard after that.
Oasis was OK. Our room was OK. By that, I mean that it wouldn't be my first choice of accommodation in Kuala Lumpur. The place is rundown, but the facilities are alright.
The highlight is at the rooftop where all the backpackers gather at night, to play some cards, gossip, watch TV, read a book and just relax.
Coffee and tea is free all day long, and you can cook your own meals at their kitchen.
The staff is just relaxing people: The local youngsters who babysit the reception were just too relaxed if you ask me. They were playing Poker on the internet every time when we went downstairs to pay. Funny guys!
To save money on KL maps, you get one for free at the reception!
Where is Oasis Guesthouse located?
The address is Jalan Petaling street nr 125.
Grocer's Inn
in Kuala Lumpur
Price per night:
Single room/fan: 35 RM
Double room/fan: 40 RM
Double room/air-con/attached bathroom: 60 RM
Dorm: RM 15 per person
Cheap accommodation in Kuala Lumpur - Image credits: grocersinn.com/my
We wanted to stay at Grocer's Inn because it was recommended by Rough Guides, but guess what; it was fully booked when we arrived there on a Saturday!
The Indian guy at the reception told us that it's usually fully booked in the high season (June-August), and especially in the weekends.
So, if you want to stay at this popular place, please book in advance!
How to get to Grocer's Inn?
You can see the big sign of Grocer's Inn from Jalan Sultan, but the entrance is tucked away in an alley on the right side of the building.
If you want to stay here, don't make the same mistake as we did, and book ahead :-)
Return to top of Accommodation in Kuala Lumpur
Good Hotels in Kuala Lumpur
Tired of cramped dorms and want to splurge?
Try: The 5 Elements Hotel
Price per night: RM 170-868 (published rates)
Standard room (for singles) - 150 RM (internet rate)
Deluxe Queen (for couples) - 180 RM (internet rate) The ordinary rate is currently 220 RM for Deluxe Queen (included breakfast).
Check-out time: 2 pm
Indulge yourself in a bit of luxury!
We decided to spend our last night in Malaysia at The 5 Elements Hotel. It was a very nice hotel located on Jalan Sultan, just across the street from Grocer's Inn.
I personally thought that I had died and gone to heaven when I saw our room.
The pictures speak for themselves… The room we got was large, neat and clean with all the typical hotel amenities like: TV, blow dryer, mini bar etc. We couldn't really complain!
The only thing I can put my finger on are the tiles in the bathroom - they were rundown. But who cares, you'll get HOT showers!
Best-rated guesthouses in KL
Here are some other suggestions on where to sleep in Kuala Lumpur. They're all highly rated at Tripadvisor:
Bird Guesthouse: RM 15 (dorm), RM 35 (double room)
Read reviews of Bird Guesthouse at TripAdvisor
The Nest: RM 90 (single room), RM 110 (budget double room)
Read reviews of The Nest at TripAdvisor
Step Inn Guesthouse: RM 15-20 (dorm), RM 65 (AC double room)
Read reviews of Step Inn Guesthouse at TripAdvisor
---
| | |
| --- | --- |
| Further reading: | Like this page? |
Return to top of Accommodation in Kuala Lumpur
---
---