---
Backpacking Packing List 
Gear and Electronics
---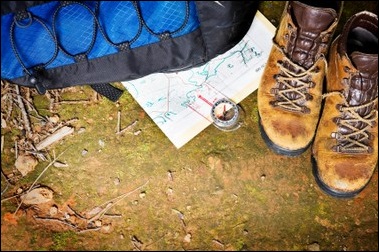 "Backpacking Packing List Gear and Electronics" 
was last updated on April 08, 2012
First, we start with the gear:
What kind of gear you need to bring is not easy. Because there aren't any obvious answers to it.
It all depends on what you actually will do during your trip.
I hate to say this, but, what you've planned in your head before departure, doesn't necessarily mean that you will execute it.
Let's say you've brought your sleeping bag with you, because you have big plans on trekking/staying a long time in the jungle of India.
...But when you get there, you change your mind...
Why you change your mind can be caused by many things. Anything from lack of motivation to bad weather... And you didn't know of these things before you actually got there. Either because you didn't do your homework/made some research before departure, or you just lost the urge to trek that long during your trip.
So, when choosing the right gear for your backpacking trip, 
you should think it through. It will save you weight and frustration.
Note: Ask yourself what the purposes of your backpacking trip is. And answer it honestly.
Essential Backpacking
Gear to Bring
First of all, get:
Laundry bags are essential for dirty clothes. You can use a plastic bag as well, but you can't wash a plastic bag. A laundry bag isolates the smell, and is washable!
For more backpacking essentials, check out my article
Optional:
Tip!
Make sure you don't buy a travel guide, for instance for Cambodia, if you're not going to arrive there until the 2nd or 5th month of your trip.
Books are heavy. I suggest you buy a travel guide locally and sell it when you don't need it anymore. Second hand book shops are available in all major tourist cities and towns.
How do you
choose a backpack?
Your backpack is with you the whole time when traveling for months, or even years. Dare to invest time and money to find the right backpack for you.
Before purchasing a backpack, make sure you sample packs in various sizes and comfort level.
Ask the sales assistant if you can put something in the pack to weigh it down, so you'll get a more realistic idea of how it feels. You can find backpacks for ladies, with a shorter back.
Brands to look for: The North Face, Lowe Alpine, Osprey, Berghaus, Eagle Creek
More about Osprey, Lowe Alpine and Eagle Creek backpacking backpacks
Things to consider
before you buy a backpack:
Instead of digging your arm into the load from the top, unzip the front... and voila, you'll get to the content without sweating a pearl!
Ergonomic support to your back 
Be light in weight 
Waterproof fabric 
The right size
Packs come in different volume capacity: between 30-100 liters. It highly depends on how long you'll be traveling and where you are going (like bush/in cities, or both).
However, the less volume, the better.
I recommend 40-50 liters for 'tropical' trips (mostly beach vacation and easy trekking). I bought a 55 liter for a 4-month trip, and that was one of my biggest mistakes. I could have settled for 40-45 liters.
The rain cover is usually hidden in the top compartment, and you can fold it over your pack. It protects the pack from rain, dust, dirt and thieves. If there's no extra water-proof bag in your chosen backpack, ask the sales assistant if you can purchase one.
The shoulder straps should curve around your shoulders 

The shoulder straps should avoid pressure over the breast, like S-shaped straps. 

The hip belt should sit on your hip bone 

Be able to be secured using a combination padlock 

Warranty (some packs have either standard or life-time warranty)
Return to top of Backpacking Packing List Gear and Electronics
What gear you
DON'T need to bring to Asia:
Bringing a mosquito net to Southeast Asia is in my opinion not necessary. Most guesthouses provide rooms with air-conditioners which mosquitos will avoid because of the temperature. In rooms with no air-conditioner, there is usually a net available in the room.
I brought mine for my first long trip, but I didn't use it all. I was just frustrated about the space it took in my backpack, and it was too expensive to throw away. So I sold it in Bangkok.
I talked to other frustrated backpackers who also brought theirs, but they had no use for it either.
If you're unsure and will feel safe if you bring it, then do it. It's up to you.
On the other hand, if you're backpacking in India on a budget and can't afford nicer rooms, I would recommend to bring a mosquito net.
Many cheap guesthouses don't have a mosquito net. Some places don't state on their websites that mosquito nets are available, but will provide you with one if asked.
My point: Bring a mosquito net for India, but not necessary for Southeast Asia.
Recommendation from one of my readers: 
"Something I have just discovered and like very much is a travel tent from Long Road. It is easy to set up and should be excellent protection.
I always had my own net with me but, being unpractical, I often could not put it up because it was impossible for me to put a hook in the right place. This is self supporting and nasty crawling animals cannot get at me. It's light, too. A great idea." 

- Amei Binns
Sleeping bags take too much space and weight! There is bedding and sheets provided wherever you go.
If necessary, you can buy cheap sleeping bags in the backstreets of Khao San Road and Soi Rambutri in Bangkok. When you're done using it, try to sell it.
I would rather invest my money in cotton travel liners. They're ideal because they protect you against bed bugs and can compensate for filthy sheets.
You don't need a sleeping bag, so you won't need a sleeping pad either!
Most bungalows have a hammock ready for you so why bring it?
If you must have one, buy locally. It's cheaper and you can sell it to others when you're done.
Electronics
Camera + charger
Camera bag 

Cleaning rug for your camera 

Mobile phone + charger
If you are bringing your mobile, be careful with the usage! You won't believe how expensive it is to use mobile phone abroad. 
Instead, buy a SIM-card locally and recharge it when you need it. Phones are good for sms communication with anxious parents and fellow travelers.
It's also handy as an alarm clock.
Don't use it for international calls - instead use a pay phone which is cheaper.
Optional:
iPad + charger
Extra memory card(s) for camera 

Extra batteries for camera 

Tripod 

MP3 player + portable head phones/in-ear earphones 

Charger for MP3 player 
Universal adapter
Whether you should bring an universal adapter, depends on which country you come from, and where you are heading. Click here to find the appropriate plug.
Laptops are heavy and take loads of space. There are internet cafes and guesthouses providing internet in most cities, even smaller places like Pai, Palolem, India and Vang Vieng, Laos.
Need more backpacking tips? Check out our eBooks!
---
| | |
| --- | --- |
| Like this page? | Search this site |
Return to top of Backpacking packing list gear and electronics
---
---