---
Cambodian Art in
Phnom Penh and Siem Reap
---
"Cambodian art" was last updated on April 09, 2012
All information below is subject to change
Interested in art from Cambodia?
First some short Khmer history!
Khmer Art already occurred during the Angkor period - the Angkor Temples are proof of that!
Then during the Khmer Rouge rule (1975-1979), Cambodian culture was forbidden. The proof of Khmer art was destroyed, meaning that the Khmer Rouge killed the artists in Cambodia - approximately 90% of them were slaughtered.
Some of the tradtional arts today are textiles, woodcarving, stone sculpture, painting and silverwork. And some of the art reflects the Cambodia of today.
How can we contribute?
Artists generally get income by selling their beautiful pieces to tourists and from painting commercial signs.
Where you can go and see Khmer art?
Easy!
Travelers who have gone to the Angkor Temples, have seen the art in Cambodia. When you're walking around the Angkor Park, you're witnessing the peak of Cambodia's art and architecture!
Every carving, every Apsara-dancer and every stone is part of the Cambodian art.
If you want to take it to a higher level, talented artists in Cambodia show different aspects of art, whether it's melancholic, or happy paintings! Artists who have been to the West, have mixed both Khmer and Western art-style. Names worth mentioning are Emmanuel Nhean and Monirith Chhea.
Cambodian Art
in Siem Reap
Asasax Art Gallery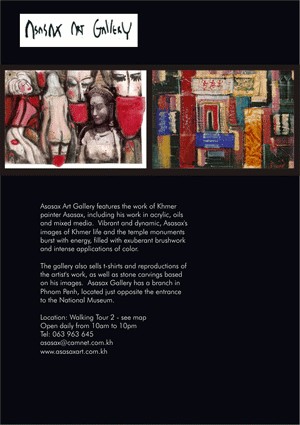 If you're interested in contemporary art, you should visit Asasax art gallery.
Made by a Cambodian artist, explore the Khmer culture displayed in beautiful contemporary paintings and sculptures, especially of Angkor.
The common theme in the paintings is the Angkor Temples, Apsaras and elephants. The artist has explained that colors are "necessary for human life" as "without color, people die" - Ah! Couldn't agree more!
If you consider to purchase a painting from this unique artist, I can tell you that the prices are stiff. But if I was a millionaire I would buy every painting and sculpture at Asasax. I love this kind of art work - it expresses a combination of beauty and sadness, and the colors which are used are just amazing.
Don't worry - you don't have to buy anything when you're visiting Asasax. The gallery itself is still worth a visit, just because of the unique paintings!
Where: When I visited Siem Reap in December 2007, Asasax was located in Pub street. As of April 2010, it was located opposite Sras Srang Baray in Sras Srang village (north side of Nokor Thom district).
| | |
| --- | --- |
| Photo courtesy of www.reyum.or/Asasax | Photo courtesy of www.reyum.or/Asasax |
Happy Painting Gallery
A small shop/gallery with original comic-like paintings, made by a French artist, Stephane Delapree. He brings out the color and fun of Cambodia into his work of happy monks, happy people driving motor bikes, happy lovers, happy fishermen, happy cyclo drivers and their passengers and much more.
Did you know that in a 1995's letter, Norodom Sihanouk, former king of Cambodia, thanked Stephane for his contribution to the contemporary Cambodian art...?
You can also buy postcards, statues, t-shirts etc if you're interested :-)
Where: Pi Thnou street
Website: Happy Painting (orders are accepted outside Cambodia)
All three photos above: photo courtesy of Happy Painting, artist Stef

Colors of Cambodia
In Siem Reap, we stopped by Colors of Cambodia. A unique store filled with paintings and drawings made by Cambodian children and youths, from 5-16 years old.
What is Colors of Cambodia?
It's a project for children attending the most under privileged schools in the Siem Reap area. The staff helps the children by teaching them the skills of drawing and painting, helping students pursuing art as a career goal and supplying materials.
It was created by an artist, William Gentry.
Price: It starts from $ 3
Me and my boyfriend bought two paintings for $ 24, and it felt good giving something to the children :-) They're so talented!
Where: Not far from Red Piano, next to Murky Funky bar
Website: Colors of Cambodia
Art Galleries in Phnom Penh
Colors of Cambodia and Happy Painting is located in Phnom Penh as well, near FCC restaurant on Sisowath Quay. You can also find Happy Painting at the airport in Phnom Penh. Asasax is located near the National Museum.
---
| | |
| --- | --- |
| Further reading: | Like this page? |
Return to top of Cambodian art
---
---