---
Chiang Mai Tattoo,
Beauty Parlors and Dentists
---
"Personal review of a Chiang Mai Tattoo Shop, and info on Beauty Parlors and Dentists"
CLICK ON ONE OF THE PICTURES TO START THE PHOTO GALLERY!
Looking for a place to get a tattoo in Chiang Mai? Or maybe a beauty salon or a barber shop?
Let's start with tattoos: You'll find several tattoo shops in Chiang Mai. If backpackers don't get their tattoos done on the islands in the south, they do it in Bangkok or in Chiang Mai. 
Here's our experiences from Dejavu Tattoo parlor in Chang Mai Thailand.
While I was in Chiang Mai, I got myself three tattoos ;-) You can say that getting tattoos are pretty addictive!
Dejavu Tattoo
At first I was skeptic about getting a tattoo in Thailand, but everything went smooth! Me and my friend went to Déjàvu Tattoo (inside the moat, near Heaven Beach) - here they charge you 2000 B per hour.
Other places charge 2,500 B per hour for custom tattoo designs. 
The tattooists at DejaVu Tattoo are locals who do regulars and bamboo tattoos.
I got three tattoos while I was in Chiang Mai:
Butterfly
Ankle tattoo with stars, moons and leafs
Starfish on my foot
What's a bamboo tattoo 
It means that a tattoo is made by using a thin piece of bamboo with needles attached to it. Bamboo tattoing will usually reduce blood and pain because bamboo artists just puncture your skin.

This also means that your bamboo tattoo will heal faster.

To me, the pain was different from machine tattooing - it felt like a bee was stinging me a hundred times!

But if I had to choose between bamboo or machine, I'd choose the bamboo. I prefer less pain!

I've had this bamboo tattoo since 2007 and it hasn't cracked. This tells a lot about the duration of bamboo tattoos!
My Swedish friend got two beautifully executed tattoos: She already had a tribal tattoo on her left arm, but she wanted to get rid of it. So she wanted to replace it with green leaves - snaking around her arm.
Her second tattoo was more painful - he tattooed some flowers across her back. She's one of strongest people I know of - but I remember that I had to bring her a bottle of Samsong from across the street, so she could sedate the pain. But at the end of the day, she was so happy about it!
I recommend this place because they have a clean studio and professional tattoo artists who can draw for you.
In my opinion, they do excellent work. Compared to the tattoos I got in Norway, their work was flawless.
On top of that, I enjoyed their service - they can give your tattoo that little extra.
If you're interested and want to take a look in their tattoo albums, you can visit their studio on Ratpakinai road.
Open: 1 pm to 1 am (Monday to Sunday)
Here are pictures of the tattoos I got in Chiang Mai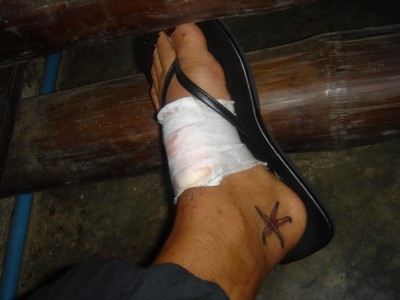 My starfish Chiang Mai tattoo - taken after a bike accident in Pai, Thailand
Butterfly tattoo on my back - one of the tattoo guys drew it for me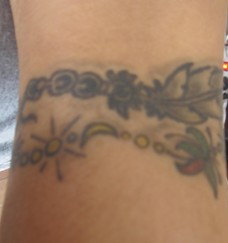 Ankle tattoo with moons and stars (the feather tattoo was made in Norway) - drew it myself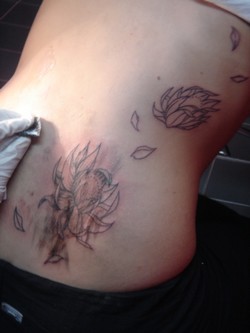 Chiang Mai Tattoo - My friend's tattoo on her back
My Swedish friend was pretty satisfied about this tattoo, even if it hurt like hell. The guys at DejaVu Tattoo are thorough and do a clean job.  
Covering up an old tribal tattoo 
Then the green leaves on her arm
After she got this green tattoo, I remember that backpackers stopped her on the road to tell her how cool it was. I mean come on.. look at it! ;-) They really did a good job covering up the old tribal tattoo. 
After we got the tattoos, we got ourselves a large bucket of Coke and Samsong. We were so tense in our bodies that we had to get some liquor ;-)
Return to top of Chiang Mai tattoo
Beauty parlors, barber shops
and dentists in Chiang Mai
Beauty parlours and barber salons can be found scattered around Chang Mai Thailand. Many of them are inside the moat.
You can get a one-hour Thai massage for 200 B, manicure and pedicure for around 70-80 B. Guys, if you do the shave, shampoo and cut, the rates start from 50-60 B. 
Gals, the salons do regulars like cutting, coloring and trimming. A hair cut cost about 150 B. Chiang Mai also offers fancier salons for the richer customer. On top of the regulars, here you can also get your hair styled.
Dental clinics is not rare in this town as I found at least two dental clinics along Th Moon Muang. I went to a dental clinic and a tooth cleanse for an hour cost me 500 B (now they've raised the price to 600 B). Cleaning with scaling and polishing cost around 1000-1200 B. I also saw another dental clinic advertising for tooth whitening: around 7000-8000 B.
---
| | |
| --- | --- |
| Further reading: | Like this page? |
Return to top of Chiang Mai tattoo
---
---