---
Koh Phi Phi Activities

and
Things to do in Ko Phi Phi

---
"Koh Phi Phi Activities" was last updated on Feb 24, 2013
All information below is subject to change
What activities are there in Ko Phi Phi island?
Ko Phi Phi is not just about tsunami, wild parties and beautiful beaches.
Phi Phi Don and Phi Phi Ley (where Maya beach is located) have a lot to offer backpackers: snorkeling, diving, rock climbing, thai massage, cooking classes, shopping and even hiking and trekking.
Despite the small sizes of the islands, there are a few trails around Phi Phi Don.
If you're not into activities - you can just find a beach and do nothing ;-)
Boat Trip and Snorkeling near Maya Beach
"The Best Snorkeling in Thailand?"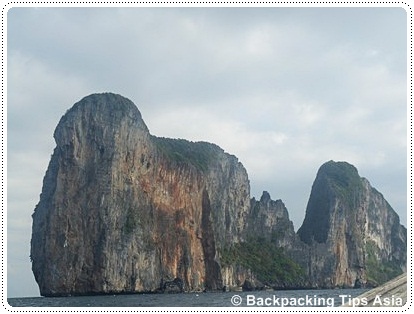 Koh Phi Phi activities: On our way to Maya beach

CLICK ON ONE OF THE PICTURES TO START THE PHOTO GALLERY!
Almost every traveler in Phi Phi do it this way: rent a boat to go snorkeling.
It's way cheaper than doing tours, and you can snorkel and explore the turquoise water around Maya Beach in your own pace.
When is the best time to go snorkeling/diving around Ko Phi Phi islands?
The best visibility is between December and March/April.
Price: It cost 2000 B for the whole trip (we were 6 persons - around 300 B per person). Remember to bargain!
The trip lasted from 03:00 pm to 06:00 pm, and we bought fruit, snacks and drinks for the trip. It took about 30 minutes to get from Lo Dalam beach to Maya beach.
On our way, the wind was strong and we were bouncing on waves. So if you suffer from motion-sickness you should bring tablets just in case.
When we finally arrived near Maya Beach, the driver stopped the engine.
Take a look at this...
Koh Phi Phi activities: The limestone cliffs of Ko Phi Phi islands

You can get off so you can see Maya beach, but we didn't do that.
Since there was an extra fee (200 B) for getting on land, we didn't bother. They charge you this fee because Maya Beach is a protected National Park in Thailand.
Anyway, in our opinion the fun was in the water, not on the beach!
So, we jumped in the water and snorkeled!
The water was incredibly clear - I could actually see the bottom (4-5 meters) while standing in the boat. I saw huge colourful brain corals formed as balloons.
Below the water surface you'll see different types of amazing fish:
Clown/anemone fish, butterfly fish, bannerfish, snappers and other fish types I don't know the names of. The fish swam beneath me, beside me and it tickled! I kept laughing and almost choked on water :-S
After the snorkeling, the driver took us to some cliffs where we could jump off.
Our cool boat driver went cliff-jumping first. I'm afraid of heights so I had to gather some courage to do this.
Me and another traveler chose a cliff that stood 3 meters above the water.
I hesitated at first when I saw how "high" it was. The others told me that this was the moment I had to let go of my fear, and that I had to get a grip of myself..and just jump!
And so I did...twice!
I was so proud of myself after this experience!!!
Definitely worth the trip and probably the best snorkeling in Thailand! :-)
Maya Bay Tours offered camping tours on Maya beach, but this is not available anymore. Now they offer Sleep Aboard-tours and Plankton tours.
Other places to go snorkeling?
Bamboo island (Koh Mai Phai), north of Ko Phi Phi is also famous for its beautiful beaches and snorkeling opportunities. The cheapest way of getting there is to rent a long-tail boat (less than 1600 B for 3-4 hours). You can also arrange camping trips to Bamboo island through travel agents.
Entrance fee to Bamboo island: 200 B
Lo Dalam Beach in
Ko Phi Phi Don

You can do whatever you want on Lo Dalam Beach: Tanning while reading a book, swimming, take a long walk along the beach, snorkeling, kayaking etc.
Koh Phi Phi activities: Lo Dalam beach in the evening

Kayaking is also popular in Ko Phi Phi and starts at 150 B per hour. If you go kayaking, watch out for the currents!
On our way back from Maya Beach, a sporty couple was trying to kayak towards Lo Dalam beach. The currents were too strong for them. They paddled and paddled, but it didn't seem like they were getting any close to the beach. They were just drifting away!
Our boat driver saw this, pulled out a rope and threw it to them so they could tie it to their kayak. The way the couple fought the currents looked very scary!
Diving and Rock-Climbing
If you want to dive, rock-climb or watch sharks, you can arrange this at the many dive- and rock-climbing shops in Ton Sai Village.
I didn't go diving or rock-climbing because I was on a tight budget at that time. So, I don't have any personal recommendations.
But one of the shops that I heard was recommended:
Spidermonkey (rock-climbing)
If you want to find out more, you can check out these reviews of Spider Monkey.
When it comes to diving, you can check out one of these options and find the one that appeals to you:
I can't recommend any specific shops on Ko Phi Phi because I seriously don't remember any names. All I can say is that you don't have to go far before you can see the shops in Ton Sai Village.
From the pier and all the way up to Lo Dalam Beach, you'll see shops and stalls in every corner of the village.
What can you buy there?
Practically everything.
You can find t-shirts, swimming shorts, bikinis, handicrafts, beautiful wooden jewellry, DVDs, CDs, bags, money purses, snorkelling masks, souvenirs, paintings, posters, buttons, dresses.
This is where I bought my green Karana Dry Sack (bag) - excellent for snorkeling and diving trips! These dry sacks come in many colors and sizes: yellow, red, green, blue and black. The most popular brand is Karana Ocean Pack, but there are also cheaper ones available in Tonsai village. Prices for Karana dry bags start from 280 B.
I also noticed some small second-hand shops and boutique shops selling everything from clothing to books.
Relaxation and Tattoo
I had my Thai massage at a small salon 4 minutes from Lo Dalam Beach (if coming from the beach, it's on your right-side near RC Guest House). I only saw a one-way street to the beach, so I hope it's easy for you to locate.
If not, you will have no problems finding other massage places!
The Thai massage cost 300 B per hour and it made me doze off like a baby. Foot massage for an hour also cost 300 B.
When it comes to tattoos, there are many tattoo shops located inside Ton Sai Village. Most artists do regulars and bamboo tattoos. Always shop around for prices.
Before you choose a tattoo artist, always have a look at their portfolio so you get a sense of what you want and if they're the right artists and can complete the work you want.
Here are some suggestions (I haven't tried any tattoo shops in Ko Phi Phi, so these are not personal recommendations):
---
| | |
| --- | --- |
| Further reading: | Like this page? |
Return to top of Koh Phi Phi Activities
---
---