---
Malaysia Islands 
Activities on the
Perhentian Islands
---
"Malaysia islands" was last updated on April 19, 2012 
Prices listed below are subject to change
What kind of activities are there on Perhentian islands in Malaysia?
The Islands of the Eastern Coast - the Perhentians - have activities to offer to suit anyone's taste - whether it's spending your time underwater or taking a stroll in the surrounding jungle!
If you get tired of sunbathing, here are some options of what to do on Perhentian Kecil and Perhentian Besar!
Go snorkeling around
Perhentian Malaysia islands
First, some practical information on snorkeling around Perhentian:
Price: RM 50 (6 hours from 10.30 am to 4.30 pm)
The price doesn't include a lunch at the Fishing Village on the Southern tip of Perhentian Kecil.
What does the price include?
Snorkel, fins, mask, life jacket and a good time!
Where do you go snorkeling?
You will be stopping at five spots: Turtle Point, Fish Garden, Shark Point, Coral Garden, and Turtle Beach.
Every chalet and shop on the Perhentians offers a snorkeling trip around Kecil and Besar. If you don't come to them - they will certainly come to you!
Here's how we experienced it!
We booked a snorkeling trip through Panorama Chalets, and we were four people going snorkeling that day. My boyfriend, me and two sweet French guys.
We got picked up by a local guy who was going to be our boat man for the day. He gave us the equipment we needed, and then we started the journey!
First stop was Turtle Point near Besar.
Our boat man turned off the engine, and was looking for shadows in the water. He told us to get ready to get into the water. If he saw a turtle, we had to get in a second! He warned us that it would be hard to come near a turtle because they're so shy.
Then… he was like: "Go! Go!"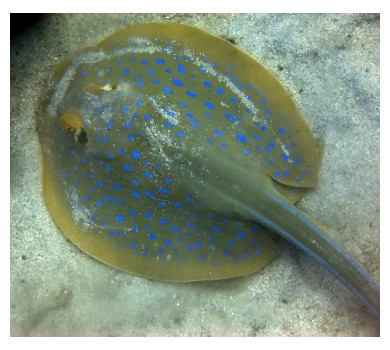 We threw ourselves in the water like soldiers waiting for a command, and once I plunged in, I saw an amazing green turtle (around 1 meter) swimming away from us!
Who can blame it…? I would get the hell out of there if I got ambushed by four humans !
We swam after it, but from a distance. You can't come too close and you can't touch it!
When it disappeared, we got ambushed by stinging sea mosquitoes (or at least the boat man said it was sea mosquitoes). I've encountered these bastards on Koh Pha Ngan (Thailand) before and knew how to handle them - you have to keep swimming!
But my boyfriend got shocked, and I don't blame him - it stings a lot and is very uncomfortable.
I tried to tell him to keep swimming and not just float in the water. But he got water in his mask and got stung - so we just retreated from the water. And it seemed like the French guys were cursing, and couldn't stand the sea mosquitoes either.
Then next stop was Fish Garden!
I really enjoyed this place besides the fact that we had to share it with loads of people. 
There was tons of striped fish swimming around us, and I saw this beautiful squid which I call "Ballerina Squid".
It was in purple and white, and it glittered. It was kind of teasing us because it was dancing in the water, like it was saying: "Look at me! Look at me!" It's so amazing to witness this kind of beauty… in the ocean. 
When we continued deeper into the garden, we saw huge corals. But I'm sorry to say that the corals were dead. Brown and dead. They've lost their life and beautiful colors to pollution and human damage.
I got so provoked when I saw some tourists standing on the corals. I wanted to push them away and yell at them!
NEVER stand on the corals!
Corals are like the ocean's rainforest and many people underestimate their life growth. Most established coral reefs are between 5,000 and 10,000 years old. They provide shelter, food and breeding grounds for numerous ocean species.
If you get tired, lay on your back, take short breaths and FLOAT in the water! Salt water makes you float.
Shark Point was our next stop and we were eager to see some black tip sharks. 
We kept swimming and swimming, and suddenly one was snaking ahead of us.
A couple of minutes later we saw another one! It seemed like the sharks were shy as well - when they saw us, they just fled the scene! Otherwise, there weren't any other fish in the area.
Now it was time for lunch! The boat man took us to a small fishing village, and we were seated at a local restaurant. The food was cheap enough (RM 10-15), so bring some cash!
When we got to Coral Garden (Besar), our boat driver told us that he would be waiting for us at Turtle Beach. We used about an hour to snorkel from Coral Garden to Turtle Beach.
Coral Garden had more colorful corals than Fish Garden. We saw parrot fish in all sizes. The largest we saw was half a meter long - it was so unreal to be close to them! We also saw clown fish and our boat man told us that there were slim chances of seeing a blue spotted sting ray! Wohoo! ;-)
Then we swam over sea cucumbers - some of them were totally black, and some were white with black spots, brownish pink and spiky.
I don't like these creatures (they're ugly) and tried to pull in my stomach, because in my head that would prevent me from getting close to them. I was starting to get tired and was sinking more than usual.
Perhentian Malaysia islands: Dead turtle in Perhentian
More turtles were promised at Turtle Beach. There were supposed to be tiny turtles in buckets, but when we arrived there, they had swum into the ocean the previous night. We got very disappointed….
But Turtle Beach itself was just beautiful and peaceful! White beach and almost no people! And the water was so crystal clear. We took a stroll along the beach, and then our boat man was like: "Come here! Dead turtle!"
The sight of a dead turtle made my stomach turn! There was an awful stench, and flies picking the left-overs. It was so sad.
Our snorkeling trip was over and we were driven back to Long Beach. It was certainly a good day and we got to see a lot of fish, turtles and sharks! THAT made my day! ;-)
Return to top of Malaysia Islands
Diving in the Perhentians
Practical information:
Average price - PADI Open water course: RM 950
Fun Dive: RM 70
Want to go diving in the Perhentians?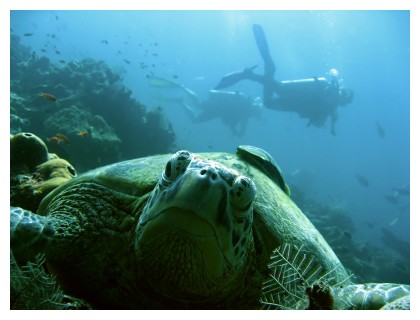 There are numerous shops along Long Beach. You won't have a problem finding one!
My ear drum ruptured in Semporna when we went diving there, so I couldn't try the diving in the Perhentians. So I'm afraid that I don't have any personal recommendations.
But we met some British travelers who just came back from the 
Temple of the Sea (Tokong Laut). And they were like:
"Amanda, if you get to dive here one day, Temple of the Sea is a must!"
The Temple of the Sea is a huge pinnacle and slopes down to a maximum depth of 24 meters.
Apparently they saw lots of those scary barracudas coming out of nowhere, bamboo shark, moray eels, yellow-tail snappers, angel fish, anemone fish, honey comb oysters, scorpion fish, razor fish swimming around the sea fans and much more!
And when it comes to visibility… I asked the British how good the visibility was and they were like:
"You have visibility all the way down!"
This has to be the reason as to why Temple of the Sea is rated as one of the best dive sites on the Perhentian Islands…!
Or you might try to explore the Twin Rocks which are famous for huge bump head parrot fish swimming in large groups (30-40). Other fish to glare at are bat fish, beautiful angel fish and maybe even a turtle.
Why not learn some history and visit the Vietnamese Wreck (Pasir Tani)?
The Vietnamese wreck lies in the Southern tip of the Perhentian Kecil and has a length of 18 meters.
It attracts a lot of marine life such as nudibranch lying on the bottom, snappers, stone fish, and Barracudas swimming around, trying to get some food. At the bottom you might encounter blue-ringed octopus and sea horses.
This wreck once served the Japanese Navy during Second World War. But when the Japanese retreated from Vietnam, it was left behind there.
Vietnamese refugees used it to Malaysia in 1976 so they could seek asylum. They were apparently met by Malay Navy who found unexploded ordinance on-board.
The Malay Navy towed the ship to mainland, but something went wrong because the ship exploded.
Diving Depth: 25 meters
Visibility: Up to 10 meters and currents can be strong at times
Other things to do
on the Perhentians
Explore the jungle side!
If you're staying at Perhentian Kecil, take a taxi boat to Besar to explore the interior jungle! The tropical fauna offers you leaf monkeys, bats, monitor lizards, snakes, butterflies and much more. Some of the trails lead to the neighboring beaches.
Hit the local cafe!
Do it simple: Grab your book and head for Palm Tree Café. They're supposed to have hammocks in the second floor, but when we were there (June 2009) it was closed. Maybe you're more lucky….
Don't be surprised if a large monitor lizard comes crawling in the restaurant you're sitting. It happened to us TWICE - once at Palm Tree and once at Daniel's Café. The largest we saw was 1,5 meter long.
They're basically looking for food, and you might shit in your pants if you see one right next to you.
If you're staying at Panorama, they have hammocks at the back next to where the locals are playing badminton.
Visit Papa Reggae
Perhentian Malaysia islands: Papa Reggae making jewelry
You can't expect any serious shopping at the Perhentians, especially at Kecil. At Long Beach, we noticed Papa Reggae (near Panorama) sitting at his booth making beautiful jewelry!
He makes hand-made bracelets and necklaces with different pendants like shells, seeds, light wood and stones, most of them with macramé style.
I bought a very nice ankle bracelet with a wooden sea horse pendant for RM 25. And my boyfriend found a nice "guy's" necklace and paid RM 25 as well. He has worn this necklace every day since our visit in 2009.
Otherwise, you can get necklaces for RM 120 (a bit stiff… :S)
A decent shop at Long Beach was the one between Matahari Chalets and Panorama. Here they sell swim wear, second-hand pocket books, cool t-shirts, Aladdin pants, jewelry, (worn-out) postcards and sun screens (mind the expiration date!)
Otherwise there are souvenir shops by the shoreline (RM 5-6).
Two of them are next to Daniel's Café. Here you can buy daily items like shampo, sun-lotion (Coppertone brand around RM 32), basic medical stuff like stomach pills, painkillers, antiseptic cream and band-aids.
If you forgot your underwater camera, they sell that as well - I think it cost around RM 140 for the most expensive ones. Other items they sell are dresses, beach entertainment like Frisbee and ping pong, snorkeling equipment, postcards, jewelry etc.
Get a massage
Probably the only place on Long Beach where you can get a massage is at Bubu's. Prices range from RM 80-90 (RM 90 for Thai massage) and you have to go to Bubu's counter to book an hour.
More sunbathing on Perhentian Malaysia islands
Sunbath! But don't underestimate the sun - it is strong during midday and afternoon. If you can't handle the sun, seek shadow under the palms or rent a beach umbrella (RM 10).
---
| | |
| --- | --- |
| Further reading: | Like this page? |
Return to top of Malaysia Islands
---
---