---
Pakse Hotels and Guesthouses -
Reviews and Recommendations
---
Last updated on Dec 17, 2013
All information below is subject to change
Want to visit the Bolaven Plateau, and looking for a place to stay in Pakse?
Most of the guesthouses and cheap hotels in Pakse are located in the Northern part of town.
When I visited Pakse in November 2007, I only stayed at Lankham Hotel.
Since my Australian travel companion was bragging about her stay at Tad Fan Resort, I had to write something about it as well.
I've also written about Sabaidy 2 Guesthouse - where I met many travelers, and whom I ended up with at Bolaven Plateau.
Here they are :)
Lankham Hotel
Looking for a cheap hotel in Pakse?
Try Lankham Hotel - located in the heart of Pakse center!
Price per night: from $ 8
Double and twin rooms with fan cost $ 8. A standard AC-room cost $ 13, the deluxe room cost $ 19.
My double room was nice, clean and spacious with attached bathroom. It came with hot water, TV and air-con. It's pretty decent for a hotel in touristy Pakse.

Downstairs, you can rent bikes for trips to Bolaven Plateau, which my fellowship to Bolaven did by the way, and it was effortless.
You'll find an internet cafe on the right side of the entrance. OK internet access (slow connection at times).
A visit to their restaurant just outside the hotel is also recommended. It was mostly locals who ate here and the prices reflected that. Their noodle soup was cheap and good ($ 0,5-2).
Where: Lankham is located on Road 13
Tad Fane Resort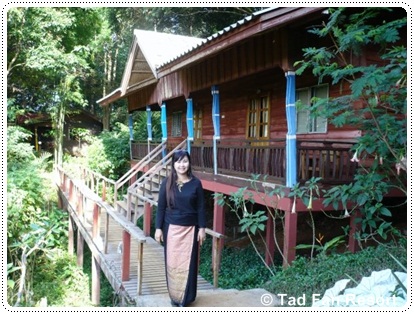 Tad Fane Resort is located by the incredible Tad Fan Waterfall!
Price per night: $ 31-40
I didn't stay here, but my Australian friends did! They spent one week at Tad Fan Resort, and enjoyed their bungalow overlooking the waterfall!
They have simple and clean bungalows. Just imagine yourself drinking Lao tea while enjoying the view, with the sounds of the waterfall in the background.
All the rooms have their own bathroom and hot water.
The staff at Tad Fan Resort offers hikes to the nearby villages, which are located on the way to Paksong. On top of that they also arrange tours to waterfalls, and white water trips.
Sabaidy 2 Guesthouse
Price per night: $4 (dorm), $6-12 for rooms
While I was visiting Pakse, I got to know travelers who stayed at Sabaidy 2 Guesthouse. They were from Switzerland and Germany - and they all had the same goal as me – visit the Bolaven Plateau.
I asked them about the rooms at Sabaidy because I considered switching accommodation from Lankham Hotel.
"Basic, clean and OK – was the answer I got."
The dorms are the cheapest you can get in Pakse, and probably one of the few ones you'll find in this town.
They arrange trips to the Bolaven Plateau, but it's expensive. It's much better to rent a bike and tour the area by yourself.
Where: Find Adam's Internet on the main road, and from there walk right. Take your first right and walk two blocks.
Nicely rated accommodation
in Pakse
Looking for other rooms in Pakse? Here are some other suggestions:
Ban E-Tu Waterfall Resort: from $10 per night
Read reviews of Ban E-Tu Waterfall Resort at TripAdvisor
Pakse Hotel: from 200,000 kip per night
Read reviews of Pakse Hotel at TripAdvisor
Champasak Palace Hotel: from $23 per night
Read reviews of Champasak Palace Hotel at TripAdvisor
---
| | |
| --- | --- |
| Further reading: | Like this page? |
---
---