---
Seoul Nightlife
---
"An introduction to nightlife in Seoul, 
especially Hongdae district"
"Seoul Nightlife" was last updated on April 01, 2012 
All information below is subject to change
What I love about Seoul is the nightlife!
Hongdae is the place to go if you want to get cheap drinks, and shake your ass to awesome music. Hongdae is the university district, and therefore a regular place for young Koreans to go clubbing and drinking.
It's very common to go bar-to-bar in Hongdae. You can choose from larger nightclubs to small, cozy bars/pubs. I just love it!
In Hongdae, you'll find an array of nightclubs playing anything from hip-top to electronic.
But don't let this clubbing district of Hongdae fool you, because you can also find flea markets and artistic work from local Koreans. Not to be missed!
Kangnam/Gangnam is also a 'party district', but I personally didn't enjoy partying here because of the type of people hanging out here.
I've talked to many of my Korean friends who also don't appreciate clubbing in Gangnam.
But these are our subjective opinions, and I can't force them on you. Try partying in Gangnam, and then make an opinion for yourself ;-)
So, what about alcohol prices in Seoul?
The prices for drinks vary from district to district, and from place to place. For more information, continue reading ;-)
I've partied a lot in Seoul. The places below are the ones I remember the names of. I went to a lot of smaller bars, but frankly when you've been drinking and having a good time, the name of a place isn't the first that comes to mind.
Enjoy this article, 
Anna
Mama Gorilla/Mama G.
I often went to Mama Gorilla because it's a really cool nightclub, where admission is free for foreign girls (like me) ;-)
Here you can shake your ass to the latest pop music! The people clubbing at Mama G. are a variation of locals and foreigners. You feel like you want to dance all the time because the music is so good and people around you are having a good time.
So how much is it for drinks? Thought you would ask :-) Most drinks at Mama G. cost 5000 won.
Korean beer: 3000 won 
6 tequila shots: 3000 won 
Gin tonic or rum coke: 4000 won 
Jaeger Bomb: 5000 won 
Bucket cocktail: 10,000 won 
Corona, Heineken: 5000 won
These Korean buckets are just like the ones in Thailand. You share a bucket with loads of people and it gets wild.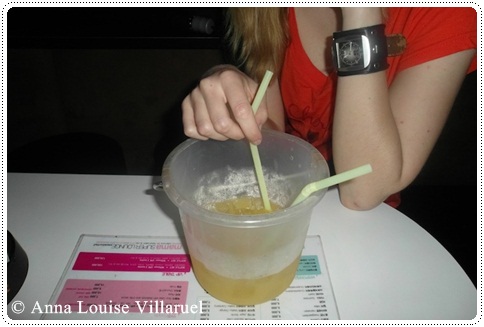 Where: Hongdae district
Admission: Admission for foreigner guys is 5000 won.
Margarita Splash
in Seoul
Get giant cocktails at Margarita Splash!
One of my Korean friends recommended this place. On a hot July evening, we went to Margarita Splash and I must say their drinks are really good. You can choose between different flavors, and the strawberry margarita is mind-blowing. I had a good time here, and frankly I got a little too much ;-)
When we stepped out of the bar with tube drinks in our hands, people on the streets stopped and asked us where we got these giant cocktails!
---
Photo left: Drinks at Margarita Splash

Photo right: Me with giant drinks
---
For drinks at Margarita Splash, expect to pay around 5000-7000 won, bucket drinks for 12.000 won, 10.000 won for pitches of margarita and beer price starts from 3000 won.
Where: Hongdae district
Ho Bar in Seoul
Don't get intimidated by the name! Ho Bar is a chain bar in South Korea, so you'll find them everywhere in Seoul.
They have good drinks, and it's a good place to meet fellow travelers. I met a lot of cool people here and we went partying all night. You can just sit on their bar chairs, chat with Koreans or dance to electronic music.
Where: Everywhere in Seoul
---
| | |
| --- | --- |
| Further reading: | Like this page? |
Return to top of Seoul nightlife
---
---