---
Sihanoukville Restaurants -
Reviews and Recommendations
for Serendipity beach
---
Last updated on Jan 11, 2014
All information below is subject to change
Most travelers in Sihanoukville eat at their guesthouse or the bungalow's restaurant. It's convenient, faster and sometimes cheaper.
But if you want to try something new, just take a stroll along Serendipity beach. Many restaurants are parked right on the beach, offering a relaxing and beautiful ocean view and cool breeze to dry the clamminess. This is a great place to sit when it's hot and humid, and even better around sunset ;-)
More restaurants and cafes can be found on the road to Serendipity, and in downtown Sihanoukville. Here's some of the food we tried!
The Restaurant at Coasters
Since we stayed at Coasters, we ate a lot at their restaurant. We sampled different Cambodian dishes, and they were delicious, especially their mee char noodles with vegetables and chicken (stir fried egg noodles).
Mee char noodles: $4.50
One night I tried their Amok fish (steamed curried fish, packed in banana leaf). I loved the coconut taste and the hint of chilli and ginger. A great and popular dish in Cambodia, but at Coasters the portion was too big. I couldn't finish it up, hehe!
Amok fish: $5.50
They sell Anchor, Lao and Tiger beer.
How about Western food at Coasters?
Ehm, I would not eat Western food here. I would rather eat at New Sea View Villa which is known for serving tasty Western food. My boyfriend tried the Coasters pizza, and it looked like it drowned in cheese. But we can't actually expect Khmer people to handle Western-cooking as well as their Khmer-cooking, now can we…?
Escape Gourmet Coffee

Right next to Utopia, you'll find the café Escape. Escape was our favorite place in Serendipity because they had alright coffee and the best spring rolls I've ever tasted! I even dare to say that their spring rolls is almost as good as Filipino rolls :-)
Espresso: $1
Vietnamese, Lao and Cambodian coffee: $1.25
Iced coffee: $1.75
And my boyfriend tried their fried rice with vegetables, convincing them to throw in some pineapple. It was very good!
What drew our attention in the first place was that they sold cookies and ice cold slushes (50 cents). Their chocolate chips ($1.25) are probably the closest you can get to real cookies in Sihanoukville :-P
Return to top of Sihanoukville restaurants

Movie and a Pizza?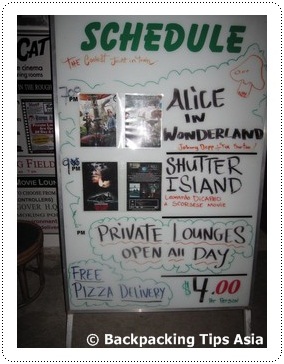 On the road to Serendipity and close to the roundabout, I noticed a sign where they advertised for "private movie lounges."
Without knowing what this place is all about, I guess it bears the same concept as the private lounges in Thailand where you can hire a room, and order food so you can eat and watch a movie!
When we were there in April 2010, they played the brilliant "Shutter Island" and "Alice in Wonderland".
Price: $4 per person
Food stalls and Minimarts
There are a couple of minimarts on the road to Serendipity beach, and food vendors selling drinks (coke can: 2000 riel) and grilled seafood.
To save money, you should buy your alcohol and snacks at the minimarts on the road to Serendipity or eat at the food stalls in downtown Sihanoukville. The trip is only a bike or moped away!
Prices for some basic stuff at the minimarts on the road to Serendipity:
Small bottle of water: $0.25, big bottle water: $1 (depends on brand)
Singha can: $1.25
Anchor beer can: $0.75
Soda drinks: $1.25
Small bag of potato chips: $0.75
Painkillers: $1.50
Antiseptic liquid: $1-1,5
Cheapest toothbrush: $0.50
Listerine: $1.80
Sun screen Nivea: $6.95
Gillette razor: $2
5 disposable razor blades: $2
Marlboro cigarettes: $1.25
---
---
| | |
| --- | --- |
| Further reading: | Like this page? |
Return to top of Sihanoukville restaurants

---
---