---
Things to do in Cambodia
Battambang
---
"Reviews of Wat Banan, Bamboo Train, the Circus and the shopping in Battambang"
"Things to do in Cambodia: Battambang" was last updated on May 10, 2013
CLICK ON ONE OF THE PICTURES TO START THE PHOTO GALLERY!
So, what are the things to do in Battambang? :-)
Battambang is best known for Killing Caves, also known as Phnom Sampeau, and Wat Banan.
The day trip to Wat Banan and Phnom Sampeau is exciting and inexpensive. Tuk-tuk to the sites cost around $ 10-12 (includes return trip).
The driver was also my guide for the day - he was very nice, patient and told me about the history of Phnom Sampeau and Wat Banan.
On the way to Wat Banan and Killing Caves, you'll pass the beautiful countryside. You get to see farmer wives in action, and Cambodian peasants in rural Battambang.
95% of all roads are bumpy and dusty, so watch out. Along the road, stop by cock fights if you want. Taking the Bamboo train is also a must.
Here we go! :)
Wat Banan and
Phnom Sampeau

Things to do in Cambodia Battambang: Wat Banan
Admission: $ 2
If you buy a ticket at either Wat Banan, Phnom Sampeau or Wat Ek Phnom, the ticket is valid the whole day at the other two locations.

Climb 358 steps to Wat Banan and watch the stunning view of Battambang area!
At the top, you'll find the temple version of Angkor Wat. Notice that the heads of the holy statues are removed. The guide told me that sneaky people removed the heads so they could sell it abroad. They apparantly got a lot of money for it. So much for respect of their cultural heritage.
(Illegal) Cock Fights
During the day, my driver asked if I wanted to see 'chickens'. I didn't know what he was talking about, but said yes.
I'm against animal cruelty, but I still had to see what it was all about. Khmer men, young and old, were standing around in a circle shouting while eagerly waving riel money in their hands.
In the middle of the circle, there were two roosters trying to strangle each other by wrapping their necks. The men kept shouting and my stomach turned. It was too awful to watch, and we left after two minutes.
I mean, come on, what happened to gambling with cards? Isn't that enough? Why involve animals?
The tradition of cockfighting is old and is believed to have roots all the way to Angkorian period, for instance angry cocks are carved into the stone of Bayon temple. Cockfighting is still very popular in rural Cambodia.

Bamboo Train
in Battambang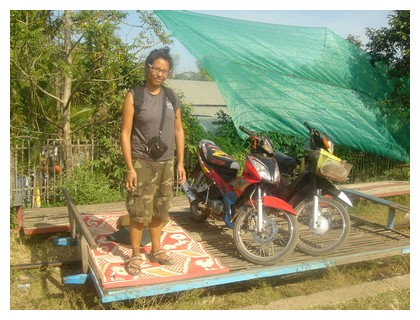 I'm ready for the Bamboo Train!!! - Things to do in Cambodia Battambang
On your way back to Battambang, try the famous Bamboo train.
Price: $ 5 per person

Bamboo train is explained in the Lonely Planet: a bamboo platform on steel wheels. Since the bamboo train runs on a single-track line, you have to go on and off the platform at least 2 times along the road when a train in the opposite direction is coming.
Apart from the on-and-off ride, it was fun to ride on it and my adrenaline pumped. But it wasn't comfortable to sit straight on the bamboo. The rails were broken at certain places, and our asses could feel the bumps. Ouch!
Unfortunately, the bamboo trains will be banned when the rail line to Phnom Pennh is upgraded.

What should you bring for the day trip?
A bottle of water, sunglasses, sunscreen, good walking sandals and a good map if you're driving by yourself.
There's no need to bring your own food because there are several local restaurants by the entrance to Phnom Sapeau and Wat Banan.
If you're riding on a bike, bring a scarf to cover your mouth while driving. There are loads of dusty roads around Battambang.
Cambodian Circus
in Battambang
Things to do in Cambodia Battambang: Cambodian Circus
The Khmer Circus I saw was performed by the Troup of the Cambodian NGO of circus school Phare Ponleu Selpak.
If you want a real Khmer experience, you should try the Khmer Circus!
Khmer Circus is not an ordinary circus like the ones you're usually familiar with. Like, with clowns, elephants and jugglers. They do the juggling too, but the entertainment acts are completely different when you have the Khmer dancing, Khmer costumes and Khmer music in Khmer surroundings.
The circus played by a funny love story, I think (don't understand Khmer, but their body language said so). You'll watch impressive chair pyramids, trapeze, fire shows, bike stunts and juggling performed by young, athletic and handsome Khmer locals.
It's heart-warming to watch the audience.
Most of them are adorable Khmer children, laughing loud while they're sucking their candies. It's just great to see the happy side of Cambodia, especially after you've visited the Tuol Sleng Genocide Museum and the Killing Fields.
So, enjoy! :-)
Price: $ 10 per person (adult) and $ 5 for children.

When: the event starts at 18.15 with a visual art exhibition, and the circus show starts at 19.00.

Watch my personal video clip from the circus performance:
Where to shop
in Battambang
Battambang is still a very cheap town to shop in. The prices are not inflated like they are in Siem Reap.
At the Phsar Nat Central Market, you'll find clothing, shoes, toys, cosmetics, household articles and so much more. Like most towns in Southeast Asia, they sell beautiful silk scarves in all colors. Perfect as gifts.
They also sell food: fresh fruit, vegetables, sticky rice and the famous fried insects.
Otherwise there are only a few shops around town. In the center of Battambang, I saw mostly tailor shops.
---
| | |
| --- | --- |
| Further reading: | Like this page? |
Return to top of Things to do in Cambodia
---
---