---
Partying in Vang Vieng
Laos
---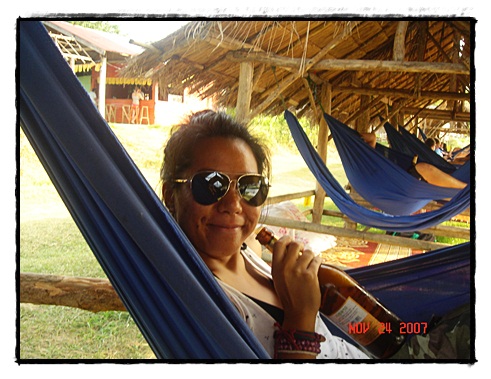 "Nightlife in Vang Vieng Laos" was last updated on May 11, 2013 
All information below is subject to change
Now, where are the parties and bars in Vang Vieng?
I got to disappoint you. Vang Vieng is no longer the party place that it used to be. Read more about the police crackdown below. Bars in town are now closing around midnight. 
Bars are scattered along the Main road, and on the side streets of Main road.
Prices for alcohol and tobacco:
Lao Lao buckets: 10.000-30.000 kip
Vodka buckets: 40.000 kip
Beer Lao (small): 8000 kip
Shooters: 25.000 kip
Cigarettes: 15.000 kip
Illegal bars used to roam along the Nam Song river, but after the police crackdown in summer 2012, there are no illegal bars available for travelers who go tubing on the river. Not a single one. 
They wanted to clean out the drugs, alcohol and crazy games, which has resulted in less interest in tubing. Hallucinogenic mushrooms in cocktails were common and it resulted in several tourist deaths, which doesn't exactly put Vang Vieng in a good light. In 2011, there were 27 backpacker deaths. They either drowned or died by head injuries. Trust me, the parties here were wild. 
Sakura Café

Lay down on Laotian floor pillows where you can chill and have a Lao beer, while listening to a local music band.
Party drinks and deals at Sakura Cafe:
What drinks do they serve: Lao beer, Heineken, Carlsberg, dark Beer Laos, red and white wine.
Buckets: It's not only in Thailand you get alcohol buckets.
At Sakura, you can choose between whiskey/coke, gin tonic/Lao mojito.
Happy Hour for beer from 9 am (crazy!) to 8 pm every day. Buy 2 Cocktails and get the 3rd for free - NICE!
They also have a large movie screen. But they didn't have many movies to choose from, and the movie quality wasn't the best. You could see that the movie was recorded with a video camera.
On the other hand, they get a plus for the relaxed atmosphere, the large space and the cool warm interior!
What else? Sakura offers also dorms at less than $2 per night.
Return to top of Vang Vieng Laos Nightlife
Smile Bar
(Don Khang Island)
Note: Smile Bar was closed as part of the police crackdown on illegal bars in Vang Vieng. 
Want to lay in hammocks right by the Nam Song River?
This is the place to go!
Many travelers spend their lazy afternoons in the hammocks at Smile Bar, eating, drinking, sunbathing, swimming, eating more.
While you're laying in a hammock, eat delicious grilled pork/chicken/fish and drink cold Lao beer. Or take a swim in the refreshing river. It's the place to go if you just want to hang out, and do nothing.
To get there, you have to cross a long bamboo bridge over to Don Khang Island.
Did you know that...
... they have "Special" drinks at bars and restaurants. If they have "special drinks or food" on your menu, it`s likely drugged...
Before coming to Vang Vieng, I heard and read about weed, mushroom and opium being mixed in drinks. I didn't believe it until I actually saw it for myself on the menus.
When I went tubing, some of the bars I stopped by, had these menus. They had like opium tea and opium shake. It cost like 50.000-70.000 Kip. They even sprinkle some in your food, like mushroom pizzas.
If you get caught by the local police, there's a $ 500-1000 fine!
Update May 11, 2013: There are no illegal bars selling drugs in Vang Vieng anymore due to the police crackdown in summer 2012. 
---
---
| | |
| --- | --- |
| Like this page? | Search this site |
Return to top of Vang Vieng Laos Nightlife
---
---
---
---
---