---
How to get to
Koh Pha Ngan, Thailand
---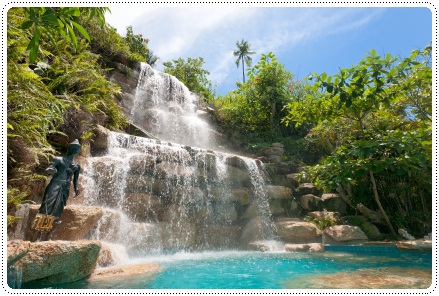 Last updated on Nov 14, 2013
All information below is subject to change

Koh Pha Ngan is a paradise known for its beautiful white sand beaches, endless nights and wild moon parties!
So let's face it, 99% of all backpackers travel here to experience the moon parties.
A common sight is that travelers party all night, and sunbath during the day, curse that they got sunburned because they passed out on the beach, THEN they party again! ;-)
Koh Phangan is also a good place for backpacker couples - this island has several romantic spots like Thong Nai Pan and Had Yao.
What's more romantic than having your dinner right on the beach, watching the amazing sunset?
Occasionally you'll also notice the hippies who have been to Koh Pha Ngan a couple of times before, who return because of the relaxed atmosphere.

My point: Whatever your purpose it is, Koh Pha Ngan has it all!
The island has a unbelievable gorgeous scenery and there's no shortage of cool activities! You can find all sorts of accommodation in Ko Phangan!
Flights to Koh Pha Ngan
There's no airport on Koh Phangan, only on the neighboring island of Koh Samui. There's also an airport in Surat Thani, the harbor town nearest Koh Samui and Phangan.
Cheap flights to Koh Samui/Surat Thani:
By ferry, it takes less an hour from Koh Samui to Koh Phangan (ex: with Lomprayah High Speed Catamaran).
For more information on Lomprayah ferries, visit their website (opens in a new window)
How to get to Koh Phangan -
by bus, train and ferry
From Bangkok:

You can either take the bus or train from Bangkok to either Chumphon or Surat Thani. Buy the combined train and ferry ticket at Hualamphong station in Bangkok. The Surat Thani railway station is located 14 km from Surat Thani downtown, where buses will be waiting for you. The bus will then drive to Don Sak ferry terminal (the bus is included in the combined ticket). 

Many travelers use Lomprayah's services (Lomprayah offers bus and ferry to the island) to get to the islands of Koh Phangan, Koh Tao and Koh Samui.
There are several ferry companies of course, like Songserm express, Seatran Discovery etc.
How to get to Chumphon - You'll be redirected to "How to get to Koh Tao". The link opens in a new window.
In May 2010, we bought tickets from Koh Phangan to Bangkok through Lomprayah.
Review of Lomprayah (Koh Pha Ngan to Bangkok)

Price: 1200 B (including ferry to Chumphon and bus to Bangkok)
Time: The ferry left Koh Phangan at 08.30 am and the trip to Bangkok (Khao san road) took 12 hours. Another ferry leaves at 13.00 from Koh Pha Ngan to Chumphon.
The ferry ride from Phangan to Chumphon was supposed to be comfortable, but we had to sit on the floor for one whole hour. That hour was literally just a pain in the ass. The ferry was packed with backpackers and tourists. These tourists were heading to Nangyuan island (the ferry takes a pit stop there before Chumphon) and were occupying 80% of the seats.
A lot of people had to sit on the floor. I don't pay 1200 B to sit on the floor!!!
In these situations it would logic to put up TWO ferries, and not just one!
When the tourists hopped on Nangyuan, the ferry was suddenly empty again.
Arriving at Chumphon pier we had to wait for 1,5 hour before the large VIP-buses took us to Bangkok. When arriving at the pier you need to redeem your ticket and get color stickers.
Each bus is divided into colors. If your sticker color is yellow, get on the "yellow" bus. You get one sticker to put on your shirt and one sticker for the backpack.
When we arrived in Bangkok, they dropped us off near Khao san road, arriving exactly after 12 hours.
Lomprayah's VIP-buses aren't comfortable; hard seats, no leg room and some woman's plant was bumping into my face during the entire trip. We didn't get any refreshments either which I'm used to when taking the government buses in Thailand.
I personally don't think that my 1200 B was worth the money. The next time I would use Chokeanan Tours.

From Koh Phangan to
Koh Tao/Koh Samui islands

If you decide to take Lomprayah from Koh Phangan to Koh Tao or Koh Samui, these are the hours:
Important places to know about:
Police station up the Ban Chaloaklam Rd from Thong Sala.
Medical clinic in Had Rin called Bandon Inter Clinic (24 hours medical services), close to the pier. Koh Samui has better medical services, so if it's necessary you'll be transferred here.
ATMs and banks in Thong Sala and Had Rin.
Post office near the pier.
You can rent bikes in Had Rin. Price: 200 B per day.
You'll usually get internet access at the bungalow/resort you're staying at. Otherwise, there are loads of internet shops in Had Rin. Many travel agencies have internet access as well.
---
| | |
| --- | --- |
| Further reading: | Like this page? |
---
---