---
Getting to Koh Wai and Koh Mak
and accommodation on the islands

---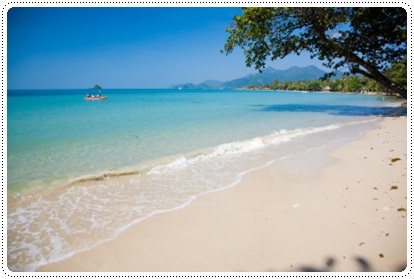 Last updated on Dec 15, 2013
All information below is subject to change
If you want quieter island options in east Thailand, you should stay at Koh Mak and Wai island. There are no roads and fewer tourists come here, but how long it will remain quiet, is unknown.
The reason why you will find more privacy on these islands, is that they're privately owned.
Koh Mak though has in the past few years become more developed. Another island near Koh Chang called Koh Kod, is also changing.

The prices for accommodation can be expensive at some places (up to 4500 B), but you can get basic huts as low as 150 B.
There aren't many restaurants and bars on Wai island. So if you're a party-person, Koh Wai might not suit your taste.
I personally enjoyed Koh Mak and its crystal clear water a lot better than Wai island. It also felt a lot more relaxing.
Map of Koh Mak: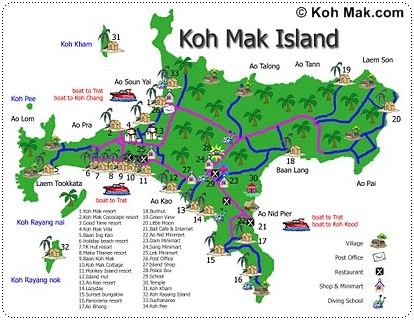 Map of Koh Wai:

How to get to the islands
If you're just interested in a day trip to Koh Mak and Koh Wai, several resorts and bungalows on Koh Chang arrange boat trips to these islands.
Snorkeling tours from Ko Chang island usually includes snorkeling around these islands as well.
Koh Mak

From mainland: boats for Koh Mak leave from two piers; from Laem Ngop (Krom Luang pier, 20 km from Trat) and Laem Sok (Laem Sok pier, about 25 km from Trat). Laem Sok is located south of Trat.

From Ko Chang island: From Koh Chang, it's pretty straightforward.
Koh Mak is located 20 km from Koh Chang, and can be reached by (slower) wooden boats and speed boats.
Hop on a wooden boat from Ko Chang's Bang Bao pier to Koh Mak's Ao Soun Yai pier. The boat departs at 09.00 am and the ride takes 2 hours.
Price one-way: 400 B
Speed boats from Koh Chang leave Kai Bae pier (Kai Bae beach) at 09.00 am (1 hour and ticket price is 550 B).

Have in mind that there are no boats from Koh Chang to Koh Mak in the low/rain season, usually from June to October.

From Koh Kod: speed boats leave between 10.00 am and 12.00 am from most Koh Kood piers, and it takes 1 hour to Koh Mak (400 B).
Wai island

The island is located 6 km from Ko Chang.
From mainland: See section above on how to get to Koh Mak. The final destination is Koh Mak, stopping by Wai island on the way.

From Ko Chang island: See section above on how to get to Koh Mak.

Speed boats from Koh Chang leave Kai Bae pier (30 minutes, 400 B).

Accommodation on
Koh Mak
Suchanaree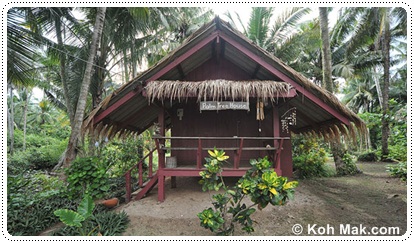 Price per night: 700 B
If you want a peaceful place to stay on Koh Mak, Suchanaree is a good spot. They have simple bungalows with fan and attached bathroom right on the beach.
Where: Ao Suan Yai Beach
Baan Ing Kao Bungalows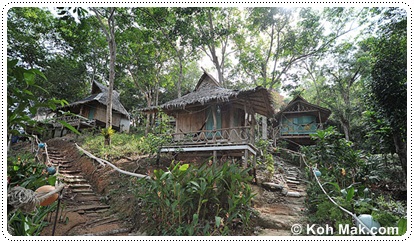 Price per night: 350-450 B (small room/large room)

This is where you get some of the cheapest bungalows on Koh Mak island!
Simple bungalows with either fan or air-con. All have attached bathrooms, and bungalows come with hammocks.
If you want to snorkel, Bang Ing Kao arranges trips to the islands near by!
Where: Ao Khao beach

Read reviews of Baan Ing Kao Bungalows at TripAdvisor
Island Huts
Price per night: from 150 B
Find spartan-basic huts with hammocks right on the shoreline. And they have a restaurant where they serve local dishes at reasonable prices.
Where: Ao Khao beach

Accommodation on Wai
Pakarang (Coral) Resort
Price per night: 600-2500 B
This resort is probably the nicest one on the island because it has comfortable, clean and solid bungalows overlooking the ocean.
The bungalows with fan are the cheapest ones, and all of them have attached bathrooms.
Nice option for flashpackers!
Good Feeling

Price per night: 300 B
Good Feeling is known for its seaside bungalows, excellent sea food and friendly staff.
If you can live without electricity after 11 pm, these beach bungalows are alright and basic. The bungalows have fan and attached bathrooms.
---
| | |
| --- | --- |
| Further reading: | Like this page? |
---
---