---
Amber Fort India
---
"Review of one of the most popular 
Jaipur attractions"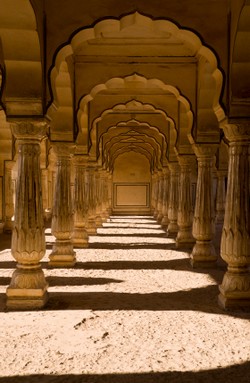 Last updated on May 06, 2013 
All information below is subject to change
CLICK ON ONE OF THE PICTURES TO START THE PHOTO GALLERY!
Amber Fort is a must!
The fort is overlooking Jaipur from a 11 km distance (30 minutes) at the steep hills of Rajasthan.
Amber Fort beauty reflects its history - it was the ancient capital of the Kachhawah rulers - Kachhawah was a powerful clan ruling a couple of kingdoms and states in India.
Practical information about Amber Fort
Admission: Rs 200 (foreigner)
If you're a student, bring your ID student card and get good discounts. One of my class mates did this and she paid half the price (Rs 100).
Open: 09 am - 04.30 pm
So, how do you get there?
Outside Hawa Mahal, regular public buses leave every 5-10 minutes and stop at the main road below Amber Fort.
Rickshaw is also another way of getting there. From central Jaipur to Amber Fort, you pass the real part of Jaipur - the 'slums'. By rickshaw it takes 30 minutes.
At the drop-off, you have the chance to ride an elephant to the top 
(Rs 900 for two people - one way). We decided not do this and instead we walked up the stairs. It took us about 25-30 minutes to reach the top (we were taking pictures along the way). It usually takes 15-20 minutes to walk to the top.
When you reach the top, you see a large open area. Straight ahead of you is the ticket booth. Just follow the crowd.
Recommended time: 2-3 hours
Touring around Amber Fort
The fort is divided into 3 areas.
When you arrive there, you will enter a large open area called Jaleb Chowk which has to main gates - east and west.
If you walk further you will get to Diwan-i-Aam (Hall of Audience) and theGanesh Pol Gate which will lead you to the beautiful garden of Aram Bagh. Here you get to see the Hall of Pleasure where you will see yourself in the mirrors in the hall of Sheesh Mahal. Incredibly beautiful!
The level of details was beyond my expectation, and thought it was pretty impressive!
Amber Fort India pictures:
Since Amber Fort is one of Jaipur's major tourist attraction, the place is filled with touts and guides who say that they will take you on a historical tour.
You don't need a guide - you can easily explore the fort by yourself, and it's far more exciting.
Jaipur Attractions: Amber Fort
We got lost in the corridores of Amber Fort, and it was fun because there were a lot of places with fewer people.
If you do want a guide, pick one of the official guides at the tourist office.
The only downside with Amber Fort is the fact that you have to share it with thousands of tourists. But it's spectacular, that's for sure.
Getting hungry? At Amber Fort attractions, you'll find a café/restaurant near the exit. Here you can buy drinks, coffee, ice cream and snacks.
More Amber Fort India pictures:
---
| | |
| --- | --- |
| Further reading: | Like this page? |
Return to top of Amber Fort India
---
---