---
Angkor Wat Tour
---
"Get an uncomparable experience of
Cambodian Culture and the History of Angkor Wat"
"Angkor Wat Tour" was last updated on Oct 19, 2011
All information below is subject to change
Tired of large tour groups and looking for tailored and small group tours? Searching for a good Angkor Wat package?
Want to tour Angkor Wat, but don't want to do it alone?
When visiting Siem Reap, Angkor park is a must for every traveler!
Here's our selection of tours to Angkor Wat and Phnom Penh and other brilliant temple sites inside the archaeological park:
Venturing in Angkor park can be overwhelming, and there's just so many temples and sites to see inside the park.
Angkor is a UNESCO heritage site and Angkor Wat itself is 900-1000 years old. To conserve the beauty of the temples, they're continually restored.
The last time I visited Angkor in April 2010, you could witness the deterioration of the temples. They're slowly fading away despite the restoration.
Even Angkor is very touristy, and it continues to become even more touristy, you can still experience Angkor in an unforgettable way. Let us show you how! :-)
All links below open in a new window
Angkor Wat and Royal Temples Full-Day Tour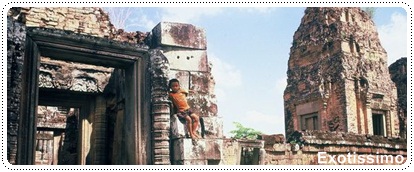 Angkor Wat Tour
Do you want to see the most important temples, but don't have the time?
Your tour of Angkor Wat starts from the South Gate of Angkor Thom City. Explore the centrepiece of the ancient city, Bayon. The Bayon is known for it's decorative Khmer temple and it's distinctive features are the serene and massive stone faces that tower around the central peak.
Your tour conitnues with visits to Baphuon temple, the Royal Enclosure and Phimeanakas as well as the Terrace of Elephants and Terrace of Leper Kings.
Enjoy lunch in front of Angkor Wat before entering this magnificent temple. Spend most of the afternoon here before heading back to Siem Reap.
Click on the link below to check availability or read reviews of this tour.
Angkor Wat Ancient Temples Full-Day Tour
Angkor Wat tour
Angkor Wat Tour
In the morning, you will be picked up from your hotel/guesthouse and headed in the direction of the Roluos Temple Group, which includes the oldest temples of the Angkor Complex.
Then return to Siem Reap for lunch and in the afternoon, then take a two and a half hour tour around the majestic Angkor Watt.
Your tour concludes with a climb up to Phnom Bakheng where you will be able to enjoy a magnificent sunset view over Angkor Wat and the surrounding countryside.
Click on the link below to check availability or read reviews of this tour.
Phnom Penh City Tour
Explore Phnom Penh on this full-day private tour, takes in some of Cambodia's finest pieces of Khmer and French influences with visits in the morning to the Silver Pagoda and National Museum.
After a tasty lunch, you will visit the Tuol Sleng Museum, a testament to Cambodia's recent bloody past under Pol Pot's Khmer Rouge regime.
This tour operator is the 2007 Conde Naste winner of the Best Operator category in the World Saver Awards.
Return to top of Angkor Wat Tour
Have your say about what you just read!
Leave me a comment below :-)
---
Other pages you'll enjoy:
---
---