---
Backpacking Packing List 
Clothes 
Accessories 
Other Essentials
---
Let's start with some basic rules for your backpacking packing list:
On most international flights, the luggage allowance is limited to 

20 kg (44 lbs) per person

. But that doesn't mean that you have to pack that much. Make sure you have room to fill in new clothes, gifts etc.
Note: It's better to pack too little, than too much!!!
There is always an opportunity to buy most of the listed items on this page locally.
What clothes to pack
for Asia?
General tips: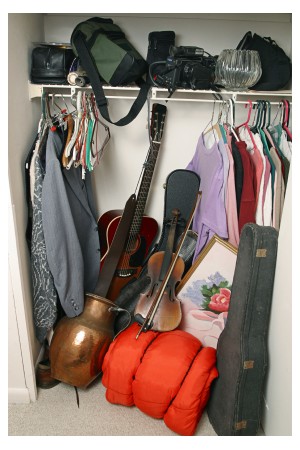 You should bring clothing in cotton for 3 good reasons:
You can also bring a few clothes in viscose and linen.
I love wearing linen shorts and viscose dresses, because the materials breathe like cotton and are comfortable wearing. However, these curl up after washing. It's your choice.
You should bring clothing in light colors. Dark colors (dark blue, black, dark green, dark brown etc.) absorb heat and make most people attractive to mosquitoes. On a side note, white clothing gets easily dirty.
Bring clothing that are quick and easy to wash and dry.
Choose loose-fitting clothing to help keep you cool and comfortable, avoid armpit marks and to conceal your money belt. It's also a sign of respect for local clothing customs.
Choose clothes that you're comfortable throwing away. When you're done with your backpacking trip, throw away the old clothes and buy new ones ;-) Make room for the new!
What should you pack for Asia?
Example of a packing list
Here's an example of a packing list for a 4-months journey:
Use long-sleeved shirts when visiting temples. It's usually required that visitors (male and female) dress modestly, covering up elbows and knees. (Dress codes vary from country to country). A long-sleeved shirt is also handy for avoiding mosquito bites in the evenings.
For female travelers, use a bikini top instead of a bra. Bikini tops are a must-have because they don't take any space in your backpack, light to carry and comfortable wearing. Find bikini tops that support well.
FREE STUFF ABOUT PACKING:
(PDF-files)

Tutorial: Packing checklist for female travelers

Tutorial: Packing checklist for male travelers

Tutorial: Packing checklist specifically for India (coming soon!)
Additional clothes to consider:
Thin rain jacket or poncho (practical during the wet season). 

Thin cargo pants 
Bring cargo pants if you know you'll be trekking for a long time in the jungle. It will protect you more from insect bites, leeches, ticks, snake bites etc.
Don't bring:
The temperature in Asia is mostly hot and clammy, and your body will most likely be too bloated to fit in them. Also jeans are heavy and take ages to dry. Instead buy "Aladdins" or fishing pants locally at the market. They're comfy, loose and come in different colors.
Can you get your laundry done? 
A cheap option is to buy washing powder so you can wash undies and clothing at the guesthouse!
If you don't want to wash them yourself, check if the guest house you're staying at provides laundry service (most of them do).
Otherwise, family shops will do your laundry in a couple of hours or maximum a day. Most places charge you for per kilo. Look for signs on the streets! Depending on where you are (cheaper in North-Thailand than South), the prices vary from 10-30 B per kilo. These prices may change.
Accessories to bring
Must-have accessories:
Day bag for daily and evening use (sling bags or a small backpack) 

A pair of sun glasses 

Bandana/caps 

Safety pins 

Sewing kit 

Scarf (Use it to protect your head from the sun, from dust and to cover your head in temples) 

Kleenex tissues or other brands 
Optional accessories:
Eye-mask 

Ordinary glasses + case

Cleaning rug for your glasses 
Monthly contact lenses + case

Contact lens solution (you can buy them locally as well) 
Return to top of Backpacking packing list clothes accessories other essentials
Additional items to consider: 
You can bring small binoculars if you know you'll be trekking a lot, and watching animals and birds.
I brought mine, but only used it once.
Don't bring items with great sentimental value. If you bring photos, make copies before leaving home.
Notebook + pen (for travel diary)

One book (for long train and bus rides, between flights)
You should not bring more than one book. Buy, sell, rent or trade books in Asia, for example Bangkok on Khao San Road or Soi Rambutri.
Don't bring:
Travel iron (heavy and takes space) 

Travel hairdryer (your hair will dry up within 30 minutes because of the hot climate) 

Expensive jewelry 

Electrical hair trimmer set (instead, go to local barber shops) 

Manicure and pedicure set (go to local salons)
Wearing expensive jewelry will just attract thieves!
However, if you can't travel without, bring neutral jewelry.
For instance: I recommend bringing a pair of colored earrings or in wood.
Thieves won't see the difference between fake silver or not. Keep in mind that you're going to places where poverty and theft are huge issues. If you lose them, you'll regret you brought it.
Backpacking Essentials
for the trip
What backpacking essentials should you bring for your trip to Asia?
What are the must-haves when backpacking in Asia? There's so much, so it deserves a separate article!
Get a complete list of backpacking essentials right here
---
| | |
| --- | --- |
| Further reading: | Like this page? |
Return to top of Backpacking packing list clothes accessories other essentials
---
---