---
Dimakya Island 
Palawan, Philippines
---
"An Island Gem in Northern Palawan"
"Dimakya island" was last updated on Feb 01, 2013
What do you really know about Coron in Palawan?
Yeah, you might heard about fancy El Nido or Puerto Princesa, but Coron might be not as infamous.
First, here's a video clip from Dimakya; a tiny island in northern Palawan, just off the coast of Busuanga island. Busuanga island and Coron island are part of the Calamian group, and known for excellent diving and white-sand beaches.
Video by Steven Reyes.
Video by Steven Reyes.
Last month, my cousin and his friends spent 4 nights on Dimakya.
Now, enjoy the pictures! :-)
How to get there: Philippine Airlines and AirPhil Express fly from Manila to Busuanga island (45-50 minutes), while Cebu Pacific Air serves flights to Busuanga (with a stop-over in Manila). Francisco B. Reyes airport is the gateway to Coron.
Map of Dimakya island:
B: Dimakya island
After spending Christmas in Pampanga (north Philippines), my cousin and his friends decided to stay at Club Paradise Resort on Dimakya. When they landed at the airport, they were picked up in a van by the resort's staff. They drove to the harbor for about 20 minutes, and then a boat to Dimakya, which took 40 minutes.
Why choose Coron of all islands in the Philippines?
My cousin had been to the Philippines a couple of times before and visited various islands like Bohol, Boracay and Arreceffi island. 
Palawan is nice in so many ways; gorgeous beaches, crowded but not overwhelmingly (like Boracay) and resort facilities are awesome.
So, they looked for a place in Palawan, and Coron had received good reviews from friends and family. So, why not try Coron?
Outside Club Paradise Resort: this resort is just stunning with sea-view rooms, bars, video room and a swimming pool. There were many tourists here, but it wasn't crowded. As you can see from the pictures, you could actually have some alone time during the peak season in the Philippines.
My cousin has previously stayed at Dos Palmas Resort on Arreceffi island (on the other side of Palawan) and in Bohol. But for some reasons, he enjoyed Dimakya a lot more because of the tranquility and the really relaxed atmosphere. The water was clearer and the beaches nicer. And the resort's facilities was of course a huge plus.
They also tried snorkeling and the scuba diving, which was great. Coron is known for wreck-diving and a bustling underwater life.
But if you're not a diver, you can also try hiking on Coron island and island hopping. For the island hopping, they drive out to the ocean and when the sunset starts at 6 pm they stop the boat so you can take pictures!
Club Paradise offers day tours, and one of them is a day trip to Coron island so you can try kayaking and hot springs.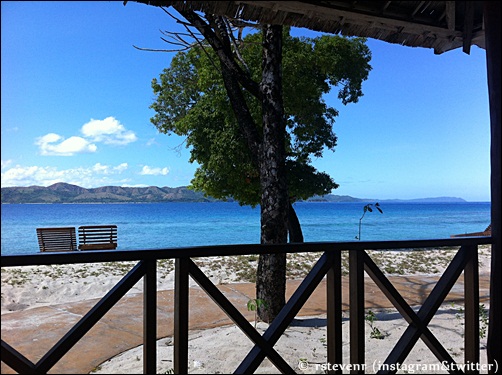 Here's a room overlooking the ocean. Their room was maybe 20-25 meters from the water, with an unforgettable view of the ocean.
Club Paradise offers beachside rooms, seaview rooms, garden rooms and hillside rooms, so you can get a room in different price range.
One of the best things to do on an island is watching the sunset. You feel somehow closer to the sun and heck, it's much more romantic! A great place for couples!
And as you can see, they had all the place to themselves even though it was the high season (December).
---
| | |
| --- | --- |
| Further reading: | Like this page? |
Return to top of Dimakya island
---
---