Top Posts in 2012
by Amanda (editor)
(Oslo, Norway)
What were the most-read posts on Backpacking Tips Asia.com in 2012? Another year goes by and each year I do some comparison.

The amount of traffic and which article gets most traffic is seasonal, but I've noticed that there is one particular theme that many readers want to know more about, and that's itineraries.

1) Route Planner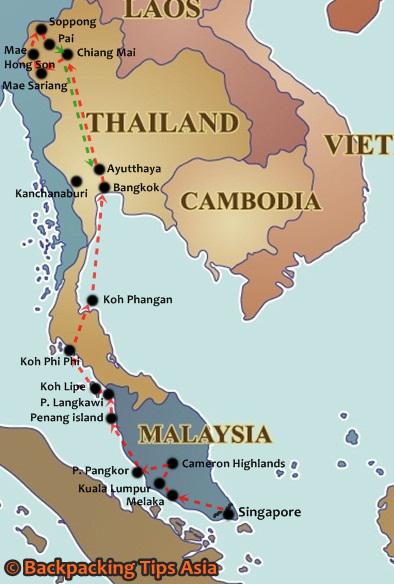 The itinerary is the basis of your trip, based on the purpose of your trip, interests, preferences and season. An itinerary is flexible and gives you a clue about where you're going to start, what to do next and your end point.
Check out the route planner pages
Check out the posts at the backpacking forum
2) Traveling Alone
I can't even imagine how many solo travelers are out there, backpacking and having the time of their life in Asia.
Solo travel is the new "IT-factor". Travelers, young and old, are trying to search for their inner self and meaning of life, challenging themselves and at the same time having fun and enjoying their surroundings.
Check out the SOLO travel page
3) Backpacking Packing List
Our packing-list pages has received and is receiving lots of traffic each month and each year. Find out why!
Complete packing lists
4) How to choose seats and berths on Indian trains
Booking train tickets in India can be confusing at first. I mean, what on earth is 2S or sleeper?!
India receives millions of foreign travelers and traveling by train is the most preferred means of transport. Trains are convenient, cheap and the infrastructure covers almost the entire country. If you can call India a country ;-)
YES to rail travel in India
5) Culture of Philippines
The Culture-pages are also popular, and mostly the post on Philippines culture. The culture in the Philippines has similarities with its neighboring countries, but because of it's history, it also has it's originality.
Find more about Filipino Culture
Amanda
Posted on:
Jan 13, 2013
---