---
Practical Information about
Trivandrum India
---
Trivandrum India: Trivandrum's city center - 
a celebration marking the Communist Party's reign in the State
This article was last updated on April 23, 2012 
All information below is subject to change
Welcome to the capital of Kerala!
Trivandrum is the hub city of Kerala, and it connects with most cities and towns in the State.
Trivandrum is very quiet compared to other cities in India. It's almost too quiet after 8 pm.
Frankly, Trivandrum has become more as a travelers' stop-over to Kovalam or Varkala.
Few backpackers stay in Trivandrum more than one day unless they have to.
It's because there's nothing much to do in Trivandrum. To me, the city center lacked charm and was just filthy and crowded. The Northern part of the city where the government offices and schools are located, is the better part where you'll meet the greener Kerala.
Since I was on a field work there, I still got to see its pearls. Best of Trivandrum is their restaurants. 
How to get to Trivandrum
and out
By air:
Many international and domestic flights land at Trivandrum airport, located 3-4 km outside the city center and 16 km from Kovalam.
From the airport you can take a Rickshaw or a taxi to city center, Kovalam, Varkala or other places in Kerala. In February 2011 we paid Rs 500 for a taxi from the airport to city center (we were 5 people).
The taxi booth is right outside the exit door of the arrival hall.
Beware of the touts outside the airport. One of them suggested to take us into city center for Rs 900 (!) It's a lot better to take a pre-paid taxi.
Cheap flights to Trivandrum:
By train:
Trivandrum connects with all major cities in the State. How long the train ride takes depends on which train you take. Some express trains use for instance 30-40 minutes to Varkala, 2 hours and 15 minutes to Alleppey, 3 hours and 15 minutes to Ernakulam and so on.
The train station in Trivandrum is located near KSRTC bus stand. A Rickshaw from Princess street to the railway station cost Rs 15-20 depending on your bargaining skills.
To find out which platform and where on the platform 'your' coach will land, ask the information desk. If that's too exhaustive for you look for a large writing board near the station chief's officer.
From Trivandrum to Kovalam:
There are no trains to Kovalam. The cheapest way of getting to Kovalam is taking the local bus. Between Trivandrum and Kovalam there are frequent local buses leaving East Fort, and it cost Rs 9 (one-way). We just missed the bus when we arrived at the bus station. After 10 minutes there was another bus ready to go.
The bus stop is near the Shri Padmanabhaswami temple on MG Road (a 20-minutes walk from Princess Street and 25 minutes from the railway station), and the ride takes less than an hour. The ride can be bumpy because of the bad road condition, so hang on!
Map of downtown Trivandrum:
A: Railway station in Trivandrum 
B: Manjalikulam road (guesthouses, restaurants and internet cafés) 
C: East Fort (markets and buses to Kovalam)
Important information for Trivandrum:
Police: Phone nr: 100
Fire station: Phone nr: 101
Ambulance: Phone nr: 102
Internet: Rs 20 per hour, copy = Rs 5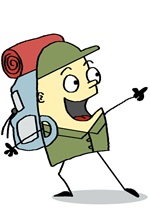 PSSSST...
Having trouble on where to travel in India? How to set up an itinerary?
Ah, I don't blame you. India is a huge country, almost a continent. Get your itinerary questions answered with Map Your Adventure: India, one of our most popular tutorials.
Trivandrum India Articles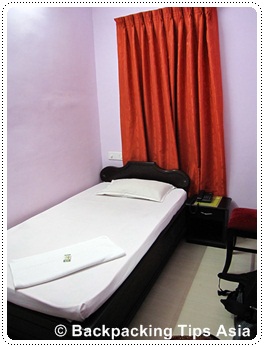 Where to sleep
Don't know where to stay for the night in Trivandrum?
Here are reviews of the accommodation we tried in the city!
Welcome to accommodation in Trivandrum
---
Where to eat
Looking for a place to eat in Trivandrum?
South Indian food is very delicious, and I stumbled upon several good restaurants in Trivandrum city center.
---
Where to shop in Trivandrum India
There are many shops in Trivandrum, and this is the place to buy traditional Indian clothing.
---
| | |
| --- | --- |
| Like this page? | Search this site |
Return to top of Trivandrum India
---
---