---
Backpacking in
Varkala India
---
"Varkala in India – still a backpacker's destination?"
This article was last updated on May 19, 2013 
All information below is subject to change
I spent 8 days in total in Varkala and enjoyed it almost every second.
I love the beach! And compared to Kovalam, Varkala is more laid-back and soothing. Just imagine a cliff surrounding a beach with luscious palm trees in the background. The sound of the ocean makes your thoughts flow away.
Fruit sellers are yelling "Pineapple, pineapple madam", "Coconut, coconut" and at the same time crows are making awful noise.
The beach at North Cliff is in fact very nice if you look beneath it, but I'm sorry to say that it's buried in plastic, cans and bottles hanging from the cliff. It's very sad that the local government/population isn't doing anything. It's just laying there, like it was the most natural thing in the world.
For some years backpackers have preferred Varkala over Kovalam when they visited Kerala, because it's supposed to be less touristy.
I will tell you right away: Varkala has become touristy.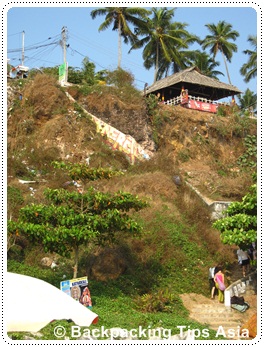 Don't get me wrong, Varkala was stunning and it was easy to get around. It was perfect for solo travelers like me. But it's overrated as a backpacker's destination. When I stayed at Shiva Garden I talked to travelers who have been to Varkala for the last decade.
I asked them: "So you have been here several times, you must love Varkala?"
Their answer was: "No, I love Shiva Garden, not Varkala anymore."
It's inevitable. Ever since the local government launched Kerala as 'God's Own Country' in 2000, the tourist arrivals have boomed in the state and especially along the coast.
CLICK ON ONE OF THE PICTURES TO START THE PHOTO GALLERY!
Naturally, places like Varkala becomes touristy. On the bright side, even it was touristy I didn't feel it was overcrowded.
Backpackers, tourists, families, retirees and hippies -– you will find them there.
Even if Varkala is touristy there are still some cheap rooms and cheap food. I will tell you about my experiences from Varkala, whether it was the food, the shopping and the 'tea-pot-beer'-drinking.
:-)
How to get to Varkala
By air:
Varkala has no airport. The nearest airport is near Trivandrum. At the airport you can arrange pre-paid taxis to Varkala. The taxi booth is right next to the arrival exit -– you can't miss it.
Search for cheap flights to Trivandrum/Varkala:
By train:
Several trains to Varkala leave cities and towns like Trivandrum (30 min-1 hour), Kochi (3-4 hours), Alleppey (2-3 hours), Kozhikode (8-8,5 hours) and Kollam (30 minutes).
Note: Most of the trains are on-time, but be prepared for delays as well.
For more information on train travel in India, visit this page
To get the cheapest train ticket (at least it was the cheapest I got), buy a train ticket directly at the train station.
Ask for General Quota - unreserved seats.
A trip from Trivandrum to Varkala on General Quota cost me Rs 21, while a ticket through Cleartrip would have cost me Rs 58. The differences are small, but it's at least a way for budget travelers to save money on train travel.
If you buy General Quota unreserved seats, the seats are located in the first and last coach of the train.
The disadvantage about this type of ticket is that you're not guaranteed a seat. But if you're just going to Varkala, you're looking at a 30-minutes to 1-hour journey. It's feasible at Rs 21.
When you get off the train, there are Rickshaws and taxis waiting to take you to Varkala beach. It takes approximately 5-10 minutes to get there. For Rickshaws expect to pay between Rs 50-80 depending on your bargaining skills.
By bus:
The bus routes I know about start from Trivandrum (Thampanoor bus stand) and Kollam, but I'm sure that you can get a bus to Varkala from other places in Kerala.
One of my class mates took a bus from Ambalapuzha (30 minutes south of Alleppey) to Varkala and that cost her Rs 60.
By taxi:
You can also a taxi to Varkala but it's of course expensive. We took a taxi from Varkala to Alleppey (we were 5 girls), and it cost Rs 2700 (they had to arrange a bigger car).
If we were maximum four people, it would have cost us Rs 2100 to Alleppey. The taxi will usually pick you up at the guesthouse/hotel.
I arranged the ride at a travel agency right next to Little Tibet. Otherwise there's a taxi stand at the far south of North Cliff.
Important places to know about Varkala India:
Pharmacies can be found along the stretch of North Cliff
You can't find banks and ATMS at Varkala beach. You have to take a short rickshaw-ride to Varkala village (less than 5 minutes). When the Rickshaw drives downwards the main hill and towards the village, you'll see an ATM on the right side of the road. It's near the Temple Junction. Otherwise several travel agencies do cash withdrawals. There's a 3-4 % withdrawal fee.
There's no shortage of internet cafes in Varkala. They charge Rs 40 per hour, and the connection is slow.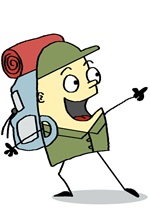 PSSSST...
Having trouble on where to travel in India? How to set up an itinerary?
Ah, I don't blame you. India is a huge country, almost a continent. Get your itinerary questions answered with Map Your Adventure: India, one of our most popular tutorials.
Where to sleep
Don't know where to stay for the night in Varkala?
Here are reviews of the accommodations we tried near Varkala beach!
---
Where to eat and have a drink in Varkala India
Looking for a place to eat in Varkala?
There are dozens of restaurants along the strip of North Cliff. Here are the ones I tried! :-)
---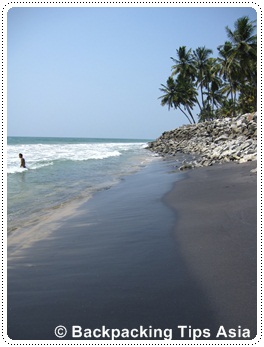 Things to do in Varkala India
Besides sunbathing there are some other things to do in Varkala. We went for a day trip to Odayam and Black Beach, and attended a traditional Kathakali show.
So many shops can be found along North Cliff and in small alleys near the beach.
Here's what you can buy in Varkala and a price list as well!
---
| | |
| --- | --- |
| Like this page? | Search this site |
Return to top of Varkala India
---
---