---
Alleppey Kerala 
(Allapuzha)
---
This article was last updated on May 25, 2013 
All information below is subject to change
Alleppey in Kerala, also known as Allapuzha(ala-po-rah), is often referred to as Venice of the East by travel magazines and local tourism government.
It neighbors Vembanad Lake. The network of canals and lagunes - called the backwaters - is the main reason why travelers visit Alleppey.
Since the 90s, the number of house boats have increased dramatically.
It started with a couple of house boats in the 90s, but as of today there are 500-600 house boats roaming the backwaters. They were originally used for cargo transport, but now most of them cater travelers and tourists.
The house boat industry in Kerala employs around 1800-2000 Keralites, including boat drivers and chefs.
Alleppey itself is quite small, and it's easy to get around. The city center around Mullackal road, is a dusty and a busy place, with traffic jams.
The lake side of town is the most charming part, with luscious jungle and lake side view. This is where many homestays and resorts are located :-)
If you want to cool down, you can visit Alleppey beach. Have in mind though that it's not regular custom to wear a bikini and jump into the water. The currents are very strong, and you will most likely experience staring from the locals.
Some of my class mates solved this problem. They found a resort on the beach, where other travelers where sunbathing in their bikinis. My class mates decided to 'join them'. This way, they felt more comfortable, and there were almost no locals nearby :-)
Beware that Alleppey is a mosquito magnet! Compared to other places in Kerala and India, this place has a high density of mosquitoes.
Alleppey and Kerala
from a development perspective
Kerala is the state with highest literacy rates in India, where 93,3% of the population can read and write. This is due to the Communist Party in Kerala, who has been prioritizing education and health.
Alleppey and Kerala has its darker sides though. If you take the time to walk in the streets of Alleppey, you will notice long queues to government liquor shops, where local men are struggling to buy liquor.
Did you know that an average Keralite drinks more than 8 liters of alcohol per year?
It's sad that Kerala is also known for its alcoholics, and it has a strong connection to the high unemployment rate in the State.
How to get to
Alleppey and getting around
By air:
The nearest airport to Alleppey is Kochi airport.
For more information on how to get to/from Kochi airport, visit this article - Kochi India (opens in a new window)
Cheap flights to Kochi:
By train:
Alleppey can be reached by train from most major cities and towns in Kerala, for example Kochi (1-2 hours), Trivandrum (2-3 hours), Kozhikode/Calicut (5-6 hours) and so on.
The railway station in Alleppey is a 10 minutes auto ride from downtown (Rs 50-70).
By bus:
KSRTC bus station in Alleppey Kerala
One of the cheapest ways of traveling in Kerala is by bus. Most inter-state buses stop at Central Bus station in Alleppey (KSRTC).
For example: From Ambalapuzha to Alleppey we paid Rs 14 for the express bus. Ordinary local buses cost Rs 10 from Ambalapuzha.
By foot, it takes 10-15 minutes to Mullackal road. An auto from the bus station to Lake Side cost around Rs 20 depending on your bargaining skills. There's a long line of autos right next to the shops across the bus station -– you can't miss it.
By taxi:
Taking the taxi is obviously the most efficient way to travel from A to B. It's of course a lot more expensive than local transportation. But if you're traveling in a group, it can be economically manageable to take a taxi.
From Varkala to Alleppey we paid Rs 2700 for a taxi (February 2011), and we were 5 people. They had to arrange a bigger car for us, so that's why it was more expensive. If we were 4 people or less, it would have cost Rs 2300.
Getting around Alleppey:
Auto rickshaws are the most common transportation in Alleppey. From Alleppey city center to Lake Side, we paid Rs 50 each time.
There are also local buses in Alleppey. From Lake Side to the city center, the cost is Rs 4,5.
Exploring Alleppey by foot is the most rewarding thing to do. As I mentioned earlier it's quite easy to get around.
We went by foot a lot of times when we stayed in Alleppey. But when the sun and humidity was too much for us, we took an auto.
Map of Alleppey:
A: KSRTC Bus station 
B: Mullackal road (main road; restaurants, shops, internet cafés) 
C: Punnamada road (homestays, resorts and guesthouses)
Important information for Alleppey:
Banks and ATMs: ATMs are scattered around town, especially along the main road, Mullackal road.
Internet: Rs 40 per hour (Hello World, Blue Moon), Rs 3 for a copy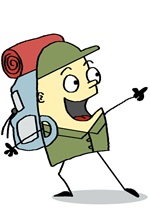 PSSSST...
Having trouble on where to travel in India? How to set up an itinerary?
Ah, I don't blame you. India is a huge country, almost a continent. Get your itinerary questions answered with Map Your Adventure: India, one of our most popular tutorials.
Where to sleep
Don't know where to stay for the night in Alleppey?
Here are reviews of the accommodation I tried in this town!
Welcome to homestays in Alleppey
---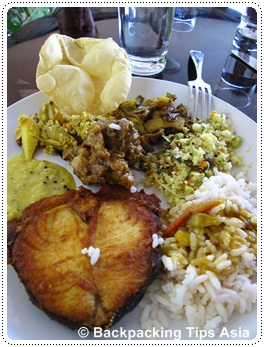 Where to eat and drink
Looking for a place to eat in Alleppey?
No problem, I will help you with that! :-) I tried several restaurants!
---
Review of House boat trip in Alleppey
Need tips on how to choose house boat companies?
Here's our review of the house boat trip we arranged through Cherukara Nest!
It was successful :-)
---
| | |
| --- | --- |
| Like this page? | Search this site |
Return to top of Alleppey Kerala
---
---