---
How to Handle Life After
Backpacking in Asia
---
Last updated on April 18, 2012
All information below is subject to change
Is it that hard to adjust to life after backpacking in Asia?
I won't hide the fact that coming home after a backpacking trip can be a real-time shock. You're in shock because you had a fabulous time while traveling, and you were a free spirit who could do whatever you want - whenever you want.
Now you're back –looking for a job and an apartment.
The transition is huge, and it can sometimes feel like you took a big step backward than a step forward.
Now readers often ask me about the changes I felt after gone backpacking, and how it was when I returned home.
It's hard to explain, but I can tell you this: When returning home, I felt like an alien.
Everything was surreal.
Life After Backpacking - The Transition
Being placed back into Western standards and lifestyle was odd:
Minimal poverty in contrary to visible poverty,
Stressful people in the streets trying to catch a bus in contrary to the slow-paced atmosphere in Asia,
Tight schedules versus no schedule,
City arrogance in contrary to rural friendliness,
Expensive and non-exotic food versus cheap and delicious street food – everything felt different.
It felt different because I got another perspective of the world.
It felt different because traveling changed me as a person.
And it will change you too. It was of course depressing because I couldn't get more of adventures, cool experiences and freedom – for now.
So picking up your old life can be overwhelming.
Accept it.
You'll feel that way for a long time.
With each item you unpack from your backpack you're going to think of memories involved. The shorts you wore when you trekked in the jungles of Chiang Mai, the bikini you wore when you beach bummed in Bali or the worn-out flip flops you wore during your entire trip.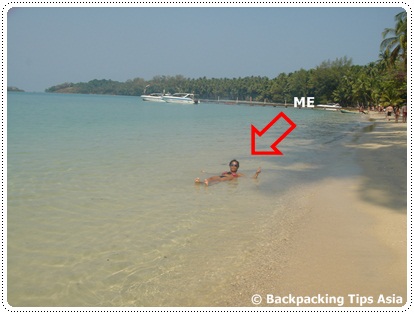 Life After Backpacking - Koh Chang Island, Thailand
Every smell of Asian food is going to throw you back to memory lane when you gorged yourself in Pad Thais, Indian curries and Vietnamese soups.
It sucks. Big time.
The question is: How can you handle it?
Here are 7 tips on how to handle
life after backpacking in Asia:
Some of the tips below are suitable for people who aren't planning the next backpacking trip because you want to settle down (and the same time daydreaming) ;-)
1. Look for the Asian district in your city
Every major city in the world has a district or a city area where Asian cultures melt into a pot. Here you can spend a whole day eating Chinese dishes or whatever they've got.
I always do this if I'm longing for good authentic Asian food.
I don't go to a Norwegian restaurant with Norwegian chefs who TRY to make good Thai food. I go to a Thai restaurant where they serve the real stuff. And it's a lot cheaper! :-)
2. Cook Asian dishes at home
As I mentioned in no. 1 there are certain areas in a city where you can eat Asian dishes.
I bet that they've got groceries as well, selling all the ingredients you need to make your very own Pad Thai, The Filipino Adobo dish, Indian nan bread, Malay Nasi, Chinese dumpling soup and so on.
Every now and then I make fried bananas, spring rolls, Filipino adobo (meat marinated in soya sauce, garlic and vinegar), chicken sinigang (sour soup) and pansit (noodle dish with vegetables and meat) -– Asian style of course!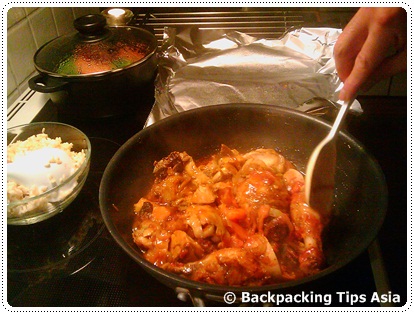 Life After Backpacking - making adobo in Oslo, Norway
I have the honor to come from the Philippines so I have the advantage of watching my mom and dad cook :-)
Here's my crispy and simple spring roll recipe!
I'll give you the rest of my recipes when I'm ready! ;-)
Also follow my food boards on Pinterest!

3. Travel in your own country
Don't underestimate the attractions of your home country.
I bet there are beautiful places that need to be discovered in your region/country.
If you can't afford a backpacking trip in Asia this is actually a good medicine to your restlessness and appetite for adventures.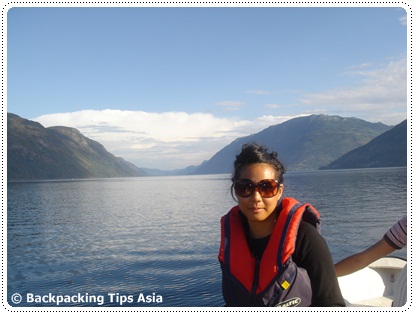 Life after backpacking -
6 months after I traveled in Asia (2008) I traveled around east Norway
4. Write a travel diary or start a travel website/blog
One of the reasons I started a travel site was the fact that I didn't want to forget my experiences, and it was a way for me to process the mixed feelings of returning home. I'm not good at expressing my feelings verbally, so writing is perfect!
It doesn't have to be professional. If you want an informal site, you can use Blogger.com.
If you're interested in creating a professional site try Sitesell (the software I use) or Wordpress. Wordpress or SBI
If you're worried about not being a good writer, I can tell you that everyone can learn it – if they want to. You can download these e-books for free so you can read about how you can become a professional writer.
E-books: Make Your Content Presell, Make Your Words Sell
Having a website also gives you motivation and inspiration for your next trip! Yeah! :-)
Not everybody want to share their personal experiences online so a travel diary can be a good way of sorting out your thoughts. When you're feeling down one day or want to reminisce you can always open your travel diary and remind yourself of the good times.
5. Get a Penpal
If you liked a particular country in Asia and you're planning on returning in the future, getting a penpal is actually a brilliant idea.
While you're saving or daydreaming about your next trip, you can get to know locals online, learn about each other's cultures (I bet there are Asians who want to learn more about the American, British or European lifestyle), learn a new language etc.
When you return you can hook up with your penpal, and get an in-depth guide around town from a local who knows all the secrets!
My sister did this after she returned home from South Korea in September 2010. She's now planning to live there for one year and have two penpals whom she can learn Korean from.
6. Asian friends
Do you have friends who originally come from the East? Great!
This way you can discuss culture, their favorite food from their home country, the best places you liked, learn Asian cooking and so on. It's easier to talk about your adventures to people who actually know what you're talking about.
By the way, this is a good way of sparing your non-traveling friends from hearing the same stories over and over again.
Before I started backpacking I felt totally clueless and sometimes uninterested when my backpacker friends talked about their journeys.
That's because I couldn't relate to it.
7. Read books about travel, and watch travel channels on TV
If you want to daydream and get away from reality for a couple of hours, why not read novels or books about travel?
I have girlfriends who were backpackers before they got kids and they always do this when they feel a bit restless.
And remember; just because you have a baby doesn't mean it's the end of life.
A funny line from the movie: "Eat, Pray and Love" with Julia Roberts. "Having a baby is like getting a tattoo in your face."
It's probably true, but getting on the road with children can still be done. My former colleagues traveled with their 1-year old baby in Thailand, and I'm sure that several families have done this. All it takes is some persistence, planning and optimism!
---
| | |
| --- | --- |
| Like this page? | Search this site |
Return to top of Life After Backpacking
---
How did You Handle Life after Traveling?
The longer you're away, the more difficult it is to handle life at home. How did you do it?

Got any tips on how to cope with real-life after backpacking? Or could you handle it all?

We can't wait to hear about it! :-)

PS: I reserve the right to delete a submission if it's not original, duplicate content, or if it's too short.

By original I mean the content is NOT copied from another website. That also means your own website. I will check if the content you provide is duplicate or not. Sorry for sounding strict, but I aim to deliver excellent and original content to my readers - that's my priority no. 1.

Any submission below 300 words will be deleted.
Read Other Stories
Click below to see contributions from other visitors to this page. You can also comment the posts! :-)

---
---