---
Cambodia Facts and introduction
to backpacking in Cambodia

---
"Cambodia Facts" was last updated on Jan 04, 2014
All information below is subject to change
First time I heard about Cambodia was in high school. The word Pol Pot got stuck in my head even if I didn't know where the country was located.
Well, today I can definitely tell you where the country lies. Cambodia shares its vulnerable borders with Vietnam, Laos and Thailand, and has attracted millions of backpackers and tourists from all around the world.
Did you know that its capital Phnom Penh is the home of 1,5 million people?
There are still 4 to 6 million unexploded mines in the country?

From 1992 to August 2009 - 1,894,613 landmines were found and destroyed (according to Cambodian Mine Action Center)
Phnom Penh was known as "Krong Chaktomuk" (= City of Four Faces)
The official language of Cambodia is called Khmer
The highest mountain in Cambodia is Phnom Aural at 1771 meters!
Boeng Kak, which used to be Phnom Penh's backpacker area, is turned into a development project. The project started in July 2011 and the plan here is to build commercial centers, hotels, schools and hospital. Literally a business center. They have filled up the lake, and the inhabitants of Boeng Kak have been driven away.
The main reason why most people travel to Cambodia is because of the Angkor Temples situated outside touristy Siem Reap.
I don't know if it was Angelina Jolie's performance in "Tomb Raider" who opened people's eyes for the beauty of these temples or not. But if you travel to Cambodia, it is likely because of these ancient ruins!
Apart from Angkor, here are 5 more good reasons to why you should visit Cambodia!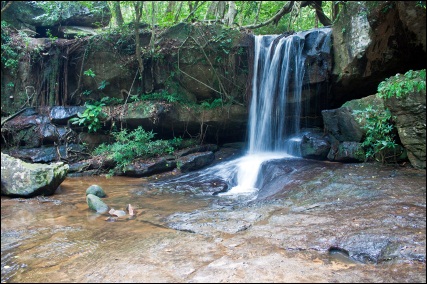 A vast and a deep green jungle is waiting for you on the Eastern side of Cambodia - the provinces of Ratanakiri and Modulkiri will blow you away with waterfalls, nature-made swimming craters and multiple trekking options!
Sihanoukville in the south has Cambodia's only beaches!
Watch the cute Irrawaddy dolphins in Kratie
Soak some culture and visit the city of Battambang - a forgotten city in the west with a bloody history, but with a bright future.
Cambodia is budget heaven! You can get a room as low as $2 in Phnom Penh and eat like a king without busting your wallet!
---
Do you want to learn more about itinerary planning? How to connect the dots?

This article is a taste of what you can expect in our ebook "Map Your Adventure." This guide takes you by the hand on how to create an itinerary to suit your needs. 

The book covers Thailand, Laos, Cambodia, Vietnam, Malaysia, Indonesia, Singapore, and India. Check out the ebook here.
---
Cambodia Articles
General about Cambodia

Phnom Penh articles

Battambang articles

Siem Reap articles

Angkor articles

Sihanoukville articles

---
| | |
| --- | --- |
| Like this page? | Search this site |
Return to top of Cambodia facts

---
---
Cambodia Recommendations and Stories
Did you enjoy your travels in Cambodia? Got any recommendations for which places to visit? Tips on where to sleep? A good Khmer restaurant you liked?

Or maybe you own a guesthouse in Cambodia and want to promote it?

Share your story, tip or review right here! We'd love to hear about it!

PS: I reserve the right to delete a submission if it's not original, duplicate content, or if it's too short.

By original I mean the content is NOT copied from another website. That also means your own website. I will check if the content you provide is duplicate or not. Sorry for sounding strict, but I aim to deliver excellent and original content to my readers - that's my priority no. 1.

Any submission below 300 words will be deleted.
---