---
Your Best Laos Information
- Get Interesting Laos Facts
---
"Laos Information & Facts" was last updated on Feb 27, 2013
Welcome to Laos! ;-)
Here's some interesting facts on Laos for you:
Laos shares it borders with Thailand, Cambodia, China, Burma and Vietnam, and is one of the few remaining communist states in the world
Laos is sadly one of the largest producers of opium and cannabis…. 
The price of opium per kilo in Laos was $1,227 in 2008, and it's still rising! But Afghanistan is still number one producer of opium in the world.
Did you know that the Americans trained and recruited the indigenous people of Hmong during the Vietnam war?

- This is one of the reasons as to why many Hmong people are continuing to flee as refugees to Thailand.
The "Plain of Jars" in the north are estimated to be 2000 years old, and the heaviest jar weighs 6 tons!
27% of the Lao population is living under poverty line (A survey by Lao National Committee for Rural Development and Poverty Reduction conducted in 2007-2008) while 25% of India's population is living under the poverty line (2007-CIA Factbook) - in other words: Laos is considered to be one of East Asia's poorest countries and is dependent on donations from abroad.
Practical Laos facts:

The capital of Laos: Vientiane
Currency: Kip I felt like a millionaire when I took out 1.600.000 Kip from the ATM, but it only equals about $200 Haha.
Official language: Lao
Largest religion: Buddhism
Why should you visit Laos?
Laos is still unexplored in the eyes of a backpacker!
The last couple of years, more and more backpackers have laid their eyes on Laos. There are tourists visiting the country, but not as much as Thailand for example. This is your golden opportunity to go off the beaten track!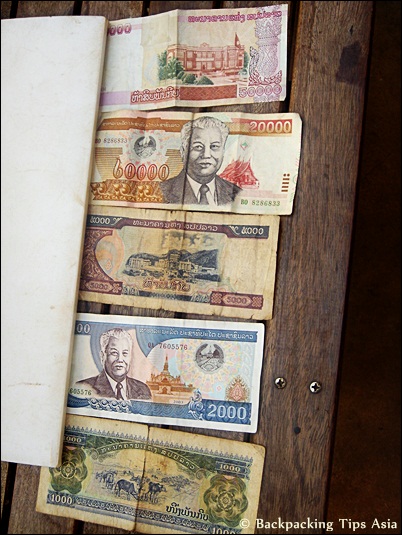 Backpacking in Laos is cheap!
You can get meals as low as 10,000 Kip (= less than a dollar), and cheap accommodation as well!
How cheap it can get depends on where and how you're traveling in Laos. Destinations like Luang Prabang and Vientiane don't exactly have the abundance of cheapest rooms in Laos since they're both heavily visited by tourists and backpackers.
Laotian food bought at food stalls and markets are cheaper than at restaurants, dorms are cheaper than guesthouses and so on.
And whether you'll find Laos cheap or not, depends highly on what you're accustomed to. Backpackers from countries with low price level will probably not find Laos cheap, while travelers from other countries with a high price level will certainly do.
The cheapness is in the "eye of the beholder" ;-)
The people of Laos are so humble and kind in approach! Meeting the locals is definitely a highlight when backpacking to Laos. As with the Cambodians, the Lao people have gone through a lot - war is just one of the things!
The beautiful nature in the north will blow you away!
Go and look for the rare Irrawaddy dolphins in one of world's largest rivers - the Mekong! Maybe you even catch a glimpse of the giant catfish or the freshwater stingrays!
Visit the 4000 Islands in the south and witness the beauty of the waterfalls!
Explore the Bolaven Plateau in Southern Laos and meet the exciting ethnic groups of Mon-Khmer and Alak!
Vientiane articles
Luang Prabang articles
Vang Vieng articles
Pakse articles
Don Det (4000 islands) articles
Other articles
---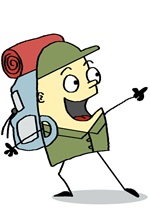 PSSSST...
Having trouble on where to travel in Laos? How to set up an itinerary?
---
| | |
| --- | --- |
| Like this page? | Search this site |
Return to top of Laos information
---
Laos Recommendations and Stories
Did you enjoy your travels in Laos? Got any recommendations for which places to visit? Tips on where to sleep? A good Laotian restaurant you liked?

Or maybe you own a guesthouse in Laos and want to promote it?

Share your story, tip or review right here! We'd love to hear about it!

PS: I reserve the right to delete a submission if it's not original, duplicate content, or if it's too short.

By original I mean the content is NOT copied from another website. That also means your own website. I will check if the content you provide is duplicate or not. Sorry for sounding strict, but I aim to deliver excellent and original content to my readers - that's my priority no. 1.

Any submission below 300 words will be deleted.
See Other Stories and Recommendations
Click below to see contributions from other visitors to this page...

---
---
---