---
Travelling alone in Asia

---
Last updated on November 8, 2013
All information below is subject to change

Don't feel intimidated by the fact that you're going to be traveling alone in Asian territory.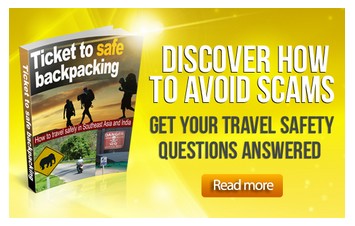 I traveled alone for almost three months, and I had a great time doing so!
Travelling alone in Asia for the first time might seem scary to you.
I don't blame you. It is scary when you haven't experienced solo traveling before.
But if you manage to take that huge step, I will promise you that it will change you in ways you've never felt before.
If you're skeptic about travelling alone as a female, don't worry. I can personally tell you that during my trip, I met a lot of female travelers going solo. Most of them hadn't faced any particular problems regarding their gender.
For solo male travelers - I've got a dozen male backpacker friends who frequently travel to Thailand and India. They come back home happier than ever.
Sure, they messed up when they got drunk and lost their passport (which they shouldn't have carried to a bar in the first place), but they didn't encounter any real dangers. The only thing I heard about which can be annoying is the attention from lady boys/prostitutes in the big cities!
Either you're male or female, you can get away with almost everything using your common sense and most importantly, your gut feeling.
But still, either you are planning to travel alone, or you split up with your travel companion(s) during your trip, safety must be on your mind.
General Solo Safety Tips

Before departure: Read the news and be updated. And before you travel, I absolutely recommend that you check out travel advice at your home country's Foreign of Affairs.
Read up on local customs! It's practical to know how to dress, and how to behave so you won't provoke locals! I've already done some of the dirty work for you! ;-) (all links open in a new window) 

Get an introduction to South Korea Culture
The obvious part: Seek crowdy places. Don't walk alone at nights on empty places, dark streets or alleys. 
If a stranger approaches you, and asks about your status (which is common in Asia) make sure you don't give them the address to the guest house or other sensitive info. It doesn't matter how nice they are. When retrieving from a conversation, just smile and be nice.
Dressing modestly is a sign of respect for local customs. As you probably know, wearing a mini-skirt, a tight tank top and a naked belly is not the way to dress modestly. It will just provoke locals, and get unwanted male attention.
Example: If a stranger wants to buy you a drink, and you feel uneasy about it, just say no thanks. Follow your gut feeling.
Ignore the situation when you have to

There's a difficult line between saying "no" and at the same time being friendly.
When we traveled in Sihanoukville and Siem Reap in April 2010, my boyfriend was offered drugs in the streets - even if I was walking with him! First they wanted to just talk, and they were nice.
But afterwards, they showed off their "stuff." In downtown Siem Reap, my boyfriend was offered drugs at least twice within 100 meters. He constantly said no, but they followed us a while. When we walked into a crowded area, they immediately disappeared. Being nice travelers was out of the question.
Beware of the possibility that a prostitute may approach you in the street or at a bar (like Patpong/Silom area in Bangkok). Remember that it's a common problem that prostitutes steal.
When you're waiting for the train or bus and you need to go to the toilet, always bring with your backpack when going to the toilet. It's a drag, but as I mentioned earlier, fellow travelers steal from each other and that's a fact. And of course, locals may be tempted to steal as well.
The backpackers who steal from each other

It's sad, but there have been reports on travelers stealing from each other.
When you meet new fellow backpackers, enjoy! But make sure you practice the same common sense when it comes to strangers. Travelers are humans too - they're not saints. When travelers run short of money, some of them will return home - and some of them will do it the cunning way - steal.
Pearls from the forum regarding travelling alone:

Solo Travel and
Eating Alone in Asia

Probably one of the things you have to do a lot by your own is to... eat alone! (unless you're invited by other travelers of course). There has been a steady growth of solo travelers, and the sight of backpackers eating alone at food stalls/restaurants is a common sight.
But I won't hide the fact that eating alone can be weird, especially when you haven't done it before. When I sit at a café here in Oslo alone, I think that is weird!
The fact that you're eating alone in Asia doesn't make things any less strange.
But I've found a couple of things to do to ease the weirdness:
Do the obvious thing and read a book, newspaper or magazine! Reading a book occupies your mind and you won't even notice that people are staring at you (which they sometimes do).
When you're comfortable eating alone, you will slowly notice that you don't need anything to distract yourself. When I traveled alone, I sometimes had the habit of observing the life on the streets, the people and just daydreaming or thinking about the next destination.
Travelling Alone in Cambodia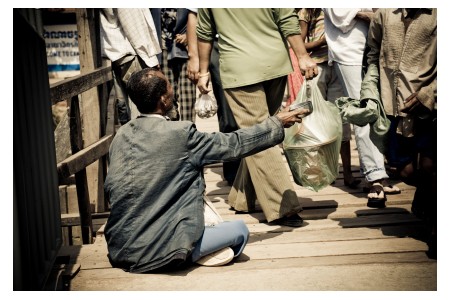 When travelling alone in Cambodia as a female, that's usually not a problem!
Even in Phnom Penh.
Before departure, I had read travel advice about Phnom Penh, and it seemed like one of the most dangerous cities in Southeast Asia. But in fact Phnom Penh is no more dangerous than other big cities!
So, use the same common sense as if you were in Los Angeles, Sydney or alike.
Example:
At nights: If you stay at a guest house by Tonle Sap Lake, and you've been partying on the other side of town, take the Tuk-Tuk to the guest house. Don't walk just to save money. Foreign females walking alone in the dark are easy preys for robbery and rape.
Example of rape incident in Cambodia:
November 2008: Buddhist Monk confesses rape on Brit tourist.
About the poverty
in Cambodia

There's a lot of poverty in Cambodia, that's for sure. Cambodia ranks as no. 142 (out of 184) on International Monetary Fund's PPP-list (Purchasing-Power-Parity used for poverty measurement - from April 2013). You'll notice the poverty when you travel around the country.

I met an Indian guy in Vientiane (Laos) who just came in from Phnom Penh. He told me that someone broke into his room and stole $14.000. My first thought was: "Why the h*** did he keep 14.000 in his room?!"
And then he told me that he met a Japanese guy who got robbed in Phnom Penh. The locals took his laptop.
So, even if this Indian and Japanese guy were business people, it taught me two things:
The obvious part: Don't keep loads of money in your room. If you have to store money in your room, let it be a sum you can afford to lose... Read my money safety tips.
Don't wear or carry anything that signals: "I've got cash, come and get me!" Examples: shining jewelry, watches, branded clothes etc.
Travelling Alone in Thailand
Solo travel (female or male) in Thailand, is generally not an issue. Most of my time in Asia, I've traveled alone in Thailand and I haven't once been sexually harassed or alike. Yes, some local Thai guys will come up to you and ask personal questions, but that's all.
Just practice the same common sense as if you were in Laos or Cambodia.
BUT ... beware that rape is a common danger in Thailand.
Here are some tips on how you can avoid rape:
If you're traveling with someone, don't walk home alone.
If you feel uncomfortable about walking at nights, take a Tuk-Tuk or a taxi. You should do this when you've been drinking. Don't overestimate your physical strength when you've been drinking, say, 8 Singhas (beer).
But have in mind that there have been incidents where tourists have been raped by taxi/Tuk Tuk drivers.
At bars/restaurants: Don't leave your drink unattended. This way, you'll prevent someone from slipping unwanted drug in your drink.
When walking outside, walk facing the traffic so a car can't approach you unnoticed from behind.
Carry a hair spray or a rape whistle.
If attacked...
... scream and kick in sensitive areas (like, the balls). Then run and scream. If you can't run, fight! (kick, bite hard, scratch)
If you get attacked, scratch the criminal's skin. His/her DNA is a valuable proof when the police wants to track the person down. And also valuable if he/she gets legally charged.
Don't take a bath, shower, brush your teeth or wash in any way. This may be sound hard to you, but the truth is: DNA is evidence.
Even if you're embarrassed, report it to the nearest police station. And report it right away.
This is why:
Human memory is fragile. And one of the ways of catching the criminal, is by describing the person as accurate as possible.
Seek medical attention as soon as possible.
Here are the well-known rape incidents in Thailand:
Jan 2010: Swedish tourist allegedly raped by Thai youths
March 2008: Australian tourist raped in Thailand.
November 2006: Men who raped, killed tourist escape death.
Travelling alone in Malaysia
In general, traveling by yourself in Malaysia is very safe. Of all the countries I've visited in Asia, Malaysia is the one that felt safest. Malaysians are some of the kindest and most humble people I've gotten to know on the road.

But don't get me wrong. You should take the usual precautions as you would in any country.

Before I went to Malaysia, I heard that if you lose your wallet, Malaysians will run after you to hand it back to you, rather than stealing it. According to my observations, this is true. Of course, not everyone is an angel but you could generally say that Malaysians are honest people.
Women travelers backpacking outside the cities might experience staring, but mostly because locals are either curious or not familiar with foreigners.
To make it easier for you, wear long clothing. And you're not expected to cover your head with a scarf, except at the mosques.
Solo backpacking in Laos
Travelling alone in Laos is not an issue. And Laos is generally safe for female travelers. I traveled alone for almost three weeks in north and south of Laos.

But with the increasing tourism in the country, there ought to be consequences like scams and pick-pocketing. Too bad, but that's just the industry. Just practice the same safety precautions, and common sense as if you were in your own home country.
Backpacking Alone
in the Philippines
It's relatively safe to travel in the Philippines, with exceptions of travels in the far south of the country. But that doesn't only apply solo travelers, but all tourists and backpackers.
The same precaution rules apply for solo travel in the Philippines. Female backpackers should be extra cautious at beach destinations, for example Boracay and Cebu, as there are reports on (failed) rape incidents.
April 2013: Female tourist escapes rape try in Malapascua

Travelling alone in Hong Kong
and South Korea
Hong Kong and South Korea must be some of the safest places to travel in Asia! Yes, as always common precautions are needed.
There is little violent crime in these countries, but of course pickpocketing can occur at tourist destinations, for instance Hong Kong. The crime rate in South Korea is very low. My sister who has been living by her own in Seoul, hasn't had any trouble traveling alone in the country. Her major concern was language barriers.
One major factor to the low crime rate would probably be the cameras installed practically everywhere in the city (CCTV). That's a relief!
Need more tips?




This article is a taste of what you can expect in my eBook "Ticket to safe backpacking" in SE Asia and India. In this ebook, you'll find valuable tips on common backpacking safety, how to avoid scams and much more.
---
| | |
| --- | --- |
| Further reading: | Like this page? |
Return to top of Travelling alone
---
---