---
Travel to Philippines
- A Backpacker Gem
---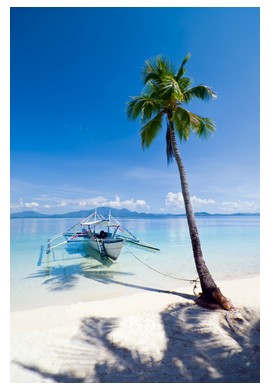 Welcome to the Philippines!
I'm happy to share my experiences from my native country with you. This is going to be so much fun!! :-D
But first, did you know that…
... the Philippines comprises of over 7100 islands? Maybe there's a chance for you to find a secluded island… ;-)
… the official religion in the country is Roman Catholism?
… the Philippines is one of the world's most populous countries? There are approximately 92 million people living in the country… Yes, you read right…!
So why should you travel
to the Philippines?
Backpacking in the Philippines is cheap. The accommodation is cheap. Food is cheap. Transportation is cheap. It's the perfect place to be for a backpacker!
Some of the world's most beautiful beaches are located in Southern Philippines

Forget touristy Boracay. The islands of Bohol and Palawan are still untouched (but not for long, so hurry!) Beautiful beaches means access to excellent diving and snorkeling, and you get to experience a unique marine life, like tons of rays and the whale sharks!
Filipino food is nothing like the cuisine in Thailand, India or Malaysia, but damn, it tastes good! Sinigang and adobo are my favorites, and I'm sure you'll love them too!
Did I mention the street food is really cheap? ;-) You can get food for as low as 1 peso!

The atmosphere… …is so laid-back. The people of the Philippines are friendly, open and generous - you will certainly feel welcome!
Cheap Flights to the Philippines
Looking for cheap flights to the Philippines?
The international airport in Manila is called: Ninoy Acquino International airport. This is the main international gateway to the Philippines!
Where: Ninoy Aquino International Airport is located along the border between Pasay City and Parañaque City in Metro Manila. It is about 7 km south of the country's capital Manila, and southwest of Makati City.
For more information on how to get to Manila Philippines, click here.
Search for cheap flights now: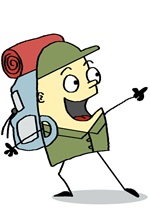 PSSSST...
Having trouble on where to travel in the Philippines? How to set up an itinerary for Southeast Asia?
Travel to Philippines Articles
About the Philippines
Manila articles

Bohol articles

---
| | |
| --- | --- |
| Like this page? | Search this site |
Return to top of Travel to Philippines

---
---
Philippines Recommendations and Stories
Did you enjoy your travels in the Philippines? Got any recommendations for which places to visit? Tips on where to sleep? A good Filipino restaurant you liked?

Or maybe you own a guesthouse/hotel in the Philippines and want to promote it?

Share your story, tip or review right here! We'd love to hear about it!

PS: I reserve the right to delete a submission if it's not original, duplicate content, or if it's too short.

By original I mean the content is NOT copied from another website. That also means your own website. I will check if the content you provide is duplicate or not. Sorry for sounding strict, but I aim to deliver excellent and original content to my readers - that's my priority no. 1.

Any submission below 300 words will be deleted.
---