---
South Korea Facts &
Your Personal South Korea
Travel Guide

---
"South Korea facts" was last updated on Jan 13, 2014
All information below is subject to change

South Korea may not be on the top list of backpackers.
Yet, the country offers unique cultural and historical experiences. We often hear about North Korea in the news, but what about South Korea?
My sister Anna traveled in South Korea for one month - all of the information in this article is from her personal experiences. She later moved to Seoul and stayed there for a year from 2011-2012.
Anna met backpackers in Seoul. When they first arrived in Korea they thought that there wasn't much to see in the country, but as soon as they started exploring they realised they were wrong. These backpackers ended up staying in South Korea longer than planned!
In this article, we'll tell you why!
First of all, here are some
facts on South Korea:
Seoul is the capital of south Korea
The currency in South Korea is Korean won
The division of North and South Korea was formally made in 1945, right after Second World War
Geographical facts: China lies in the west and Japan in the east. It's easy to travel from South Korea to Japan and it's only a ferry ride away!
In South Korea, you can't write someone's name in red ink because it symbolizes death (that the person will soon die).

South Koreans has the highest national IQ with 106 - they even have TV-programs teaching in mathematics.
A South Korean woman has a low birth rate of 1.2 - statistics from 2007. This may have a connection to their values like focusing on their careers.
South Korea has some of the world's largest shopping malls. Some of them close at 4.00 am after midnight.

South Koreans have the highest suicide rate according to OECD (Organization for Economic Cooperation and Development).
For example: Male suicide rates in South Korea almost tripled from 1990 to 2006, to 32 from 12 for every 100,000.
South Korea has the highest rate of female suicide among the member countries of the Organization for Economic Cooperation and Development (OECD), according to data presented by the Finance Ministry and Statistics Korea. As of 2010, OECD has 33 member countries.
This may be linked to the fact that there's a lot of pressure on Koreans to perform, well, in school, work and in relationships.
Why should you travel
to South Korea?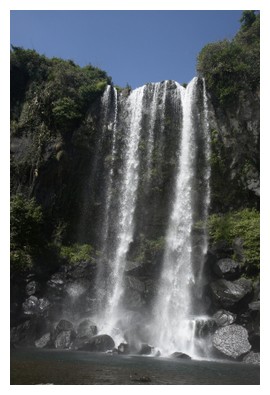 In South Korea, you'll find a combination of modern buildings, nature you only can dream of, beaches, waterfalls in Jeju island and Buddhist temples.
It's also the perfect place for history buffs - giving you the highlights of Korean history.
South Korean culture is different from other Asian cultures.

They have a higher and stronger degree of respect for each other; not just their families and friends, but also foreigners. Getting to know the culture of South Korea can be frustrating for a foreign traveler, but also exciting if you look more closely into it.
It's all about keeping an open mind and learning to tolerate another culture :-)
The food in South Korea is some of the healthiest you can ever eat. South Korean cuisine is tasty and known for balanced taste: salty, sweet, sour and spicy!

If you travel south you get to try the fantastic sea food dishes in Busan.
You'll certainly feel safe when traveling around in South Korea, especially in the cities.

There are practically surveillance cameras everywhere: light poles in the streets, in the halls of the hostels, at the metro and so on. A good place to go solo traveling as a female traveler if you feel unsure.
The extensive transportation in the cities of south Korea is on-time, effective, clean, cheap and convenient.
By convenient I mean they've gone all the way to make city traveling as easy as possible.
For example: At Seoul Metropolitan Subway - when you get off the subway and want to follow the green line, all you have to do is follow the green row of paint on the walls. You save time when finding your way around.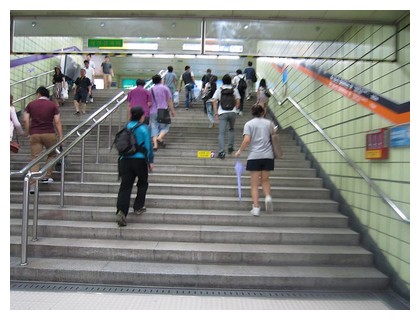 Metro Lines - look at the walls
South Korea Articles
General about South Korea

Seoul articles

---
| | |
| --- | --- |
| Like this page? | Search this site |
Return to top of South Korea facts

---
---
---
---