---
Palolem
South Goa
---
Last updated on Nov 15, 2013

Want to see one of the most beautiful beaches in India?
Palolem in South Goa is a photogenic paradise surrounded by coconut forests, clear water and a relaxed atmosphere!
And to make things even more interesting, Hollywood shot the jogging scene on this beach in the movie Bourne Supremacy - starring Matt Damon!
But even if the white beach is large, it's packed during the high season. If you're patient, you'll find a quiet spot at the far south or north of the beach.
The rumors of this charming beach have spread fast the last couple of years, so more and more backpackers have traveled to this popular village.
However, if you prefer a quiet scene, the best time to visit is October-November. We arrived there early October and almost no backpackers had arrived yet. But around mid-October, the place started to fill up.
Note: As far as I know, there are no street names in this town so I'm going to use either north or south side of the beach. The south side of the beach is when you turn left when entering the beach from the main road.
How to get there
By air:
Dabolim is the airport in Goa that caters international and domestic flights. The easiest way to get there is by get a pre-paid taxi at Dabolim airport (1,5 hours, about Rs 1200).
Otherwise, you have to take the bus to Vasco, change for a second bus to Margao and then a third bus for Palolem.

By train:
Canacona is the nearest train station. From central Kerala, for instance Kochi, it takes approximately 15 hours to Canacona. From Mumbai, it takes 11-12 hours.
You can buy tickets online 90 days in advance. Since they're long-distance journeys, I recommend to buy tickets in advance, either at IRCTC or Cleartrip.
If you're otherwise traveling within Goa state by train, there's no need to book train tickets. You just show up at the train station and buy a ticket at one of the counters. From Madgaon to Canacona, it only takes 30 minutes by train.
By bus:
Buses between Margao (also called Madgaon) and Palolem ply the route. No problem there. For long-distance journeys, for instance Mumbai, there are overnight buses. But frankly, I wouldn't recommend these buses.
Back in October 2007, we booked bus tickets through one of the guesthouses we stayed at. It was a direct bus from Mumbai to the beach.
We were picked up from the guesthouse, and transferred to a nice bus. But after 20 minutes, we had to switch to another bus, which wasn't the standard we expected (we bought 'VIP'-tickets). The bus was packed with mostly locals, which was exciting.
But then comes the ugly part. It was raining that night, and I remember vividly that the driver drove like s*** all the way. He drove so fast that we couldn't feel the ground.
I was afraid. I was lying on the top bunk, and was holding on so I wouldn't fall out and squash the Indians who were lying on the floor.
On top of this, there were dozens of cochroaches flying out of the air-con!
For me, I will never take that route again on a bus. I prefer trains thank you.
By taxi:
Taxis are by far the most convenient and fastest way to get from A to B in Goa. If you're traveling in a group, you don't need to pay that much. For instance; a taxi from Margao to Palolem cost Rs 500-600.
Important places to know about:
There's a hospital nearby called Dhavalikar. It only takes 5 minutes to get there by rickshaw.
They didn't have ATM at the time we were there (October 2007), so we had to take a Rickshaw to the nearest town Chaudi,

located 3 km 

from the beach . As of March 2013, they still don't hav

e an ATM. Pharmacies and post office are also located in Chaudi. Otherwise you can exchange money at the travel agencies on the Main Rd.
There's good internet access in town. Go to travel agencies.
Price: Rs 60-80 per hour.
Rent motorbikes and mopeds on Main Rd. Price: Rs 300-500 per day.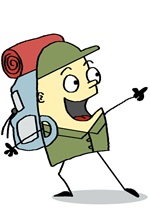 PSSSST...
Having trouble on where to travel in India? How to set up an itinerary?
Ah, I don't blame you. India is a huge country, almost a continent. Get your itinerary questions answered with Map Your Adventure: India, one of our most popular tutorials.
Where to sleep
Looking for accommodation?
Here's some useful information on huts, bungalows and family houses in this beautiful town of Southern Goa.
---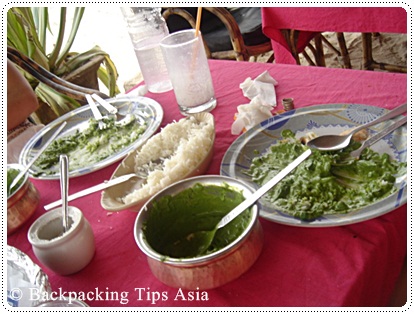 Where to eat & drink
Wondering about the Goan food? And places to grab a drink?
Looking for places to eat in town? Here's some ideas! :-)
---
Activities
So, what can you do while you're staying in this hippie town? :-)
Sunbathing and exploring neighboring islands are some of the things you can do.
I will also tell you about the shopping and massage :-)
---
| | |
| --- | --- |
| Like this page? | Search this site |
---
---