---
Getting Started Backpacking
---
"Getting Started Backpacking" was last updated on March 03, 2014
All information below is subject to change
Are you ready for some planning? :-)
After reading this guide, you'll find that planning a backpacking trip is less overwhelming than you thought.
It's fun and can be quite easy as long as you do your research first.
It's the research phase when you're gathering relevant information that takes time. Once you have this, creating an itinerary or a budget will make it so much easier.
Have in mind that you have a lot of planning ahead of you and number 1 rule is to:
...be flexible...
It's not the end of the world just because not everything go as planned! You will occasionally alter your plans during your backpacking trip which is very common for backpackers.
Like, you might end up not liking the place you've planned to stay for 3 weeks, and have to be on the move again after 5 days.
... Now, let's get started!
Where to travel in Asia and
how to create a travel route planner
The first question you should ask yourself is:
"Where do you want to travel?"
You don't need to ramble down specific destinations yet, start with the countries.
For travel in Southeast Asia, Bangkok is normally the gateway city to the region, if coming from Europe, US, Australia and East Asia.
Kuala Lumpur and Singapore are also practical hub cities if you're coming from Australia or New Zealand, and planning on traveling in Indonesia as well.
If you don't have a clue about what countries or destinations you want to visit, you should start here:
Read travel guide books and research possible destinations
I recommend renting/buying books like Lonely Planet or Rough Guides. These books introduce you to all the things you need to know about backpacking, and are easy to read.
For more information on how to choose the right travel guide book, click here (opens in a new window)
Talk to friends who have been backpacking in Asia before and take note of places and activities you want to see and do. It's your trip. You can go wherever you want.
Remember that your backpacker-friends are your best insider-source... AND... they're your friends. They'll probably be happy to share honest advice, thoughts and experiences!
When you've decided on which countries you want to visit:
Search for
cheap flights to Asia:
Ask yourself these questions:
How much is it for a flight ticket?

Where do you want to start?
Start gently! When I started my first backpacking trip in Asia, India/Mumbai was my first stop. The country's beautiful, but if I could go back in time I would have picked the country as my last stop, or at least Mumbai as my last stop. 
Where do you want to end your trip? (at the beach, in the mountains etc.)

How much time do you have?
Be realistic. If you only have one month or two, focus on the places you really want to see. A stressful backpacking trip is not ideal if you can't even remember where you've been.
Can you easily return to a place you enjoyed if you wanted to?

If you don't like the new area, do you have a back up plan?
You should have other places in mind when you get in this situation. Feel free to be impulsive as well. Talk to other travelers on the road, and ask where they've been and about their experiences.
Things to consider:
Concentrate on one area at a time. If you're going to Chiang Mai, focus on the North. When you're done traveling in the North, travel to South and explore that part of the country and so on.
To save time and energy, start as north or south as possible and make your way up or down, east or west. This way, you don't need to come to the same place twice or more.
Example: From Pai to Lao border - instead of traveling via Chiang Mai again, travel directly from Pai to Chiang Khong.
You can travel the other way around too, like starting in Bangkok, then travel to the border of Cambodia, Siem Reap and so on.
The great part of planning a route is that you don't need to stick to it!
Use route planners so you won't forget the important places you want to see, and to make sure you actually know where you're heading, more or less. There are tons of other places to go during this route.
You need to find the place YOU want to go to! And another thing: You'll get more out of your adventures if you're more spontaneous ;-)
If you want to go straight to a specific country/part of a country - click on these links:
---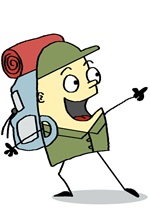 PSSSST...
Don't know where to travel in Asia? How to set up an itinerary?
Get all the help you can get with this step-by-step guide on how to create an itinerary. Learn how to create a good and realistic itinerary for Asia.
---
Pearls from the Backpacking Forum
Getting started backpacking
Here are some posts from the travel forum that can help your planning, and where to travel in Asia:
- What are the highlights of Asia, country by country 
- Itinerary advice for Southeast Asia 
- Six weeks backpacking Thailand, Cambodia, Laos 
- Bangkok to Laos, Cambodia, South islands of Thailand in 30 days 
- What is the best circuit for Thailand, Laos, Cambodia, Vietnam and maybe  China 
- Planning a trip in Thailand, Cambodia, Vietnam and Malaysia 
- Visiting a large variety of places in just 2 months - possible? 
- Malaysian itinerary for one month 
- How to get from Goa (India) to Cambodia 
- Backpacking advice for planning South east Asia trip
When to travel to Asia
Getting started backpacking
The weather in Thailand, Laos, Cambodia and India can roughly be divided into three seasons: cool, hot and wet season.
It's extremely hot during the hot season (around February to May), and it rains more during the wet season (around May-October).
Normally the best time to go is between November-February.
When it comes to Malaysia...
The climate varies from region to region. The best time to visit the Eastern Part of Malay Peninsula, the northeast of Sabah and the west of Sarawak on Borneo would be between June and August. If you want to lay down on the beaches on the west side of the peninsula (like, Pangkor) - you should avoid the months of March and April because that's when the heaviest rainfall occurs.
However, during the cool season the prices for accommodation are higher because most people travel during this period.
When deciding, ask yourself these questions:
Do you want to trek, dive, snorkel or try white-rafting? How much time do you want to spend on activities?

Example: To get the best underwater experience, depends on where and when you're planning to dive or snorkel.

If you're going to the eastern part of the Gulf of Thailand (Ko Chang island area), the visibility is best from mid-November through May. If you're going to the western part of the Gulf of Thailand (Koh Pha Ngan and Koh Samui area), the best time to dive is from March to October. 
Travel Partners
Getting started backpacking
Here are a couple of tips on how to find a suitable travel companion: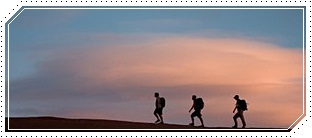 You have to be able to trust and like your travel companion with at least 100%!
Remember that you'll be traveling together, sleeping next to each other, eat, party and relax together 24-7.
And even if you find the "perfect" partner, I'm not saying that you guys will never have a fight or a disagreement. The point is to find a person you trust because you'll be responsible for each other's safety. You should watch out for each other, if you get into trouble.
Can you trust him/her if you get to that point?
The person(s) you're traveling with should have the same goals and pace as you. If you're traveling with a party-friend who just want to party the whole trip, and you want to do the partying AND the sightseeing, you should reconsider your choice.
Or if you're a person who easily gets restless, may not go well with a person who likes to take things slow. However, this can go both ways. There are no obvious solutions. That's why you should compromise before and during your trip.
Click here for information on how to find travel partner
If you already have a travel companion, 
here are the tips you should follow:
Sit down and compromise on where, when and what to see and do. It's better to discuss and disagree as much as possible before departure, than during your trip.
It's just healthy for your traveling relationship to do separate activities.
Pearls from the forum:
Tips for solo backpacking
Getting started backpacking
If you want to go solo, that's ok as well.
When traveling alone, you are never really alone. You'll always meet other travelers, make new friends and someone might even become your (new) travel companion.
I traveled alone for almost three months, and I met people from every corner of the world. It was fun!!! 
However, traveling alone has both its ups and downs.
Plus sides:
You get to plan your trip in your own pace, see the things you want to see and be with people you want to be with.
You are never really alone. If you like some company, you can do that easily. If you want your personal space, you don't need to tell anyone that you need space... because you're on your own!
But when you're traveling learn alone, you will learn so much about yourself. Things you would only realise when you're backpacking solo.
I will mention a couple of examples:

Independency
Determination
Patience
Judgement
Your instinct will get even better
And not to mention: Survival
It's your biggest lesson in life!
So, solo travelers should be proud of themselves, after been backpacking alone in unknown and new countries!
The downsides of solo backpacking: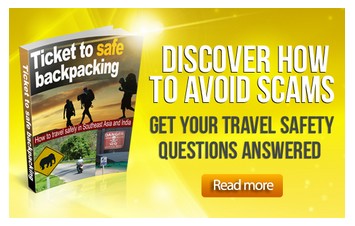 You want to go to the toilet when waiting for the train or bus, but there's no one there to watch your backpack for you.
Return to top of Getting started backpacking
How to Travel as a Couple
Getting started backpacking
Traveling with your boy/girlfriend for the first time?
Traveling with your loved one can be fun and exciting! Being abroad spices up the relationship, and you get to do cool things together.
But as you can imagine, it also puts your relationship to a test.
Search for
cheap flights to Asia:
Like with other backpackers traveling in groups, your patience, tolerance and your ability to compromise will be tested.
But I have to admit that when you have a disagreement/argument with your boy/girlfriend, it can be far more emotional than it would have been with a traveling friend. That speaks for itself. How you manage to solve that is all up to you guys - TALK. COMMUNICATE.
I personally didn't have any problems traveling with my boyfriend in Malaysia in June 2009, and Thailand and Cambodia in April 2010 ;)
We had been together for two years when we traveled in Malaysia and knew each other pretty well. But we're not perfect and we argued once in a while. After talking it through everything was alright again!
All I can say is that if you manage to "survive" a long backpacking trip together, you'll know each other in ways you'd never discover back home.
The only visible downside (which I've seen) is that several backpacker couples stay too close.
When you're backpacking, get to know other travelers and try not to be too consumed by each other the whole time.
I've experienced that travelers in general seek solo backpackers or a bunch of travelers, instead of a backpacker couple cuddling each other in the back of a pub.
I've written more about couple travel here!
---
| | |
| --- | --- |
| Like this page? | Search this site: |
---
Have A Great Story/Advice About Backpacking?
Do you have a great story about backpacking? Tips on how to get started? What do you regret doing in Asia?

PS: I reserve the right to delete a submission if it's not original, duplicate content, or if it's too short.

Any submission below 300 words will be deleted.
What Other Visitors Have Said
Click below to see contributions from other visitors to this page! You can also comment them.

Traveling alone in India






I just got back from a trip in India. It lasted for 7 weeks. I traveled alone for 3,5 weeks in total. Traveling in India is amazing, but never perfect …
My Favorite Travel Music Playlist






Traveling without music is like traveling without my undies. I feel naked if I don't bring my favorite playlist. Here's my favorite songs for the …
15 Stupid Things I've Done while Traveling in Asia






Of all the crazy and dumb things I've done in my life, many of them have happened while traveling in Asia. Even though I've traveled a lot, there are so …
Interview with Anna Zalazar about solo backpacking in Southeast Asia Not rated yet
1) What is your best preparation tip for solo female travelers? For solo female travelers: Have at least a good research of the places you intend …
Traveling alone in Southeast Asia for female travelers: Interview with Shannon O'Donnell Not rated yet
1) What is your best preparation tip for solo female travelers? Bring a menstrual cup to handle your period on the road. You'll want to prep this …
Solo backpacking in Southeast Asia for female travelers: Interview with Julia Evans Not rated yet
1) What is your best preparation tip for solo female travelers? Get a good guide book, read lots of blogs and just realize that there are so many …
The 4 Common Etiquette Sins in Southeast Asia Not rated yet
What four etiquette sins are the most committed ones? Every now and then, I see long-term backpackers who forget to take off their shoes before entering …
The Beer Wet Dream - My Top 6 Beer in Asia Not rated yet
Getting thirsty? You will be after reading this post. Forget Heineken and Guinness. In my opinion, Asia offers some of the best tasting beers in …
Straight from the Local's Mouth - Three unforgettable comments from my backpacking trips Not rated yet
While backpacking in Asia, you're going to meet a lot of people; backpackers and locals. Getting to know locals is fun and in most cases it generates interesting …
The Pros and Cons of Backpacking in the Low Season in Asia Not rated yet
So, you're considering backpacking in the low season? Before you decide to book those flight tickets, here are some things you should read and consider. …
Top Posts in 2012 Not rated yet
What were the most-read posts on Backpacking Tips Asia.com in 2012? Another year goes by and each year I do some comparison. The amount of traffic …
How to manage travel in the hot season Not rated yet
So, you're considering traveling in Asia during the hot season? The challenge is the combination of hot and humid, and it gets worse in the hot …
One-way ticket to Asia - tips and advice Not rated yet
Backpacking requires flexibility. That's one of the beauties of backpacking. These days, a lot of travelers are considering a one-way ticket to Asia …
---
---