---
Intro to hippie Pushkar, Rajasthan
Adventure Travel India
---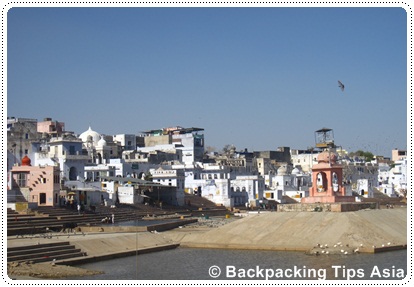 This article was last updated on April 08, 2012 
All information below is subject to change
Rajasthan is one of the older tourist states in India, and over the last three-four decades it has attracted backpackers and tourists from all over the world.
One of my favorite towns in India: Pushkar, is a little gem located in south of Jaipur and neighbors Ajmer.
What does legend say about the holy Pushkar lake? History buffs would probably be fascinated by the legend which says the lake was created when Brahma dropped the petals of a lotus flower from his hand.
Pushkar can be seen as the smaller and 'cleaner' version of Varanasi, with pearl white ghats surrounding a small, marine blue lake. This small town is best known for the Pushkar Camel Fair, the largest fair in Asia.
CLICK ON ONE OF THE PICTURES TO START THE PHOTO GALLERY!
The typical crowd here is the backpackers. It has this laid-back atmosphere to it, and despite the tourism flow it has kept its charm and personality. It's very easy to get around, and you feel safer. I think solo (female) travelers will like it here.
One of the special trademarks of Pushkar is that alcohol and meat are strictly prohibited in town. If you can lay off the alcohol and meat for a couple of days, Pushkar might be a good alternative on your route.
When I was in Pushkar I also noticed that Israeli backpackers are the most avid visitors in town. For example, in many corners you can find Israeli restaurants and small joints selling falafel.
How to get to Pushkar,
getting around and out
By air: 
There are no airports in Pushkar. The nearest airports are in Jaipur and Jodhpur.
Cheap flights to Jaipur/Jodhpur:
By train:
There's no train station in Pushkar. To get to Pushkar, you have to take the train to Ajmer which is the closest railway station (11 km). Ajmer connects with major towns in Rajasthan and the rest of north India, for example Jaipur (2 hours), Udaipur (5,5 hours), Delhi (8-9 hours), Agra (7-8 hours), Kota (7 hours), Varanasi (20 hours) and so on.
From Jaipur to Ajmer I paid Rs 50 for the train ticket (General Quota). It was unreserved seats, but the cheapest you can get.
From the railway station you can take a local bus (around Rs 10) or a taxi to Pushkar. I took a taxi (Rs 220) and the ride was about 20 minutes (this was in March 2011).
PRACTICAL TRAIN INFORMATION:
By bus: 
Buses for Pushkar leave Jaipur, Jodhpur, Udaipur, Bikaner etc. From Bikaner the buses leave several times a day, from morning to evening.
Getting around Pushkar:
There are no auto rickshaws in Pushkar, only cycle rickshaws. A common transportation in Pushkar is hiring a moped (Rs 200-350 per day).
Otherwise it's possible to explore Pushkar by foot.
Leaving Pushkar: 
If you want to take the bus from Pushkar and onwards, I can say that it's efficient and cheap.
In March 2011 I took the local bus from Pushkar to Jaipur (Rs 150). The bus left Pushkar at 09.00 am and arrived in Jaipur at 11.50 (less than 3 hours).
The manager at Oasis Hotel told me that there were two different buses to choose from (which they could arrange).
These were 'tourist' and local buses. The local buses are non air-con.
I bought a ticket for the local bus and hoped that I would get a seat. From experience I know that local buses are overfilled with people.
As I thought, someone had occupied my seat on the bus. But one of the guys who worked there shoved away another guy so I could sit. I thought the ride would be slow and inefficient, but it was in fact fast and they had only a few pit stops. The bus driver didn't drive that fast, in contrast to other maniac bus drivers in India.
I sat next to car sick Indian lady, who had a nice family. I got to know her husband and their son. That is probably one of the best things about taking the local bus: you get to know the locals.
Return to top of Adventure Travel India Pushkar
Important places to know about in Pushkar/Ajmer: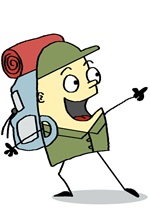 PSSSST...
Having trouble on where to travel in India? How to set up an itinerary?
Ah, I don't blame you. India is a huge country, almost a continent. Get your itinerary questions answered with Map Your Adventure: India, one of our most popular tutorials.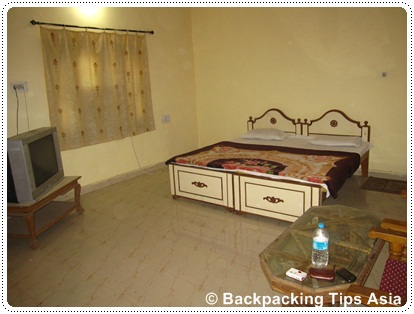 Where to sleep
Don't know where to stay for the night in Pushkar?
Here are reviews of the accommodation I tried in town!
India Budget Accommodation: Pushkar
---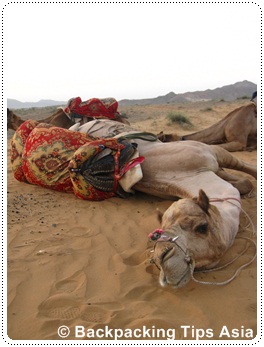 Pushkar Camel Safari
What are the typical things to do in Pushkar?
Explore the ghats, shopping and take a camel ride in the Rajasthani desert!
Here's my review of the camel safari in Pushkar.
---
| | |
| --- | --- |
| Like this page? | Search this site |
Return to top of Adventure Travel India Pushkar
---
---