---
Getting to Battambang
in Cambodia
---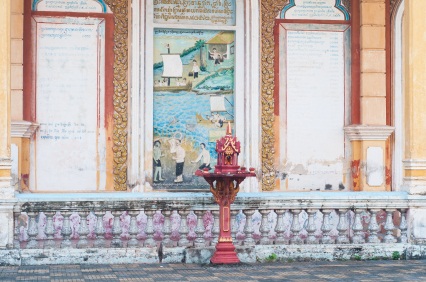 Last updated on Jan 03, 2014
All information below is subject to change

Battambang is the second largest city in Cambodia.
But it's still one of the "forgotten" cities in land of Angkor!
The atmosphere around town is quiet, laid-back and there are hardly any touts. It's one of the few off-the-beaten tracks in Cambodia. Go there before it's too late!
The town is definitely untouristy. Not to mention, the pristine and beautiful scenery around town - it's all there for you to explore! And it gets a plus for the cheap accommodation and the food, compared to touristy Siem Reap.
And before I forget... The Cambodian food is delicious!
So why do backpackers come to Battambang?
Backpackers usually come here for two reasons: to see the Wat Banan and the Phnom Sampeau. But there are other things to do as well.
Map of the city:

A: Psar Nat (Central Market or Meeting Market)
The city center is located west of Psar Nat, where you'll find guesthouses and restaurants.
B: Street 1 (runs along the riverfront)

How to get there
and out

By air:
There's an airport in Battambang, but it's not operational. The closest airport would then be Siem Reap International Airport. A taxi from Siem Reap will cost you between $ 35 and $ 45 (2,5-3 hours).
Find cheap flights now:

By bus: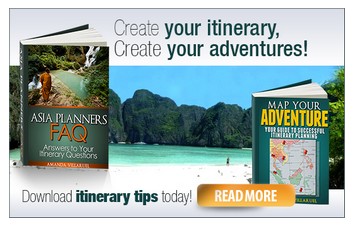 The town is easily accessed from Poipet (4 hours), Siem Reap (5 hours) and Phnom Penh (6 hours).
I arranged a bus ride through the guesthouse Villa Siem Reap in Siem Reap. I was picked up by a motorbike at 07.00 am, which drove me to the bus. The bus to Siem Reap left at 07.30 am (I paid $5 for the trip) and it was pretty straightforward.
You can also buy bus tickets from Sorya Transport - one of the best used bus companies among backpackers in Cambodia. With Sorya, there are several bus departures from Phnom Penh at 07.00, 08.00, 09.00, 10.00, 12.00 and 13.30. Capitol bus company leaves Siem Reap at 07.30 and 09.00.

Leaving town:
There is no central bus station in Battambang. You'll find the bus companies at their private offices on the main road NH5 (National Highway 5).

Pailin is the closest border crossing. I wanted to cross the border at Pailin back in December 2007, but apparently there was a lot of fuss about it (bad road condition etc).
So the driver took us to Poipet instead. I shared a taxi with three travelers from the Netherlands. I arranged this taxi ride through Chaya Hotel. From Poipet I just took the train from Aranyaprathet to Bangkok. I left town early in the morning at 08.00 am and arrived in Bangkok around 19.00. The trip all the way from Cambodia to Thailand was pretty effortless, since we did "everything" by ourselves (except for the taxi to Poipet/Aranyaprathet border). 
Important places to know about:
For minor medical problems, try Polyclinique Visal Sokh (open 24 hours). Some English is spoken, and they have an ambulance and a pharmacy.

Banks and ATMs are scattered around the city (ex. ANZ Royal and Canadia Bank).
Post office near the river, between Old Stone Bridge and Old Iron Bridge. Open Monday-Saturday.

Internet access available all over town, especially on Street 1. Check if your guesthouse provide internet services. Price: about 4000 riel per hour (speed varies).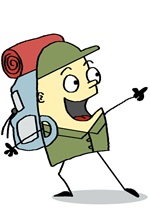 PSSSST...
Don't know how to set up an itinerary for Cambodia and Southeast Asia?
Get all the help you can get with this step-by-step guide on how to create an itinerary. Learn how to create a good and realistic itinerary for Southeast Asia.
---
| | |
| --- | --- |
| Like this page? | Search this site |
---
---