---
Erawan Waterfalls
in Erawan National Park
---
Last updated on May 23, 2013 
All information below is subject to change
Heard about Erawan Waterfalls? :-)
If you're visiting Kanchanaburi, it's a must to visit the waterfalls in Erawan national park.
The national park has a 7-tiered waterfall where you can hike up and experience the water fall into crystal clear pools. What defines the Erawan Falls is the emerald green water and gorgeous falls.
It's quite possible to take a swim, so bring your bikini or swimming shorts! :-) At the lower levels, you can bathe in the pools. There are fish in them which nibble on your feet. I don't know if I liked it because it was ticklish :-P
Another thing to watch out for are the monkeys. It's not advised to bring food into the park, or they'll come and snatch it from you!
In the high season, there can be a lot of visitors - both locals and foreigners. But as you hike up even higher and pass tier 4 or 5, there are fewer people.
You should bring some decent shoes since walking up to the top is steep and slippery, so flip-flops aren't practical at all. It gets really steep from tier 6 to tier 7. It's a hard walk to the top, but worth the trip :-)
All in all, a great trip! :-)
How to get to
Erawan National Park
By bus: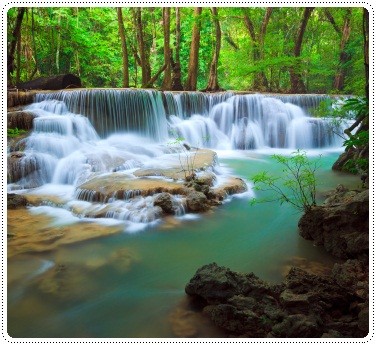 There are frequent buses to the park from Kanchanaburi bus station and the bus ride takes 1,5 hours (50 baht).
On your way to the park, you pass amazing scenery, so it's definitely worthwhile taking the bus. The first bus to Erawan leaves at 08.00 am and then every 50 minutes. The last bus from the park to Kanchanaburi leaves at 04.00 pm.
You sholuld definitely try to catch the 08.00 am bus since the next bus will be packed with people. The last bus leaving Erawan will unsurprisingly be full as well. So to avoid getting squashed, take an earlier bus back to Kanchanaburi.
Recommended time: At least a half day to see Erawan.
Erawan National Park open: 8.00 to 16.30
Admission adult (foreigner fee): 500 B
Admission child (foreigner fee): 300 B
Since October 1st, 2012, the entry fees to Erawan National Park and many other national parks in Thailand have risen due to increasing park management costs. 
Best-rated guesthouses and 
hotels in Kanchanaburi
Apple's Retreat and Guesthouse:
Price per night: 490-690 B
Read reviews of Apple's Retreat and Guesthouse
Pong Phen Guesthouse and Bungalows:
Price per night: 400-1300B
Read reviews of Pong Phen Guesthouse and Bungalows
Price per night: 2400-4400B
Read reviews of Oriental Kwai Resort
---
| | |
| --- | --- |
| Further reading: | Like this page? |
Return to top of Erawan Waterfalls
---
---