---
Getting to Siem Reap
Cambodia
---
"Siem Reap Cambodia" was last updated on Jan 04, 2014
All information below is subject to change
One of the main reasons backpackers visit Siem Reap is the Angkor Temples, which Siem Reap is known worldwide for!
Especially after Angelina Jolie played in the first Tomb Raider movie.
Even if the town is really touristy, there are still some charming spots in Siem Reap!
I didn't find the place chaotic as Phnom Penh, so mostly relaxing and calm (apart from the main road where Tuk-Tuk drivers will try to get a ride in a quite persistent way). And because of its small size, it's easy to get around and you won't feel lost like you do in the big cities ;-)

How to get to
Siem Reap
By air:

There's an airport in Siem Reap which caters domestic and international flights. The airport is located 7,5 km from downtown Siem Reap. Outside the arrival terminal, there are taxi booths where you can pay for a taxi. A car cost about $7-8 and riding on a motorcycle to town cost $2-3 per person.
Many hotels and some guesthouses in Siem Reap offer free pick-up, but you have to notify them in advance.
Search for cheap flights to Siem Reap:

From Bangkok by overland:

The nearest border crossing to Siem Reap is the border crossing to/from Thailand - checkpoint Poipet/Aranyaprathet.
Read my article on border crossings in Southeast Asia. (opens in a new window)
There are several private buses from Bangkok to Siem Reap, but there have been reports on scams, so I wouldn't recommend them. I would rather take the train from Bangkok to Aranyaprathet, and border a minivan or a songthaew to Siem Reap after you've crossed the border.
By bus:

You can get to Siem Reap by bus from all major towns and cities in Cambodia. It takes 6-7 hours by air-con bus from Phnom Penh, and 10 hours from Sihanoukville. You can also choose to get a minivan from Phnom Penh ($10 per person).
We used the company Virak Buntham the whole time we were traveling in Cambodia in April 2010, and were satisfied! When we arrived in Siem Reap from Sihanoukville, the bus drove into some kind of private area at the bus station. Instead of getting "attacked" by persistent Tuk-Tuk drivers, they had their "own" Tuk-Tuk drivers.
Through Virak Buntham, we paid $1 for transport from the bus station to Siem Reap downtown.
By ferry:

From Phnom Penh and Battambang, there are ferries going to Siem Reap, and they arrive at the village Chong Khneas in Tonle Sap lake near Phnom Krom, which is about 12 km south of Siem Reap. A ride into town by mototaxis cost about $2.
Map of Siem Reap:

A: Pub street (restaurants, shops and bars)
B: Wat Bo road (budget and mid-range accommodations)
C: Taphul road (mid-range and luxury accommodations)
Some important places to know about:
Ambulance: 119
Police : 117
Fire: 118
Tourist police located opposite of the main entrance to the Angkor archaeological park.
Royal Angkor International Hospital Phone nr: +855 63 761 888 Open 24 hours and provide international standard medical services, and is part of the well-known Bangkok Hospital Network
Kanya pharmacy Address: 82 Modul 1.
Banks and ATMs available around Siem Reap and dispense in $ dollars.
Post office Address: Modul 2 Village. Phone nr: (063) 963 446.
You can get internet access along Sivatha Road and around Old Market.

Price per hour:

from $1. The cheapest internet cafe I saw was located on the upper side of Sivatha Road, near KFC and per hour it cost $0.75 (3000 riel)
Bicycle rental: Starts from $ 1 per day. Other guesthouses charge $2 per day.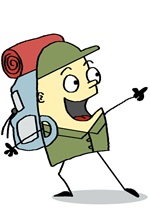 PSSSST...
Don't know how to set up an itinerary for Cambodia and Southeast Asia?
Get all the help you can get with this step-by-step guide on how to create an itinerary. Learn how to create a good and realistic itinerary for Southeast Asia.
---
| | |
| --- | --- |
| Like this page? | Search this site |
Return to top of Siem Reap Cambodia

---
---