---
Getting to Ko Chang Island
in Thailand

---
Last updated on Nov 25, 2013
All information below is subject to change

Ko Chang Island is Thailand's second largest island and has become more popular over the years; filling the island with both backpackers and tourists at all ages.
Chang means "elephant" in Thai, but that doesn't mean that elephants will be running all over the place ;-) The reason it's named Elephant Island is because of the shape of the island.
Ko Chang is part of a marine park with the same name. It is said that Koh Chang was broken off the mainland for centuries ago. That might explain the dense forest and the numerous mountains found on the island.
So it's the place to go if you want to explore the wild, mystical jungle of Ko Chang, or the beautiful tiny islands close by:
Koh Wai and Koh Mak.
During the high and peak season, the island is packed, all the way from White Sand Beach to Lonely Beach. White Sand Beach is like a mini-Phuket. Even busy Tonsai Bay in Ko Phi Phi is more charming.
So if you want a quieter place, you should head to the east side of Ko Chang.
By the way, this article is about Ko Chang in the Eastern part of Thailand.
It must not be mistaken with Ko Chang Island on the Western part of the country, in Ranong province (close to Myanmar).
How to get to Koh Chang
By bus from Bangkok: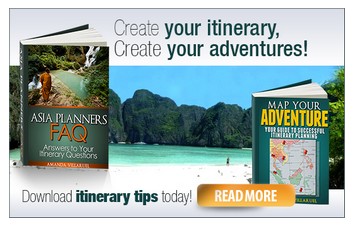 To reach Koh Chang, your goal is to get to Laem Ngop (where the ferries leave) or at least Trat - the closest "bus town" to Koh Chang.
From Bangkok, there are frequent buses to Trat and a few buses to Laem Ngop. Buses driving to Trat stop at Trat bus station.
Buses from Bangkok to Laem Ngop (from Ekamai):

Transport Co: leaves at 07.45 and 09.45.
Government bus: leaves at 07:45 and 09:45
Buses from Bangkok to Trat (from Ekamai):

Transport Co: leaves at 07:00, 09:00, 11:00, 12:30, 16:00, 17:30, 24:00.
Cherdchai Tour: leaves at 06:00, 07:00, 09:30, 11:00, 12:30, 14:00, 15:30, 17:30, 19:30, 20:30, 22:00, 23:30.
There are several bus companies that does the route between Bangkok-Trat. So there are more departures than the ones mentioned above.

The buses leave Ekamai bus terminal in Bangkok and Mo Chit bus terminal. We took the government bus from Ekamai bus terminal to Trat back in 2010. We grabbed a night bus at 22.00 and it took about 6 hours (241 B per person) before we reached Trat.
Once you're at Trat bus station, take a songthaew to Laem Ngop where ferries for Koh Chang are 'waiting'. Songthaews run frequently between Trat and Laem Ngop - no worries! A songthaew to Laem Ngop takes about 30 minutes, and you pay about 50 B. For the ferry, I paid like 80 B for a ticket (or 120B for a round trip), and the ride took less than one hour.
There are also direct buses from Suvarnabhumi airport in Bangkok to Koh Chang which leave at 07.30 (300 B per person). 
By minibus:
From Khao san road or Soi Rambuttri, you can arrange minibus transportation to Laem Ngop. I didn't take a minibus to Koh Chang, but I reckon the price is more expensive than a public bus-ticket because they're faster. Minibus transportation is in most cases more expensive than public buses.
Minibuses also leave for Laem Ngop from Ekamai bus station (300 baht per person) in the morning at 06.00, 08.00 and 10.00.
The only downside about minibuses is that the drivers have a reputation of driving very (VERY!) fast. Be prepared and buckle up!

Important places to know about:
Ko Chang island Tourist Police on Klong Prao and Kae Bae beach.
Ko Chang island Hospital (private clinic) - White Sand Beach.
Koh Chang International Clinic - White Sand Beach. Otherwise there are clinic in these villages: Kae Bae, Klong Prao, Bang Bao and more.
There are banks and ATMs scattered along the Main Road on Koh Chang (Siam City, Bank of Ayudhya etc.).
Pharmacies on White Sand, Kai Bae and Chai Chet.
Post office on the west coast of Koh Chang by Pearl Beach.
Opening hours: Monday - Friday: 08.30-12.00, and 13.00- 15.30.
Internet cafes by every beach, guesthouse and resort on Koh Chang.
You can rent bikes at bike shops by White Sand, Khlong Phrao and Lonely Beach. Price: 250-300 B per day.

PSSSST...
Having trouble on where to travel in Thailand? How to set up an itinerary?
Solve your Thailand itinerary with Map Your Adventure: Thailand, one of our most popular tutorials.
---
| | |
| --- | --- |
| Further reading: | Like this page? |
Return to top of Ko Chang island

---
---