---
Bangkok Shopping:
Reviews of Malls, Market and Shops
in Bangkok
---
"Bangkok shopping" was last updated on Jan 15, 2012 
All prices are subject to change
Shopping in Bangkok is like a drug. It will make you go crazy, impulsive and broke!
You can shop till you drop in Bangkok!
You can find ANYTHING in this city!
There are malls, stores, markets and stalls basically everywhere in the Banglamphu, Siam Square and Chinatown area.
During the evenings on Khao San Road (KSR) and Soi Rambuttri (SR), there's an evening market going on (until 10 or 11 p.m.)
They sell the "ordinary" stuff (souvenirs, lamps, clothing, shoes, flip-flops and etc).
All I can say is Bangkok and Kuala Lumpur are my most favorable places to shop in Southeast Asia because of the variety in shopping items.
I always like a combination of cheap and more 'expensive' shopping, depending on what I'm looking for. Gifts, souvenirs, t-shirts, flip-flops and bags are my market items, while work-out clothing, make-up, perfume and jeans (like Nike and Levis) are bought at the real shops.
It's really cheap in Bangkok, so I'm giving you a list of prices of typical items bought in the city.
Hope you find what you're looking for! :-)
How much should you
expect to pay?
Textile slingbags = 150 B 
T-shirt = 99-300 B depends on the material and if it has any large/special designs
Tank tops - the cheapest I saw was "buy 3 for 100 B" (on Soi Rambuttri), or else 100 B for one tank top on Khao san road
Shorts - we bargained for a Volcom shorts from 650 B to 580 B (it's tough to bargain on Khao san road)
Fake branded backpacks - managed to bargain for a 40 liters backpack from 800 B to 650 B
Home made bracelets (with emeralds/stones) = 150 B
Macrame bracelets - you can buy "5 for 100 B"
Small scarf: 50 B, big scarf: 100 B
Fake branded jeans = 100-500 B
You can find fake jeans with brands like Diesel, Lee, Levis, Wrangler.
Before you decide to buy fake jeans, remember that the quality is no way near of the originals. They'll fit when you're trying them in the "dressing room," but they'll lose their shape after washing 2-3 times.
I worked with a sweet young guy from Thailand. He comes from Nakhon Sawan, south of Bangkok and visits his family twice a year.
I asked him about the prices for several items in Bangkok, included jeans.
Guess what he told me - "Amanda, you shouldn't pay more than 500 B for fake branded jeans, even on Khao San Road. This applies to foreigners as well. They get "ripped off" by paying twice the amount."
And to me, it seemed like the jackets with the big Adidas logo on the back cost less than those without! I can tell you that I bought four "Adidas" jackets on Soi Rambuttri for 1050 B. The first time, I bought two cool jackets and paid 500 B, then the second time I paid 550 B (the same store...!) You can get the jackets in different colors, from classic black to more retro like purple and orange.
Flip Flops - 150-300 B depends on material and design.
In my opinion you shouldn't buy flip flops on Khao San Road! I went shopping in Bangkok (last time May 2010) and witnessed the bad selection of flip-flops.
In the selection I saw many awful platform flip-flops in the most disgusting and disturbing colors I've ever seen. Like orange mixed with light blue. It was the color combination that made me go...
... Who designed that?!
I was in Bangkok with my Swedish friend and she told me that the selection of flip-flops wasn't like this a few years ago.
She has been to Bangkok twice before, so she could apparently tell the difference. And she was surprised by the new collection as well.
If you're running out of time...
... and if you have to shop in the area and want just simple flip-flops, they have some fake branded Havanas (150 B) in Soi Rambuttri.
But if you're more like me who likes the classic flip-flops: simple colored and no platform, I recommend that you save your money for Siam Square!
More on Siam Square further down this page.
Bargaining in Khao san road
When it comes to bargaining on Khao San Road and Soi Rambuttri, you can of course do that!
But I actually found it hard to bargain on Khao San Road.
Why?
There are loads of backpackers and tourists wandering along the street - the sellers know that someone is going to buy their products either way... So they likely won't cut the price that much, or sometimes they don't give in it all!
Otherwise, you have ordinary shops on Khao san road, Soi Rambuttri and Thanon Rambutri during daytime. I recommend that you experiment, and try to walk in the side streets of Khao san road. I remember walking around Banglamphu and found very narrow, but exciting shopping alleys along Thanon Chakra Bongse (be patient though).
Corsair Boutique
in Banglamphu
When I last visited Bangkok in April/May 2010, I came across this awesome boutique in Banglamphu! The designer's name is Suwanna Sudanor, and she's captured my shopping heart! :-)
If you're tired of low-quality sandals and shoes, I can recommend you this shop! They sell shoes and sandals for men and women, and prices range around 1000 B. I found some green leather sandals with a turquoise emerald stones (1000 B).
Where: Behind Soi Rambuttri, Phra Athit road/Phra Sumen road
They have a shop at the Chatuchak weekend market as well, and at central festival in Pattaya beach.
Bangkok shopping in
Mahboonkrong (MBK) Mall

Most people go to the MBK Mall to shop. It's enormous, and you can get lost!
As far as I know the mall can be divided into two parts: the ordinary shops and the stalls which are on the 3rd floor (I think). Here you can get everything from clothes to hardware items.
Let me tell you how much things should cost on MBK...
Prices for items apply for the stalls, not the actual shops at MBK.
Shopping items from MBK Mall: 
Two white paper lanterns with wooden stands for my night table - Total amount: 300 B
You can get paper lanterns in many different sizes and colors. The larger ones which can stand on the floor cost from 500 B.
Dozens of small round paper lanterns - Total amount: 300 B for 3 packs (20 pieces in one pack). 
One cord with multiple mini light bulbs came with one pack. You can choose and combine the colors as you wish. When I came home, I hanged them on my porch! Great for parties, romantic dinners and family dinners because it creates that special and warm "I'm-in-Thailand" feeling. Awh! One of my favorite bargains!
Fake branded underwear/boxer shorts - 40 B for underwear, 50-70 B for boxer shorts.
The underwear with no fake brands cost 20 B per piece. But to save some money, you might try the 5 undies for 50 B.
The big downside with the underwear is they're one-sized. It seemed like I kept running into these one-sized stores, so I gave up, bought 7 panties and hoped that I would fit in them (which I didn't by the way, after too much Pad Thais and beers).
DVDs - 100-150 B (4th floor)
If you buy TV shows/series it cost more! Expect to pay 150 B, maybe even more. I bought 5 DVDs for 550 B.
All of the DVDs were good quality, even Heroes (season 1) for 150 B. As far as I know, all the international movies are on English (and Thai) and region-free.
But to be sure, ask the staff. When you've picked out the DVDs you want, the staff is going to burn the movies into a DVD. They'll ask if you can return after 1 hour.
Hoodies - 200-700 B depending on material, design and how good your bargaining skills are!
The hoodies on MBK are popular with backpackers and tourists! It doesn't matter how small or big you are, you'll find your size!
Most of the hoodies have themed designs: like space, aliens, cartoons, skulls, devil horns, cats and you can just imagine the rest.But please compare prices - don't buy from the first store you see or get tricked in.
I promise you that many of the clothing stores sell the same hoodies with the SAME designs.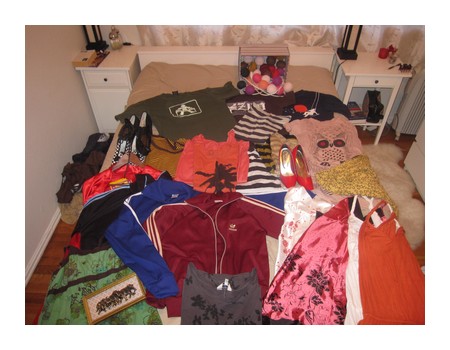 Welcome to our bedroom and some of my Bangkok Shopping Results! Lots of dresses (the Gladiator dresses are my favorite: the orange and white to the right), Adidas jackets, pumps, shoes, elephant frame, tops, t-shirts (the t-shirts I bought for my boyfriend are on the top), yellow hoody, small paper lanterns, night gown and the two white paper lanterns for our night tables are in the background!
Now it's time for JEANS! 
Where to buy jeans at MBK Mall
Pair of jeans are something you have to include in your Bangkok shopping!
There are dozens of jeans shops at MBK! It's all there for you: slim, baggy, casual, with designs or no designs, stretch or no stretch.
I found two pair of "Diesel" jeans and paid 500 B for one pair. They even customized the length for me (included in the price). I just had to pick it up after 30 minutes.
If you get hungry at MBK, they have a food court on the 6th floor (but the food is not cheap). You'd better cross the street over to Siam Square and buy food from the vendors walking on the streets!
Bangkok Shopping
in Siam Square
In Siam Square (a very popular shopping district) you can find ordinary shops, boutiques, stalls and small alleys where they sell cheap clothing, shoes, accessories and so much more. It will blow you away!
If you cross the bridge from MBK's 3rd floor (think it's the 3rd floor) to Siam Square, you'll enter the "teenage zone" of Siam Square.
You'll be met by hundreds of stalls cramped together and hundreds of young Thais, tourists and backpackers! I've never seen so many Thai teenagers gathered in one spot! Aaaaaaaah!
Well, back to business!
Here's what you should expect to pay:
Shoes

: pumps, sneakers , sandals, flip-flops, ballerina shoes - 50-500 B. A pair of flip-flops might cost 50 B, a pair of sneakers (men + women) is 200-500 B depending on what kind of fake brand it is. I bought red pumps with snake leather (fake) for 200 B. Ballerina shoes started from the 100 B, and a few cost 80 B.
T-shirts + tank tops - 100-300 B depends on material and design. It doesn't matter if you have a surfer style, emo style, ghetto style, bohemian style, chic style, trendy style - you will find something here!
Anyway, it's time to use your bargaining skills!
Bangkok shopping in
Chatuchak Weekend Market
Chatuchak is the largest market in Thailand! So if there's one market you have to visit while you're in Bangkok, it has to be Chatuchak.
The market offers clothing, paintings, handicrafts, food, live animals and you can even drink snake blood here!
How to get there:
Take the Skytrain (to Mo Chit station). The market is a 5-minute walk from Mo Chit station.
Bangkok shopping in
JJ Mall
JJ Mall is a large shopping complex, behind Chatuchak Market. They sell the same stuff as the open-air market, and the prices are similar. I prefer the market instead of the mall, because of the lack of variety in items. Like, the clothing stores sell pretty much the same stuff.
But I did find something interesting at JJ Mall...
At the end of the day, I noticed a store selling purses, bags and clutches in any style you want:
- Cool, rough, elegant, classy or simple. Simple purses are hard to find in Thailand!
Then one bag caught my eyes.
I saw one of the coolest bags I've ever seen in my life - I bought a vintage yellow leather bag for 750 B (fake leather of course). Rough, but still feminine. Not too many details, but still unique!
How do you get to JJ Mall/Market?
You can take a taxi, or you might try the Skytrain and experience Bangkok from another view. Otherwise you have the subway (MRT).
JJ Mall is a good option, if you're not in Bangkok for the weekend...!
Return to top of Bangkok shopping
Bangkok shopping
in Chinatown 
If you want to experience something different than just shopping malls, and want to get away from the sun, you might try to walk in the shade of Chinatown (CT).
There are shops, food stalls, food vendors, restaurants and tailors in the VERY narrow alleys of Chinatown.
You can find a vast variety of cheap street food - and it's hard to know where to start!
SO MUCH DELICIOUS FOOD!
QUICK TIP!
Many Tuk-Tuks in Bangkok (especially around Khao san road and Soi Rambuttri) will try to charge you a large sum of money to get to different places. Taking a taxi can be cheaper. 

You might try this when grabbing a taxi:
Ask the driver to put the taxi meter on before you get in. When you get in, make sure the driver actually does it (some have to nag at the driver to do this). On long-distances many taxi drivers will say yes to this (but not on shorter distances because the meter goes SLOW).
We tried to get a Tuk-Tuk so we could get to MBK Mall, but the driver wanted 200 B! So we grabbed a taxi and he charged us 70-80 B (from Soi Rambuttri).
---
---
| | |
| --- | --- |
| Further reading: | Like this page? |
Return to top of Bangkok Shopping
---
---