---
A guide to
Cambodia tourist visa
---
"Cambodia tourist visa" was last updated on Jan 04, 2014
All prices mentioned below are subject to change
What are the visa requirements for a tourist visa to Cambodia?

Almost every nationality who wants to visit Cambodia for tourism purposes must have a valid tourist visa. Backpackers from Europe, North America and Australia must possess a visa to enter Cambodia.

There are two ways of getting a Cambodian visa:
a) visa-on-arrival and
b) visa-in-advance.

All visitors (except countries on the Visa Exemption list) need a tourist visa to enter Cambodia.

Visa exemption list:
Malaysia, Singapore, the Philippines, Vietnam, Thailand, Indonesia and Laos. 
These nationalities don't need a tourist visa to enter Cambodia.
If your country is not listed above, it means that you need a visa to enter Cambodia.

A) Visa-on-Arrival
The visa-on-arrival scheme means that most foreigners can get a 30-day Cambodian tourist visa-on-arrival at the two international airports in Phnom Penh (Pochentong airport) and Siem Reap, and at the border crossings.
These are the border crossings where you can get Cambodia visa on arrival:
Veun Kham/Dom Kralor (Laos - Cambodia/Stung Treng)

Aranyaprathet/Poipet (Thailand- Cambodia/Siem Reap)

Hat Lek/Koh Kong (Thailand - Cambodia/Phnom Penh/Sihanoukville)

Ban Pakard/Phsa Prum (Thailand - Cambodia/Battambang)
Bavet/Moc Bai (Vietnam - Cambodia/Phnom Penh)
Phnom Den/Tinh Bien (Vietnam - Cambodia/Kampot)
Preak Chak/Xa Xia (Vietnam - Cambodia/Kep/Sihanoukville)

Price for a Cambodian tourist visa: $20
B) Cambodia Tourist Visa
in advance
If you want to save time at the airport or at the border, you might want to apply for visa in advance.
You can do this at your nearest Cambodian embassy. Your visa will then have a validity of 90 days (3 months) from the date of issue. This means that the visa must be used within 3 months.
Here are the visa requirements:
You will need:
Flight itinerary details
One passport-sized photo
Your passport must be valid for 6 months after the date of return from Cambodia
Where can you apply for a Cambodian Tourist visa?
Vientiane, Laos

Thadeua Road, Km 2, P.O Box 34


I can tell you that I got my Cambodian Visa in Vientiane, and the application process took an hour. If you're in a rush, you should take a songthaew from downtown Vientiane to get there. Otherwise, it's a long walk to downtown (about an hour).

Bangkok, Thailand

518/4 Pracha Uthit Road
(Soi Ramkamhaeng 39)
Wangtonglang


For more information on how to get a Cambodian visa in Bangkok, click here (opens in a new window)
Applying for a Cambodian visa online
Instead of going all the way to the embassy, you can apply for e-visa.
Price: $ 20 + $ 5 (processing fee) = $ 25
Before applying online, check if the border you will be crossing accepts evisa.
These are the airports and border crossings that accept evisa:
Phnom Penh international airport
Siem Reap international airport
Cham Yeam (Koh Kong) border crossing (Thailand)

Poipet/Aranyaprathet border crossing (Thailand)

Bavet (Svay Rieng) border crossing (Vietnam)

Cambodia-Thailand Joint Single Visa
On Dec 27th, 2012, the Cambodia-Thailand joint single visa scheme was implemented. You can now get one visa to visit both countries.
I've covered the topic under "Thailand Tourist Visa": Cambodia-Thailand Joint Visa Scheme
Tourist Visa Extension
You can extend your tourist visa only once, for up to one month (30 days).
Price: The next day service costs $45.
You will get additional 30 days on your tourist visa.
Where can you extend your tourist visa?
You can get an extension at the Department of Immigration or at travel agents.
Department for Foreigners
No. 322, Russian Boulevard
Opposite Phnom Penh Airport
If you have an evisa and want an extension, you can't apply for this online. Go to the immigration or a travel agent to get an extension.

Overstaying your
Cambodian Visa
Remember that if you overstay your visa, it will cost you $5 per day the first month. The second month, the price is $6 per day. You pay at the immigration on your way out of Cambodia.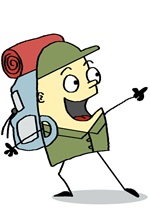 PSSSST...
Don't know how to set up an itinerary for Cambodia and Southeast Asia?
Get all the help you can get with this step-by-step guide on how to create an itinerary. Learn how to create a good and realistic itinerary for Southeast Asia.
---
| | |
| --- | --- |
| Further reading: | Like this page? |
Return to top of Cambodia tourist visa

---
---