---
Indian Honeymoon:
Recommendations for Honeymoon
Beaches in India

---
"Indian honeymoon" was last updated on Dec 27, 2013
All information below is subject to change

I've traveled a lot in India, mostly in the south where the nice beaches are located.
There are some places in India where I would bring my boyfriend and spend time together, and there are also places where I would not fantasize a romantic evening.
Of course, I will focus on the most romantic places in India.
Over the years, more foreigners have come to India to spend and celebrate their honeymoon.
There's no question in that since India has a lot to offer to travelers, including honeymooners.
So, India's top beaches are located on the west coast. In this article I will focus on beaches in Goa and Kerala, and also Andaman and Nicobar Islands.
Palolem Beach, South Goa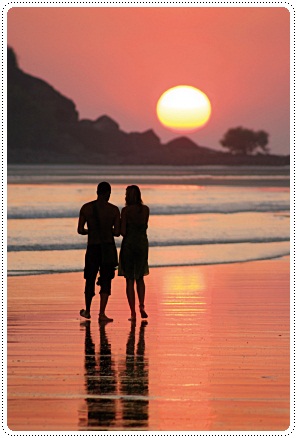 I'm starting with Palolem since it's my favorite place in Goa.
Goa is a major hotspot for 'hippies' in all ages, couples and singles. If I would to choose a beach in Goa to spend my honeymoon, I would definitely choose Palolem.
Why you should spend your honeymoon in Palolem:
It is said that Palolem is the most beautiful beach in Goa. I agree.
Palolem is a small town with heaps of eating opportunities, attractions and activities. Go dolphin watching or take an ayurveda massage. You still get this jungle-feeling, without being totally overwhelmed by modern development.
Palolem has a clean crescent-shaped beach surrounded by clear water. The beach has a long stretch, so it's quite possible to find a quiet spot and also perfect for long strolls. The waves here are more subtle than those in Kerala, so most of the time you can take a swim (this depends on season though).
From Palolem, you can explore neighboring beaches and islands, like Agonda Beach, Butterfly Beach and Konkan island
The atmosphere itself is relaxed and calm - no one's rushing. It's a great feeling!
Despite its small size, Palolem offers honeymoon suites. For instance: Cuba Premium Bungalows. If you want to spend your honeymoon at a 5-star resort, Lalit Resort is one of the few ones in Goa. This resort is located south of Palolem.
Drawbacks of Palolem (and other beaches in Goa):
In the high season (mid-October to February), the beaches of Goa are crowded, and that also includes Palolem.
Local sellers on the beach walking forth and back to sell stuff - they can be pushy
Some locals strolling on the beach like to stare down females like they were exotic animals in a zoo - this might become uncomfortable.

But honestly, this is a common phenomenon at almost every popular beach in Goa and Kerala. As long as you're wearing a bikini, it can't be avoided. If you're staying at a 4-star or 5-star resort, you should use the sunbathing facilities there.
In extreme cases, some locals or Indian tourists will take pictures of you. Some of them will ask you first before they do, and some tries the sneak photography.
Click here to read more about Palolem (opens in a new window)
Indian honeymoon in
Varkala Beach, South Kerala
Varkala is another popular place for travelers.
Why you should spend your honeymoon in Varkala:
It houses everything from bottom-priced guesthouses to exclusive resorts. Many of the resorts are located on North Cliff, facing the ocean.
There's no shortage of restaurants or shops in Varkala. You'll find restaurants in all price classes.
A restaurant I believe you will like is Café del Mar - the best Indian and Western dishes I've tried in Varkala
From Varkala, it's only a short trip to explore the surrounding beaches. Odayam and Black Beach are some of them. 
Odayam is far more secluded than Varkala beach, and it's perfect for honeymooners who want to spend some quiet time alone. It's quite possible to stay at Odayam - there are a couple of guesthouses in the area.
Drawbacks of Varkala:
In the high season, Varkala is packed. It has become too developed.
The beach at North Cliff is not the best one - garbage is hanging from the trees and onto the beach, and the waves are too powerful. It's almost impossible to swim.
Bekal Beach, North Kerala
Why you should spend your honeymoon in Bekal:
Bekal is located in north Kerala, only two hours from Mangalore airport. It's less developed and more secluded than the beaches in south Kerala (but it's only a matter of time before Bekal becomes the next Kovalam). Most visitors to Kerala don't venture this far north, so there are more quiet beaches here.
Nice stretch of beach, and the swimming here is generally safe.
From Bekal Fort there's an amazing view of the coast.
Good opportunities to explore neighboring beaches like Kappil beach.
Drawbacks of Bekal Beach:
Few activities. One of the few attractions here is Bekal Fort - a nice attraction though.
Indian honeymoon in
Andaman and Nicobar Islands
One of the reasons I prefer islands rather than mainland beaches, is the chance to explore the underwater! :-)
Why you should spend your honeymoon on the islands:
The Andamans offer beautiful, white beaches with special attention to Haveloc island and Beach number 7. The beach here is white, very clean and picture perfect :-) Great place for beach bumming!
Excellent snorkeling and diving opportunities, with fantastic macro life. There's a major diving activity on Neil and Havaloc with many dive sites.
Not only does the islands offer underwater activities, but also trekking tours in the rainforest.
Havelock island has many resorts, with nice sea-facing rooms, for instance Wild Orchid Resort, Barefoot Resort and Silversand Beach Resort, just to mention a few.
Indian honeymoon: Room at Barefoot Resort
Drawbacks of the islands:
In the high season, Havelock island gets crowded! Havelock has a rumor of being too commercialized.
These islands are expensive and are not aimed at travelers and honeymooners with a strict budget. Food and drinks are expensive!
---
| | |
| --- | --- |
| Further reading: | Like this page? |
Return to top of Indian honeymoon

---
---