---
Review of Killing Fields
of Cambodia (Choeung Ek)

---
Prices listed below are subject to change
Last updated on Dec 30, 2013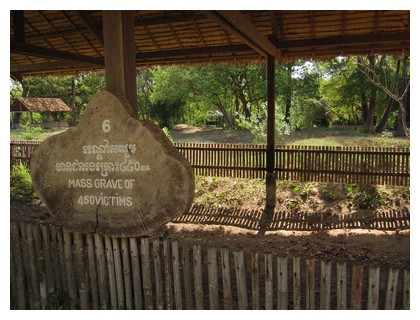 Visiting the Killing Fields?
When you're visiting Phnom Penh, Killing Fields is a must.
This is where the Khmer Rouge executed more than one million people between 1975 and 1979.

The Khmer Rouge interrogated the victims at Tuol Sleng, then they brought the inmates to execution on the Fields.
Admission: $ 3
Distance: 15 km southwest from central Phnom Penh
Many travelers start their trip at the Tuol Sleng Genocide Museum, and then continue to the the Killing Fields. But I got to warn you, it's going to be a "heavy" day.
If you have more time in Phnom Penh, you should consider avoiding visiting Killing Fields and Genocide Museum on the same day.

When you enter the premises, you'll see a tall Buddhist stupa filled with skulls of the victims.
This stupa is filled with about 8,000 human skulls, sorted after sex and age. And it will stun you into silence. 20,000 people, including foreigners, were executed here.
And when you walk around the area, you'll pass mass graves containing almost 9.000 bodies.
Here they tortured the victims before they threw them in.
For the executions, they banged the children against trees and used axes, knives and sharp bamboo sticks to kill the other Cambodians. Pol Pot didn't want to shoot them because he wanted to spare the ammunition (bullets are expensive)! So, instead of giving the victims the mercy of quick executions, the victims would suffer inhumanly before they passed away.

Another way of killing them was to cut their throat open with sharp leaves - the murder trees are still standing there. It sounds brutal because it was brutal.
My stomach ached each time I visited the Killing Fields (first time in 2007 and second time in 2010). There's this 'heavy' silence at the site. Not many feel like talking after watching the skulls and graves. 
I can't emphasize enough the importance of visiting the Killing Fields. All travelers should make their way to Choeung Ek

---
| | |
| --- | --- |
| Further reading: | Like this page? |
Return to top of Killing Fields of Cambodia

---
---