---
Review of S-21 Tuol Sleng
Genocide Museum
---
 Last updated on Dec 29, 2013
Prices mentioned below are subject to change
You just entered the dark side of Cambodian history - the genocide committed at Tuol Sleng!
First, some practical information:
Admission: $ 3 (paid at the booth just pass the entrance)

Address: Street 113, Boeng Keng Kang 3, Chamkar Morn.
Opening hours: Everyday at 8.00 am - 5.00 pm.
Distance: 2 km from Sisowath Quay
Recommended Book:
This book about Pol Pot has received several good reviews! Worth reading it!
When you're visiting Phnom Penh, you're likely here to visit the famous S-21 Prison. S-21 stands for "Security Office 21."
Be mentally prepared before you visit the museum… What you're going to see will affect you in a way you've likely never felt before.
If you start from the left when you enter the premises, you'll see the prison cells with iron bars. All the class rooms of Tuol Sleng were turned into prison cells.
Further, you'll get to a hall where you'll stand face to face with the victims during the Pol Pot period.
Watch the faces of the victims: women, children and men. All of them were slaughtered. No exceptions.
When you walk around the hall looking at the pictures, it's hard to keep the tears back. The silent, but yet powerful atmosphere will make the toughest man go soft. You don't even need to know the Cambodian history to feel it.
One of the cruel sides of Tuol Sleng is the part where Khmer Rouge brainwashed children (from 10-15 years). They were trained and selected to work as guards. These young guards turned to be mean towards the prisoners, even elders. It's just...provocative to think about it and can turn your stomach.
After this, you'll get to an equipped room with torture tools and torture paintings.
You can tell by the paintings that the victims were stretched, electrocuted, whipped, burnt, hung and their limbs chopped off.
There are hundreds of ways of torturing a human being, and most of them were used at this facility. The victims went through torture to confess something they didn't do. It's hard to imagine what they went through. We can only empathize, not understand it.
... At the end of the day, you'll likely think: "Why did the son of a b**** Pol Pot do this to innocent people?!"
Genocidal acts can't be entirely explained, at least not in this article. It's like questioning why Hitler decided to destroy all Jews 70 years ago!
In my opinion it starts with an ideology and a stubborn, ambitious man. And the sad part is: We can't change history, we can only learn from it.
So, what will you learn
after this experience?
... You'll learn that the most dangerous species on this earth are the human beings, not the animals...
... You'll learn that cruelty has no boundaries...
... You'll learn that Cambodia has gone through hell...
... And you'll finally realise how lucky you are who didn't live in Cambodia during the rule of Pol Pot (the prisoners were also foreigners, like Americans, Russians, Australians, Canadians etc.)
More of my S-21 pictures -
Photo Witness of a Cambodian Genocide
Prisoners were kept in these small cells on Tuol Sleng. Before the prisoners were placed in the cells, they were photographed. And they had to tell detailed biographies from the date of their birth, to the dates of their arrests. They were stripped to their underwear. And everything was taken away from them.
The slept directly on the floors without any mats, mosquito nets or blankets.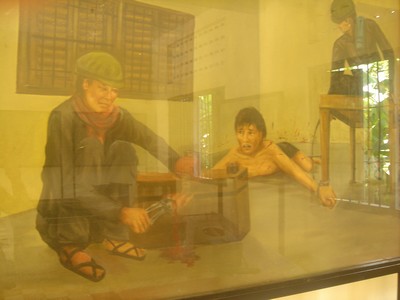 Here you see how the Khmer Rouge cut off the prisoners' limbs. Fellow citizens killing one of their own. AH! It makes my stomach turn!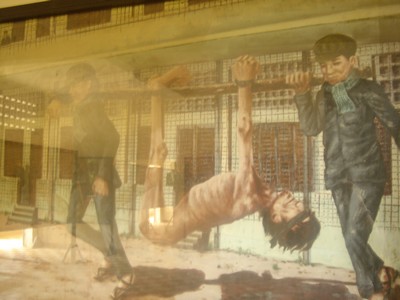 This painting shows the marks of torture, and how a prisoner of Tuol Sleng was starved (to death).
One of the many torture "tools".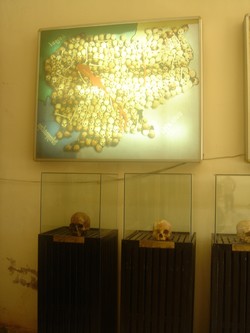 The victims' skulls displayed at the end of the hall.
More victims at Tuol Sleng Genocide Museum in Phnom Penh.

---
| | |
| --- | --- |
| Further reading: | Like this page? |
---
---