---
Review of the Landmine Museum
&
Landmines in Cambodia
---
Last updated on Jan 03, 2014
All information below is subject to change
Welcome to the Cambodian Land Mine museum Relief Facility, which is a NGO (= Non-Governmental Organization).
Admission: $ 3 (goes to the facility)
Its founder Aki Ra was a former conscripted child soldier during the Pol Pot-regime. His parents were killed by the Khmer Rouge, and after a while he ran away and joined the Vietnamese army.
Now he helps the Khmer people using his experience and knowledge about landmines, by disarming them. I think that's a little ironic because he helped to plant thousands of landmines when he was a Khmer Rouge soldier.
Established in 1997, you'll find a large collection of disarmed mines (-land and sea), different artillery, weapons, rocket boxes, gas masks and pictures of people with lost limbs. Watching the pictures will definitely turn your stomach.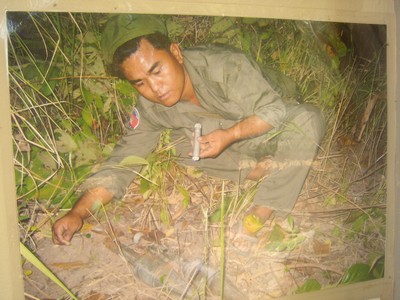 Here's what's at stake:
Cambodia has one of the worst land mine problems in the world. And about 1/3 of the children in Western Cambodia lost their parent to a land mine. Landmines in Cambodia and unexploded ordnance (UXO) is still found every day.
Huge areas are full of land mines, especially the Western border where the fighting was worst. The Russian PMN-02 accounts for approximately 80 % of the blast mines, while some are Vietnamese - or Chinese-made.
The projects of disabling and removing mines cost money of course - so, please join the fight against these killing mines. Today we have an opportunity to act - by giving donations!
And it's more than a museum - the facility is also a school for the mine-affected children.

The war has ended, but not the mines as they say... This place is definitely worth a visit.

Where: The museum is located inside the archaelogical park near Bantay Srei.
Time: The facility is a small place, so it won't take you long to wander around, maybe 30 minutes.

---
| | |
| --- | --- |
| Further reading: | Like this page? |
Return to top of Landmines in Cambodia

---
---