---
Review of the Tour to (Mt) Mount Pinatubo, the Sleeping Giant Volcano
---
Last updated on Dec 25, 2013
All information below is subject to change
CLICK ON ONE OF THE PICTURES TO START THE PHOTO GALLERY!
Walking on an active giant volcano like the Mt Pinatubo, might scare the average traveler.
Well, I can't blame them.
But the last time Pinatubo caused serious and fatal damage was back in 1991. When it erupted it cost 847 lives, and 1 million people were forced to leave their homes.
So why visit the Pinatubo?
It's just gorgeous up there! Pinatubo is one of Philippines' natural beauties, and you have to search a long time before you encounter something that beautiful.
Trekking to Pinatubo is a good exercise! Yes, you have to walk on tough terrain and climb for several hours, and use muscles you haven't used before - but any person in OK shape can handle this tour. We were living examples of this.
 The fee you're paying helps the local people
Exactly where is Mount Pinatubo located?
The volcano is located on the island of Luzon, between the provinces of Pampanga, Zambales and Tarlac.
PS! The tour itself was experienced by my boyfriend (Severin) and my cousins (Steven, Andrew and Jerome). I couldn't join them because I caught the flu... :-(
The tips on how to get to Mount Pinatubo, and when to start the journey is of the author of this website, but the rest is Severin's tips! :-D
How to get to Mount Pinatubo
and out
The best trail is called the Capas Trail starting from Capas in Tarlac.
If you're in Manila, you can arrange a tour at the guesthouse or at travel agent in the city. Or if you want to save money, you can take a Victory Liner bus from Manila to Lingayen or Dagupan (300-340 PHP) - then you get off at Capas.
City Liner Terminals:
Caloocan: 713 Rizal Avenue Extension, Caloocan City
Cubao: Edsa, Cubao
Kamias: Edsa, Kamias
Pasay: Edsa, Pasay City
Sampaloc: España, corner Galicia Street, Sampaloc, Manila.
Contact City Liner (opens in a new window)
From Capas, take a jeepney to Paitlin, and then a tricycle to Barangay Santa (Sta.) Juliana. Or a direct jeepney from Capas to Sta. Juliana - that cost 400 pesos.
You have to register at the Barangay Office in Sta. (= Santa) Juliana, Capas in Tarlac and pay 50 pesos in conservation fee (per person).
Leaving Mt Pinatubo - going north to Baguio/Sagada/Bontoc/Banaeu:
Make your way to Dau, which is not far from Clark and Mount Pinatubo.
From Dau bus terminal, there are (overnight) buses to Baguio (6 hours), and from Baguio there are buses to Sagada, Bontoc and Banaeu. As far as I know, buses from Baguio to Banaeu leave in the evening and arrive in the morning the day after. So, from Dau to Banaeu it takes 1,5 day.
Another option is to travel back to Manila, and take a bus there to Banaeu. Ohayami bus company does this route.
The Ohayami buses leave every evening at 22.00 and arrive in Banaeu after 9-10 hours. This does mean that you have to backtrack to Manila.
When to start the journey
to Mount Pinatubo
A tip is to start your journey as early as possible! Or else you have to share the attractions with a lot of tourists.
We started the journey 6.00 am from Pampanga, and arrived at Pinatubo around 9-10 am.
If you walk by foot from Sta. Juliana, it might take you 8 hours through the "lahar" (= lava that's mixed with water) deserts. If you go by jeep, the trip will take 4 hours.
Don't want to hike for 2-3 hours?
There's a shortcut called the Skyway. If you take this shortcut, it will take you one hour to hike after the 4*4 jeep ride.
How much will it cost?
Shop around for prices before you decide.
What you have to pay, depends on which tour agent you're asking.
Example: It can cost like 6,000 pesos for 6 people (1000 pesos each), and some will even try to charge 2500-3000 pesos per person.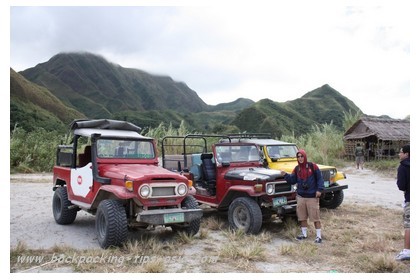 If you want to arrange the trip by your own, you can hire a guide (500 pesos) and a jeep (2,500 pesos) when you get in Sta. Juliana (for max 5 people in the jeep). Tent rental cost 100 pesos. And toll fee for the Skyway (Skyway is the "new" road they built to access to the new jump-off point) is 500 pesos.
Our trip was arranged by Amanda's dad. Her dad's cousin was the one who drove us to Tarlac, and he followed us the whole day (we also had a local guide). I went to Mount Pinatubo with three of Amanda's cousins.
Each of us paid 1000 pesos included the guide fee, wheeldrive, conservation fee (50 pesos), and food.
You should use the guide services. The guides know the area and also know the safest route when trekking.
But watch out: If you're asked to pay an extra fee (in addition to the tour cost), try to ask them why in a politely way.
I'll tell you why…
On top of what the trip costs, I had to pay 700 pesos in foreign fee (I think I got scammed).
Two of Amanda's cousins weren't born in the Philippines, and would technically qualify as foreigners. One of them couldn't even understand and speak Tagalog. But they didn't have to pay this kind of extras.
But then again: The Philippines is a poor country. The money you're paying hopefully goes to the locals' livelihood.
When is the best time to go
hiking in Mt Pinatubo?
Avoid the rainy season - so the best time would be between January and April (the summer months).
And avoid the weekends - there are more tourists visiting the Pinatubo in the weekends.
What should you bring
for the trip to Mount Pinatubo?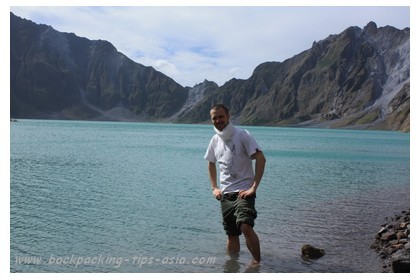 When you get to the summit, you'll likely hungry. But at the time we were there (Jan 2009), there was no food to be bought at the site. So bring some snacks or whatever.
There will most likely be strong wind on your way to the summit. When we were there, the wind was blowing so strong that I caught sand in my eyes.
So to cover yourself from all the sand/dust/ash when you're walking uphill, bring a scarf or alike.
In the morning, the temperatures will be low. But during the day and after several hours of walking, you will probably want to take off your clothing…! We were freezing in the morning because we were only wearing shorts, and one of Amanda's cousins forgot to bring a sweater, and he was freezing badly!!
The toilets at the rest stop are disgusting. I don't need to say more…
It can get very hot during the summer months (January to April) because the ashes reflect the sunrays.
Review of the
Mount Pinatubo Tour
From Tarlac, we drove in a 4*4 wheel drive (WD) jeep through a lahar valley.
At first the landscape is just flat, like a steppe. You drive through areas with muddy lahar, lots of streams, local farmers etc. Then the landscape turned into sloping hills.
Eventually, the road to the rest stop turned into a cool, but bumpy ride. We were head-banging all the way to the rest-stop. You can just imagine how it felt like!
After this, you arrive at a rest stop where a lot of jeeps are parked. Here you can use the toilets built inside some shacks, but man, they were awful (hence, bringing the toilet paper!) And then you eat lunch.
From there, you have to walk.
There's no way that a jeep can handle the rough terrain...
From the rest stop, the beige sand stone terrain slopes down, and it's steep! We could hear stones murmuring, and we were so afraid of getting smashed in the head!
Then the path runs uphill, where parts of the landscape are dry, and some are wet. If you're not wearing shoes, you should just jump from stone to stone. Well, our guide walked so fast - that we couldn't keep up! Haha!
After heavy walking for half an hour, the landscape turned green.
I don't know why we suddenly were in a "jungle." It may be due to the volcanic soil. I mean, there are a lot of minerals in the soil, like phosphorus.
We continued speed walking and passed dragon flies. Otherwise, there was not much life to be seen.
Obstacles to pass were huge fallen stones which we sometimes had to climb. The tour from the rest stop to the summit was supposed to take 2 hours, but we used 1,5 hours (probably because of our guide kept running, instead of walking).
Then... you're closing up on the summit, and the landscape opens up! (oh, finally!)
To get to the lake, you have to climb some concrete steps.
From the top, we didn't realize that we were looking at the crater lake of the Pinatubo. Stones were pouring down into the lake, and it felt like the volcano was still alive. From here, you can descend into the Crater Lake.
Standing on the banks, we forgot the pain in our legs when we saw how beautiful the view was.
I don't easily get impressed, but the sight of the lake drew a big smile on my face. Just imagine the large contrasts: shining turquoise water, grey mountain walls where the ash has left it huge print, and the white "beaches."
You can take a swim in the crater, but watch out: The water level drops just a few meters from the shoreline. You can spot this by looking for dark colors in the water.
When we took a few steps into the water, the ground felt solid at first. But then we suddenly sank into the water, above ankle height.
We were exhausted when we arrived at the summit, but you don't need to be in a top shape to manage a trip to the Pinatubo. I'm even a smoker, and I managed it pretty well!
---
| | |
| --- | --- |
| Further reading: | Like this page? |
Return to top of Mount Pinatubo

---
---