---
Accommodation on
Perhentian Kecil - 
Reviews and Recommendations
---
"Perhentian Kecil Accommodation" was last updated on April 21, 2014
All prices are subject to change
No doubt that the Perhentian islands are busy during the high season between June and August.
You'll find all sorts of accommodation on the Perhentian Islands: simple bungalows, chalets and gorgeous resorts.
To maximize your chances of getting cheap accommodation, you should get there as early as possible! We tried to book a chalet before leaving for the Perhentians, but the answer we got in the phone was:
"No pre-booking, only walk-in."
We took the earliest boat from Kuala Besut jetty at 07.30 am. When we arrived on Long Beach (8 am), travelers jumped off the boat, grabbed their packs and started racing towards the bungalows. It's like being on that TV-show "Amazing Race."
We went straight to Panorama because it's recommended by Rough Guides. When we got to the reception, the staff was like:
"Need a room? You're lucky, we only have two rooms left...!"
During the day, we were sitting at Palm Tree café and drinking beer. Then we noticed that more backpackers landed on the shoreline around noon and 4 pm. Several of them went forth and back, looking for a place to stay.
In the end, some of the travelers had to take the boat to the other beaches because there weren't any chalets left.
Long Beach
We only stayed at Long Beach for a week and didn't have enough time to experience the accommodation on the other beaches.
Long Beach is known as the backpacker beach. Before coming to Perhentian Kecil, I thought that it would be a lot of hardcore partying like on Koh Pha Ngan in Thailand.
But I was surprised to see that there wasn't any heavy partying on Long Beach! 99% of the visitors coming to Long Beach are of course backpackers and the rest are tourists who stayed at Bubu's Resort.
Review of Panorama Chalets 
at Long Beach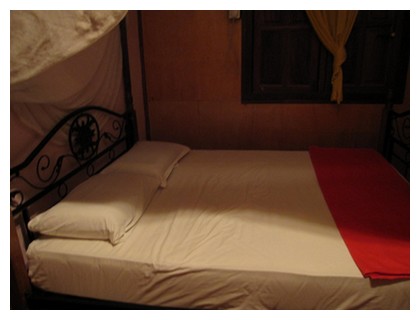 Price per night: from RM 30
Panorama has a deserved reputation of being one of the best places to stay on Long Beach!
Here's why :
Panorama has various types of chalets which suit the single travelers, backpacker groups and families!
Our chalet was large and simple: double bed with a mosquito net, air-con, attached bathroom with hot water and a nice balcony where you can dry your towels and swim wear. If you don't want to wash your own clothes, they provide laundry service.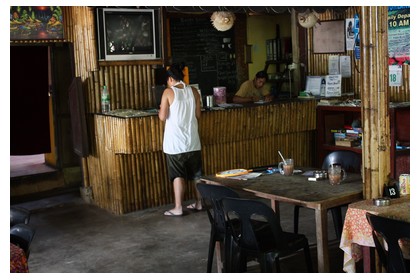 A night on Panorama: The typical evening starts with a dinner at their chill-out restaurant and when there are enough people, they play a Western movie on their large projector screen. This is the place to get cheap Malay or Western meals, but 

don't expect 

top quality Western food.
Panorama didn't sell alcohol the time we were there, but if you want to wash down the food with some Tiger Beer, head for the beach bars and buy beer there. We brought the beer back to Panorama Restaurant, and it seemed like the staff was OK with that.
After dinner, it's time to relax and play pool! Then it escalates to louder and louder atmosphere, and travelers are ready to move to the small bar at Matahari to grab strong drinks and more beer.
The staff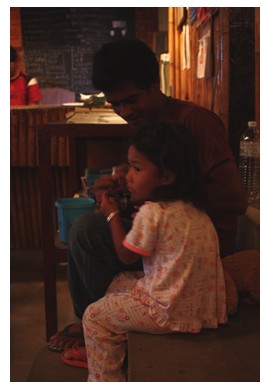 Time basically stops on the Perhentian Islands. No one asks about the time, and no one's rushing.
We immediately caught the exceptionally laidback atmosphere at Panorama. They were just relaxed, extremely friendly, and they were definitely not in a rush what so ever.
They'd be happy to arrange a snorkeling trip for you (RM 50), or arrange a trekking trip to the Taman Negara. Just name it - and they'll help you!
And when the electricity was shut off around mid-day, they seemed to enjoy their badminton siesta or they were just lying in the hammocks.
Ready for diving?
Panorama has a own dive shop called Seadragon Divers. We didn't do the diving here because my ear drum ruptured in Semporna, but we found some prices for you:
Open-water Diving Course (4 days): RM 900
Fun Dive after the course: RM 60
One creepy thing about the chalet though…
We stayed there for 5 nights, and every night we got nasty visitors.
Large red-brown cockroaches seem to enjoy my make-up case a lot and didn't like to be disturbed. When I opened up my make-up case, they came crawling on my hand. I almost shit my pants and basically stayed on the bed for the rest of the night, while my boyfriend was hunting them down. Yep, I'm a damn coward!
But then again, you can't exactly expect anything else when you're staying at low-cost chalets on the islands.
A tip is not to kill them, because if you do, they will release a chemical which attracts even more cockroaches!
We also saw a 1,5 meter long monitor lizard crawling beneath our chalet, and then it continued into the shared bathroom facility... Wonder what happened there...!
But those monitor lizards aren't aggressive, but they're defensive. They're apparently used to people because we saw them walking around the restaurants near the shoreline. We heard that monitor lizards are scavengers and if you get bitten, you might get infected by the bite.
Review of Bubu's Resort 
on Perhentian Kecil
Tired of shitty chalets and want to splurge?
Price per night: from RM 528 (high season)
After staying at hostels and low-cost chalets the entire backpacking trip in Malaysia, we decided to splurge a bit and spend two nights at Bubu's Resort.
Our first room (3rd floor) was super clean, had a comfortable double bed, air-con and fan, Western toilet and decent hot showers. And when we wanted to smoke, we just went to our balcony and enjoyed the spectacular view of Long Beach.
We had to be moved to another room (2nd floor), and this one was more run-down than the first one. Otherwise it was just fine.
Their food was like eating in heaven at that point. We were tired of food which tasted like cardboard, and enjoyed Chef Salimi's cooking at Bubu's.
The only downsides were the noise from the power aggregates, and the smell of methane gas in the corridors once in a while.
Other accommodation options 
on Perhentian Kecil 
For clean, spacious bungalows you should try 

Ewans Place

in Coral Bay: 
Read reviews of Ewans Place at TripAdvisor
You might try Petani Beach House at Petani Beach (RM 100 per night - high season), which has received very nice reviews:
Read reviews of Petani Beach House at TripAdvisor
---
| | |
| --- | --- |
| You'll enjoy: | Like this page? |
Return to top of Perhentian Kecil
---
---