---
Review of PADI Diving Course
with Skuba Junkie in Semporna

Diving in Sabah 
---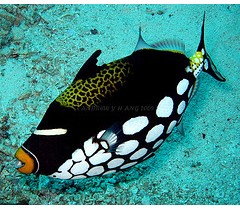 Diving in Sabah: Photo Courtesy of Mototo
Before coming to Malaysia in June 2009, I was determined to take the PADI certificate in Semporna!
I had finally saved the money for it and I visualized myself swimming among green turtles and sea horses! I was so excited! Finally my biggest dream would be fulfilled ;-)
But would it really be fulfilled?
We traveled to Semporna from Kota Kinabalu. I already booked a diving class in March 2009 and was glad that I did….
The staff at Skuba Junkie was super friendly and laid-back. Many of them were like young hippies and relaxed surfer guys. You can sense that these guys are passionate about diving!
Here are some prices for you:
All prices are subject to change. Last updated in April 2012
Open water course: RM 950 (3 days)
Diving at Sipadan: RM 600
Snorkeling at Sipadan: RM 600
Permit at Sipadan: RM 40
Camera rental: RM 100 per day included burning the pics onto a CD
When we were filling out the diving forms at Skuba Junkie, some travelers walked in and asked the staff if there were any chances of diving at Sipadan the next following days. The staff was like:
"Sorry, the next available date to the Sipadan is on August 22…" (This was in the beginning of June)
See what I mean? That meant two months of waiting for people who didn't book in advance!
So please book in advance if you want to go diving on Sipadan!
The process to PADI diving course
You have to fill out forms, plus a medical declaration with at least 20 questions regarding your health.
Questions like:
"Do you suffer from asthma?"
"Are you comfortable in tight space?"
And there were questions about your heart, lungs, ears, if you've just had a cold etc.
You have to answer the questions honestly.
Since I was a kid I've always had asthma, but in varying degrees. The last real asthma attack I had was in 1998, when I was 16 years old. So I didn't know what to answer: "Yes or No." But I just answered "Yes" just to be on the safe side.
My boyfriend can get a bit claustrophobic in tight space, so he checked off "Yes" to that question.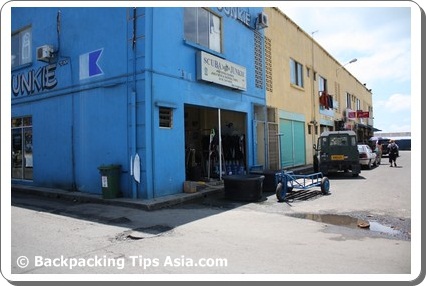 The Australian lady who helped us, looked at our forms.
"I recommend that you see the local doctor before you go diving"
My heart stopped.
I got paranoid when she said this. I was thinking that I would never get the opportunity to dive because of my silly asthma. It's not a disease that you can get rid of...!
She gave us the names of two local doctors in Semporna: Dr. Naik and Dr. Syed. When we got there, it was of course closed. Is the universe trying to tell us something…?!
So, we had to wait for the next morning before we could try again. When we arrived at the doctor's office, I was prepared to be asked unpleasant questions about my asthma-condition.
But this is what the doctor did….
He checked my ear drums! He didn't bother to check my lung capacity or whatever. He looked at my right ear drum, and he was like:
"I can see that your ear drum is ruptured…."
I thought: "Shit, I forgot to tell about my ear drum." I explained to him that I had bad hearing on my right ear because of a ruptured ear drum. At that point, I thought that he would say that I couldn't dive and was just prepared to hear the words…!
But he said:
"Yes you can dive. But you promise me that you go see an ear specialist when you get back home again."
I didn't understand anything... I was confused and I didn't believe him.
Before he signed our papers, he asked a few questions about my asthma and asked about the last asthma attack, and in which cases I could get an asthma attack.
I answered honestly, and still he let me pass. He also let me boyfriend pass, even if he said that he could get a bit of anxiety under water…!
We didn't understand anything, grabbed our "approval" papers. From then, I had a mixed feeling of relief and that something wasn't right. 
Know what I mean...?
TIP!
Do yourself a favor and seek a doctor in your home country before you take a diving course!
I'm not saying that all doctors in Malaysia are incompetent, because Malaysia provides in fact some of the best medical assistance in Southeast Asia.
But it's way better to consult with your own doctor; a doctor who knows your medical history. Based on your medical history, he/she can actually do a proper evaluation of your health condition today.
Day 1 of the Diving Course in Semporna
- Theory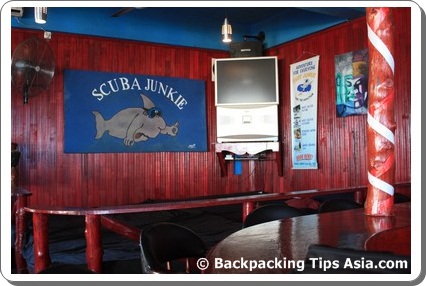 These mixed feelings haunted me for a long time. But we went back to Skuba Junkie, dropped off our papers and got our first PADI manuals.
The theory lessons were about to begin that day (10 am to 5 pm).
It was me, my boyfriend, and two Americans (father and daughter).
We sat in the Skuba Junkie Restaurant with the manuals in our laps, and watching a long video about all the basics in diving.
Here are some of the things you'll learn: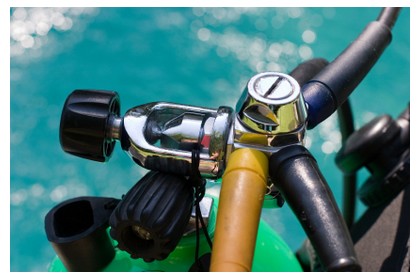 About the equipment: how to set up the equipment, how to rinse it, how to use the regulator etc.
How to breath and swim correctly, how to equalize, about buoyancy control (seems easier on TV than in real life I can tell you!)

Safety procedures

About the different skills that are going to be performed in shallow waters
How to use a dive planner, safety stops, decompression etc.
After we watched the video, our instructor Mike, a very nice Australian guy, went through the questions in the manuals.
The day ended with a "big exam," and we passed.
To pass, 75% of the answers must be correct!
Then day 1 of the course was done.
Day 2 of the Diving Course 
- Diving in Shallow Waters
The next day we were going to Sibuan Island to do skills in shallow waters. Our diving instructor was Jeremy. I couldn't distinguish his English dialect - he was talking Irish-American or something - sorry Jeremy :-P Haha
We were glad that we got Jeremy as our instructor. He was very good in explaining diving terms, patient and a little strict, and he has been diving for the last 8-9 years. So he has tons of experience! A very nice guy!
My boyfriend has never snorkeled or gone diving before. He forgot to shave this day, and he noticed that his beard let in water into his mask.
He was swallowing so much water and panicked before we even got to the skills. My boyfriend was apparently shouting: "I can't do this!" I was under water, so I didn't know what was going on.
Jeremy, in a manly way, told him to "be a man." Jeremy told him how to regulate the mask.
And my boyfriend immediately got a respect for Jeremy.
Diving in Sabah: Our diving boat
Well, back to the skills.
I personally thought that some of the skills went alright, and some did NOT go right at all.
If you somehow manage to lose the regulator while diving, you have to be able to breathe without your regulator. That skill went OK for us. If you lose your mask underwater, you have to be able to put it on and lose the water in your goggles.
I didn't know what was wrong with me this day, but basic skills like clearing my mask underwater didn't go well, even though I've done it hundreds of time before when I've snorkeled.
But Jeremy pushed me and was strict. I just had to focus and then it went naturally!
Then it was my buoyancy.
Buoyancy basically means that you control where you're in the water by breathing in different ways.
Like, if you breathe in too much oxygen into your lungs, you start floating upwards. Or if you exhale, you "sink" (descend).
It went well the first 20 minutes, but then I lost control over my buoyancy and started floating like a balloon. I felt kind of stupid because I did this when Jeremy was going through the skills.
Suddenly I was on my way to the surface, even if I didn't intend to! Just thinking about it, makes me laugh now.
But I was deeply embarrassed at that time. I was so stressed out! Even my boyfriend who doesn't even like to be underwater, managed the skills far better than me and had better control of his buoyancy.
Then it was the skills about what to do when you run out of air.
We learned the buddy skills where you borrow air from your partner, learned different signs under water (stop, continue, help, up, down etc.), what to do when you get a cramp (even that didn't go well), the correct procedure when you want to go the surface and so much more. These are the things I remember.
After the first dive, we went back to the boat for a short pause.
I was kind of pissed at myself and disappointed (I'm a perfectionist guys!) While I was mumbling to myself, the Americans who we dived with were like:
"Oh, this was soooo easy"
I thought: "Shut up, fu.. you and scr... yourself!" (I was that pissed)
My great boyfriend was very supportive, while Jeremy was just looking at me. Jeremy didn't need to say much because I could see it in his eyes.
A look that said:
"What the hell were you doing down there, Amanda?!"
I decided to pull myself together and show those bastards what I was made of! Aaahhh!
During the next dive, we were supposed to swim into deeper waters and learn other skills, like alternate air sources.
I was ready to go underwater. Before every dive, you have to equalize so the pressure in your ear, sinuses and mask is painless. You do this by pinching your nose a bit and gently blow against it.
But something went very wrong...
Before I could even descend 2 meters under water, I couldn't equalize!
My right ear drum hurt so much - it was painful and very uncomfortable. It felt like those times when I've sat on an airplane with air dots in my ears, when my ears were about to explode. But it felt much worse this time. I made a sign to Jeremy that I couldn't equalize.
We went to the surface, and then I tried again….
And again, and again.
Jeremy was looking at me, and was like: "Have you recently had a cold?" I was thinking about the last cold I had three weeks before the diving course, and nodded. I looked at him and said that I wanted to try for the last time. 
I wanted to finish the course. I didn't want to feel like a frigging "loser."
I tried again, but it didn't go well. When I surfaced this time, a little blood came out of my ears.
Jeremy looked at me and said: "Amanda, you know what to do. I'm sorry but you can't dive. It's for your own good!"
So I couldn't finish the course. Jeremy suggested that I could just go to the mainland of Sibuan Island and enjoy the scenery. I thought: "Yeah, like that's the same as diving."
I was in a state of shock, anger and disappointment at the same time.
My boyfriend didn't want to finish the course without me, so he joined me to the mainland. We took off our wet suits, tanks, and fins. Then we lay on the beach with our eyes closed.
After a while, other happy divers hopped on Sibuan and were ready for lunch.
We joined them for a nice lunch with fried noodles and pasta. Then Jeremy and the Americans came back from their second dive. I told Jeremy everything; about the doctor in Semporna, my health condition and he was like:
"You shouldn't have been in the water in the first place, Amanda."
FINALLY someone was telling me the truth! All my mixed feelings weren't for nothing - they were a warning!
Return to top of Diving in Sabah
The Beauty of 
Sibuan Island
We stayed on Sibuan for the next hour. Sibuan Island was drop-dead gorgeous! It's so tiny that you can walk around in 10-15 minutes.
Sibuan was so idyllic when the crystal clear water hit the shoreline, and the white beaches of Sibuan. Absolutely stunning!
But as with other islands, Sibuan was not perfect. There was some trash on the beaches, pieces of glass - so mind your steps!
Local kids came in our direction and started playing on the beach, while one girl sat next to us and said nothing.
Then she opened her mouth and said: "Money."
I felt sorry for her, but I didn't want to give her money because of previous experiences in Cambodia.
And I didn't actually have money. It was on the boat.
She was persistent this little girl, because I don't think she believed us when we said that we didn't have money. She was just sitting there and staring at us.
We went to the other side of the island, and swam in the crystal water. I picked up some beautiful shells, but then a boat man said it was illegal (the whole place is part of a protected area). So I threw it back into the water.
Diving in Sabah: Local children on Sibuan island
A German girl on the other hand, found some huge shells, hid it in her bag and brought them on our boat. I didn't know what happened to those shells - if she actually managed to smuggle it out or if she had to leave them.
At the end of the day, Jeremy told us that we could get a refund. To be more specific, we got a refund of RM 1440.
He told us that it's common that travelers have to break off a diving course of various reasons. Getting a refund was a clear testimonial of Skuba Junkie's excellent service!
Watch my video clip from Sibuan island:
I hope that YOU will enjoy the course and complete it! :-)
---
| | |
| --- | --- |
| Further reading: | Like this page? |
Return to top of Diving in Sabah
---
---
---
---
---