---
A Guide to
Philippines Visa
---
"Philippines Visa" was last updated on Jan 04, 2014
All information below is subject to change
Traveling to the Philippines?
Applying for a visa is always boring, and applying for a Philippine visa is not any different.
Anyway, you will still need information about visas.
Questions that will be answered in this article are:
Do you need a visa or not?
What are the visa requirements?
Can you extend your visa?
How much do you have to pay when overstaying your Philippine tourist visa?
Philippine visa stamp
on arrival
The nationalities below can stay in the country for 21 days visa-free. This means that you don't need to apply for a visa, and you will only get a stamp (visa waiver stamp) in your passport stating you can stay in the country for 21 days.
Andorra, Angola, Antigua and Barbuda, Argentina, Australia, Austria, Bahamas, Bahrain, Barbados, Belgium, Benin, Bhutan, Bolivia, Botswana, Brunei Darussalam, Bulgaria, Burkina Faso, Burundi, Cambodia, Cameroon, Canada, Cape Verde, Central African Republic, Chad, Chile, Colombia, Comoros, Congo, Costa Rica, Cote d'Ivoire, Cyprus, Czech Republic, Democratic Republic of the Congo, Denmark, Djibouti, Dominica, Dominican Republic, Ecuador, El Salvador, Equatorial Guinea, Eritrea, Estonia, Ethiopia, Fiji, Finland, France, Gabon, Gambia, Germany, Ghana, Gibraltar, Greece, Grenada, Guatemala, Guinea, Guinea Bissau, Guyana, Haiti, Honduras, Hungary, Iceland, Indonesia, Ireland, Italy, Jamaica, Japan, Kenya, Kiribati, Kuwait, Lao People's Democratic Republic, Latvia, Lesotho, Liberia, Liechtenstein, Lithuania, Luxembourg, Madagascar, Malawi, Malaysia, Maldives, Mali, Malta, Marshall Islands, Mauritania, Mauritius, Mexico, Micronesia, Monaco, Mongolia, Morocco, Mozambique, Myanmar, Namibia, Nepal, Netherlands, New Zealand, Nicaragua, Niger, Norway, Oman, Palau, Panama, Papua New Guinea, Paraguay, Peru, Poland, Portugal, Qatar, Republic of Korea, Romania, Russia, Rwanda, Saint Kitts and Nevis, Saint Lucia, Saint Vincent and the Grenadines, Samoa, San Marino, Sao Tome and Principe, Saudi Arabia, Senegal, Seychelles, Singapore, Slovakia, Slovenia, Solomon Islands, Somalia, South Africa, Spain, Suriname, Swaziland, Sweden, Switzerland, Thailand, Togo, Trinidad and Tobago, Tunisia, Turkey, Tuvalu, Uganda, United Arab Emirates, United Kingdom of Great Britain and Northern Ireland, United Republic of Tanzania, United States of America, Uruguay, Venezuela, Vietnam, Zambia, Zimbabwe.
The following nationalities are allowed to enter the Philippines without a visa for a stay not exceeding 59 days:
Brazilian nationality
Israeli nationality
The following are allowed to enter the Philippines without a visa for a stay not exceeding 7 days:
Holders of Hong Kong Special Administrative (SAR) passports
Holders of British National Overseas (BNO) passports
Holders of Portuguese Passports issued in Macao
Holders of Macao Special Administrative Region (SAR) passports
Nationalities listed above have to:
Hold valid tickets for their return journey to port of origin or next port of destination

Hold passports valid for a period of at least 6 months beyond the contemplated period of stay
Philippines visa
in advance
If you're planning on spending more than 21 days in the Philippines, you have to apply for a tourist visa.
Types of visa:
Single entry valid for 3 months
Multiple entry valid for 6 months
Multiple entry valid for one year
How long can you stay in the Philippines with a tourist visa?
If you have a multiple entry visa valid for 6 months, you can come and go as often as you like within a 6 month period.
But each time you enter the Philippines, you are allowed to stay for a maximum of 59 days.
So after 59 days you have to leave the country, then return and use another period of stay of 59 days.
The same applies for single entry visas: you can travel around the Philippines and have fun for maximum of 59 days.
What type of visa should you get?
It really depends on you. But it's adequate to apply for the single entry visa, which gives you 59 days. That's enough time to explore the rice paddies, beaches in the south, diving and trekking in the Philippines.
How much for a visa?
Check with the nearest Philippines embassy. The cost depends on type of visa (single, multiple entry for 6 months or one year).
Philippines visa requirements:
Hold valid tickets for your return journey to port of origin or next port of destination
Passports valid for a period of at least 6 months beyond the period of stay
Passport photos (2)
Proof of means of support during stay, either by bank statement or letter of employment.
Philippine Embassies in Asia
Bangkok, Thailand:

760 Sukhumvit Road corner Soi Philippines (30/1)
Klongtoey, Klongtan, Bangkok 10110

Hanoi, Vietnam:

27B Tran Hung Dao Street
Saigon, Vietnam:

Consulate General of the Philippines
31 F-S.32 Saigon Trade Center
37 Ton Duc Thang Street,
Ben Nghe Ward, District 1
Ho Chi Minh City

Phnom Penh, Cambodia

No. 33 Road 294 Khan Chamcarmon
Sangkat Tonle Bassac, P.O. Box 2018
Vientiane, Laos

Ban Saphanthong Kang, Sisattanak District,
P.O. Box 2415

Kuala Lumpur, Malaysia

No. 1 Changkat Kia Peng
Extension of Philippines Visa
Get an application form from the Visa Extension Section located at the ground floor Annex building at the Bureau of Immigration.
What do you need for the extension process:
Photocopy of your passport
Photocopy of visa
Photocopy of latest arrival card
Documents which will support your application for extension
They may grant you 2 months for every extension in a maximum period of one year. However, in some cases they may grant only 1 month for every extension in a maximum period of 6 months.
Fees: If you want to extend your 21-days period with another
38 days, the fee is: 3030 PHP (Philippine Bureau of Immigration).
Type of costT


Visa Waiver

Visa Waiver Application Fee

Certification Fee 

Express fee (Certification)

Express fee (For processing)

Legal Research Fee (LRF) for each item

Fee

500 PHP

1,000 PHP

500 PHP

500 PHP

500 PHP

30 PHP
---
| | |
| --- | --- |
| Total cost of visa extension: | 3030 PHP |
Overstaying your visa
According to the Philippine Bureau of Immigration there's a fine of 500 PHP for overstaying - for every month or a portion thereof.
---
This article is updated if there are changes to the visa rules. Did you find something that was incorrect and need to be updated? Please contact me.

---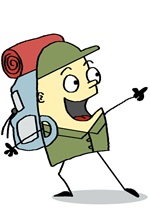 PSSSST...
Don't know where to travel in the Philippines and Southeast Asia? How to set up an itinerary?
Get all the help you can get with this step-by-step guide on how to create an itinerary. Learn how to create a good and realistic itinerary for Southeast Asia.
---
| | |
| --- | --- |
| Further reading: | Like this page? |
Return tp top of Philippines visa

---
---