---
Thailand Beaches:
Getting to Koh Tao
in Southern Thailand
---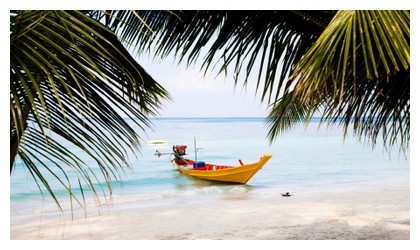 "Thailand beaches Koh Tao" was last updated on Nov 15, 2013
All information below is subject to change
Which beaches in Thailand are the best?
Aside from Ko Phi Phi and Koh Phangan, Koh Tao has probably some of the best beaches in Thailand! I just loved Koh Tao.
I will tell you why:
The white, clean beaches in Koh Tao is a sight for sore eyes I was just amazed by how clean the beaches were. They've done a great job keeping it free of trash, despite the major tourism flow.
Koh Tao is known for its excellent diving, and there's no better place to start than here. There are dozens of diving centers scattered around the island, offering scuba diving and open-water courses. Or if you already have the PADI license, you can take as many dives as you want for a affordable price!
How to get to Koh Tao
From Bangkok: This is one of the ways of getting to the Thailand beaches of Koh Tao -
A) Take the bus from Ekamai bus terminal in Bangkok
We used Chokeanan Tour and paid 540 B for the VIP bus to Chumphon. I promise you, for a long-distance ride, this bus was absolutely amazing and worth every baht. The seats were huge and we had loads of leg room. You could move the seat all the way down and it actually felt like a bed.
If it's too pricey for you, you pay 347 B for an ordinary seat with Chokeanan. The bus ride taks 6,5 to 7 hours, and it left at 09.30 pm.
To get to Ekamai, you can take a taxi (160 B from Khao san road) and it takes 15-20 minutes.
B) When you arrive in Chumphon, you take the boat to Koh Tao. There are several ferry companies going to Koh Tao: The most popular one is Lomprayah. Then you have Songserm, Seatran, the Talay sub night boat and Ko Jaroen car ferry.
I'm going to focus on Lomprayah and Songserm in this article because these are the ones I've tried.
Lomprayah from Chumphon leaves at 07.00 am (550 B) and 13.00 (550 B) and takes 1,5 hour.
Songserm from Chumphon leaves at 07.00 am (450 B) and the ferry ride takes approximately 3 hours.
PS! The Lomprayah Catamaran is VERY popular. We didn't buy any boat ticket from Lomprayah in Bangkok, and just thought that we could buy it when we arrived in Chumphon.
But guess again, the Catamaran was full, and we had to travel with Songserm. Songserm was alright, but not comfortable at all (boy, those seats were hard). So if you want to travel with Lomprayah, please buy a ticket in Bangkok especially in the high season. The Lomprayah office is near Khao San road, in Tanao Road.
Website: Lomprayah
By train to Chumphon:

Most travelers going to Koh Tao take the train to Chumphon.
If you buy a ticket from Lomprayah in Bangkok and decide to take the train, there's a free bus transfer from the train station to the piers. Lomprayah and Songserm don't share the same pier. They have their own pier at two different locations outside Chumphon. Songserm's pier is called Pak Nam, while the Lomprayah pier is originally called Thung Mahkam Yai.
How to travel around Koh Tao:

Songthaew is the most common transportation method on Koh Tao (and other islands in Thailand). For instance; from Ban Kao Beach to Mae Haad it cost 100 B.
After that comes bicycles and motorbikes. Hiring a bike in Koh Tao cost 150-200 B per day.
It's also possible to walk but it's of course slower, and it can be tough in the scorching sun. We walked once from Ban Kao beach to Mae Haad, and it took us about 45 minutes each way.
Leaving Koh Tao
With Lomprayah Catamaran:
From Koh Tao to Chumphon/Hua Hin/Bangkok: 10.15 am and 14.45 pm
This stretch between Koh Tao and Bangkok requires ferry and bus/train service.
How does the transfer work with Lomprayah? I've already covered this in my Koh Pha Ngan page.
From Koh Tao to Koh Phangan (350 B and takes 1 hour) and Koh Samui (550 B and takes 2 hours): 09.30 am and 15.00 pm.
Where to buy a ferry ticket from Lomprayah: Almost every guesthouse and travel agency in Koh Tao sells ferry tickets for Lomprayah. You can also visit Lomprayah's office at their pier in Mae Had Bay.
Important things to know about Koh Tao:

Police station is located north of Mae Hat
For medical service, there are several clinics around the island. There's an international clinic in Sairee village that offers medical care, emergency transports, house calls and a diving doctor. International clinic is open 24 hours
Pharmacies in Mae Haad Bay
ATMs are scattered around Mad Haad Bay, Sairee Village, Baan Kao. Banks/exchange are located in Mae Haad Bay and Sairee.
Post office in Mae Had Bay
If your accommodation doesn't offer internet access, there are loads of internet cafes in Koh Tao.

PSSSST...
Having trouble on where to travel in Thailand? How to set up an itinerary?
Solve your Thailand itinerary with Map Your Adventure: Thailand, one of our most popular tutorials.
---
| | |
| --- | --- |
| Further reading: | Like this page? |
Return to top of Thailand beaches: Koh Tao

---
---