---
Review of Koh Nangyuan
Beaches in Thailand 2 
---
"Our experiences from Koh Nangyuan 
near Koh Tao in Thailand"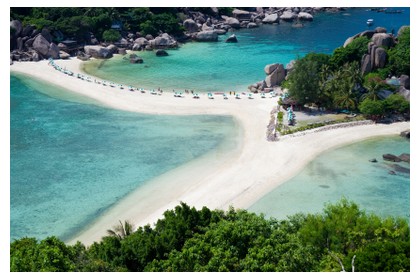 Nangyuan island is a popular diving and snorkeling destination. When we saw pictures of Nangyuan, we instantly knew that we wanted to go there!
Koh Nangyuan are actually three small islands connected with sandy beaches. At the end of April 2010, we visited the island.
The questions that will be answered here are:
How do you get to Nangyuan?
Nangyuan is known as a pristine island, but is it really worth the trip?
How's the underwater life?
Can you sleep on Nangyuan?
Enjoy!
How to get to 
Nangyuan Island
Time: It takes 10-15 minutes to get from Mae Haad (Koh Tao) to Nangyuan Island.
The cheapest way is to hire a long-tail boat for a short trip to Nangyuan (from Mae Haad: about 100 B for max 2 persons).
Or you can hire a long-tail for the day, so you can get to Nangyuan and other snorkeling spots around Koh Tao (from Mae Haad: about 1000 B for 1-4 persons). Remember to always discuss the fares before the trip begins, and not after!
Otherwise you can book a snorkeling trip through your guesthouse or a travel agent, and the transport to Nangyuan will automatically be included. This is the easiest and convenient way to get to island.
If you're in Koh Samui or Koh Phangan, you can hop on a Lomprayah Catamaran from these two islands to Koh Tao.
Visit Lomprayah's website for more information (opens in a new window)
Read my tips on how to get to Koh Tao (opens in a new window)
Our Personal Experiences 
from Koh Nangyuan
Nangyuan admission fee: 100 B per person
You pay the fee after you've landed on the island. You have to walk on a bridge for half a minute, then there's a ticket booth on your left side.
After you've paid the admission, just follow the bridge and then you'll see the resort and their restaurant. From here you can decide to walk around the island, or crash at the beaches right in front of you.
We booked a snorkeling trip through Tropicana resort on Baan Kao beach in Koh Tao. It cost us 550 B per person and it included snorkeling around Koh Tao and Nangyuan island. The whole trip lasted from 08.30 am to 04.00 pm.
A typical snorkeling package on Koh Tao includes these snorkeling spots: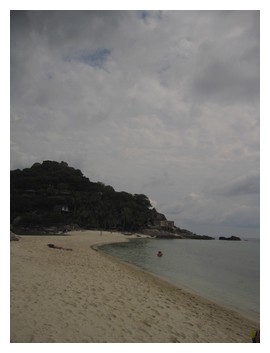 Shark Bay
Aow Leuk
Hin Wong Bay
Mango Bay
and finally Nangyuan island
When we arrived on Nangyuan, we had about two and half hours to explore the island, snorkel and sunbathe. What so great about Nangyuan and what fascinated us the most was the marine life near the shore line. The beaches as well were good; wide, clean and white. While the crystal clear water in the bay was shallow and sandy.
What kind of fish we saw:
Under water, we came across many striped fish, butterfly fish, angel fish, one that looked like lion fish (it was hiding beneath a plank and we accidentally stepped on it), dozens of sea cucumbers (the black ones are the ugliest) and something tiny that had the shape of sword fish.
If you snorkel further from the shore line, you might see an eagle ray. We were hoping to see turtles, but unfortunately we didn't. Before the snorkeling trip, we talked to a couple of local dive masters in Mae Haad, and they told us that turtles are not a common sight anymore :-(
Remember: In order to maintain the cleanliness and beauty of the island and the surrounding waters, it's prohibited to bring plastic objects, bottles and cans to the island. It's also prohibited to bring "souvenirs" from the coral reef.
Was the trip to Nangyuan worth it?
I enjoyed the snorkeling around Nangyuan and would definitely do that again!
But aesthetically, I had expected a lot more from Nangyuan. It wasn't as beautiful as the pictures we saw before we got there. Maybe it was because of the weather…?
The sky that day was covered with clouds and no sun. And when we arrived there, we were met by a wall of people, and that was less charming. There was also a rush hour with groups of divers running forth and back. For me it was too much people and too much noise.
But we did solve that problem by finding a quiet spot on the beach! ;-)
Food and drinks on Nangyuan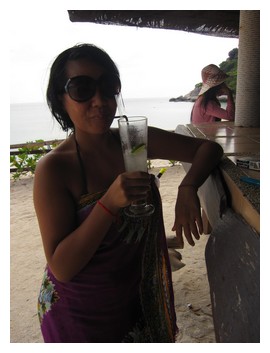 They serve Thai and Western food and drinks at the restaurant on Nangyuan, but it's pricey! I think the prices are at least twice (if not triple) as much as the food in Koh Tao.
I checked out the menu, and I believe that you should bring your own snacks like fruit to save money (remember that you can't bring any plastic at all, not even peanuts in plastic bags).
You can't bring plastic bottles either so you probably have to buy water and soft drinks there.
I bought an iced lime drink and it cost 120 B…!!! :-S
I made it last forever :-P
Return to top of Beaches in Thailand 2
Accommodation on 
Nangyuan Island
There's only one resort on Nangyuan run by a private company. The resort is called "Nangyuan Island Dive Resort." The cheapest rooms start from 1500 B (standard fan rooms). If you want to stay longer, they have package deals which are worth checking out.
If you're going to dive on Nangyuan, they offer accommodation discounts for divers. The dive courses are provided by Easy Divers.
Rates for open-water diving and scuba diving
PS! We didn't stay there, so I don't have any personal reviews of this resort.
Website: Nangyuan Resort
---
| | |
| --- | --- |
| Further reading: | Like this page? |
Return to top of Beaches in Thailand 2
---
---