---
Introduction to
Busan South Korea
---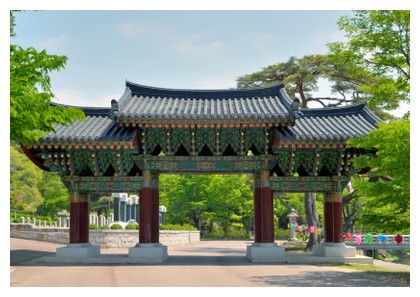 "Busan South Korea" was last updated on March 02, 2014
All information below is subject to change
Written by Anna Villaruel
So you want to go to Busan? ;-)
After staying in Seoul for a couple of weeks, I decided to travel to Busan to experience more of what South Korea had to offer. And I must say that I experienced a different atmosphere which was more relaxed and casual compared to modern and high-paced Seoul.
From Seoul I took a quick trip to Busan. The bus trip lasted for 4,5 hours.
It might be sound like an awful long time to get there, but I really enjoyed watching the scenery – mountains, endless green fields, breathtaking sky formations (it was during the rain season by the way) and tall buildings in the horizon (when driving past different cities).
The closest international airport to Busan is Gimhae International Airport, located about 22 km west of Busan.
Frequent public buses and shuttles run from this airport to various destinations in Busan.
Cheap flights to Busan:
I spent four days in Busan, and here are some of the things I experienced in this harbor city.
How to get to Busan by bus or train? Click here for information on how to travel from Seoul to Busan (you'll be redirected to my Seoul-page)
My day at Haeundae beach
in Busan South Korea
There are several beaches in Busan like Songdo, Gwangalli, Songjeong, Imnang, Ilgwang, Dadaepo and Haeundae. I'm going to tell you about Haeundae!
Haeundae is a well-known and popular beach. This beach was packed with Koreans and foreigners, especially Korean teenagers queuing up for beach games. If you're hungry or thirsty, local Koreans roam this beach and sell Korean food and snacks.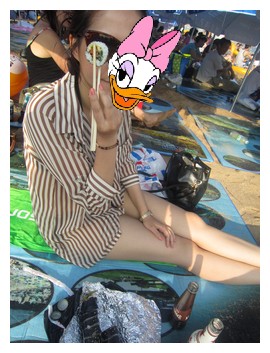 While getting a tan, we ate a veggie meal:
Bibimbap sushi along with some milkshake vodka.
A funny thing was that girls were swimming and playing on the beach while wearing a t-shirt or a top, despite of the fact that the temperature was 30 Celsius. But that's because some Koreans are conservative. Maybe they don't want to tan their body which is common in East-Asia?
How to get to Haeundae beach: If you're taking the subway – take subway line 2. Exit at Haeundae station. Then walk 10 minutes towards the beach.
Review of Club Elune
and taste of Busan Nightlife
After the beach we ate dinner and drank Makgeolli, a Korean rice wine and went partying at Haeundae beach, at Club Elune.
The atmosphere there was amazing and contagious. And the music was just awesome, especially if you're into lounge and dance club music with hard and rhythmic beats. Koreans sure know how to party!
Elune is one of the most popular clubs in South Korea. So if you're into clubbing, it's definitely worth a trip!
Worth mentioning: It's common that the nightclubs give half discount on the entrance fee to girls and foreigners.
Where is Club Elune: Basement of Paradise Hotel in Haeundae
Dress code: Yes
It's supposed to be a dress code at Club Elune. I wore mini denim shorts, and a ruffled tank top, while my Korean friend wore cargo pants, sneakers and a Polo shirt. But they still let us in. It felt kind of weird because everybody else was dressed up, but I had a good time anyway! :-)
Review of Taejongdae Park

What I enjoyed the most in Taejongdae Park was the fact that you get an unforgettable view of the ocean and the luscious scenery - from this park you can overlook the majestic cliffs and rocks below. And if you look closely on a clear day you might get a glimpse of some part of Japan!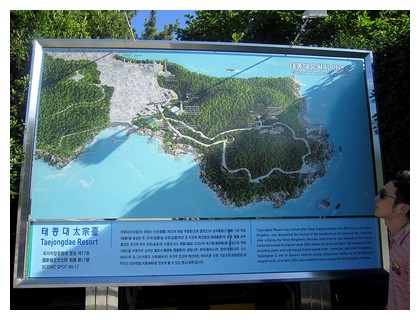 Taejongdae is one of the most popular attractions in Korea!
Boat rides around the park are common, and one of the major spots in this park is "Suicide Rock" where people used to jump into the water.
You also have Mangbuseouk, after the legend of a woman who waited so long for the return of her husband that she turned to stone.
How to get there: From Busan station, take city bus no. 88 or 101 and get off at Taejongdae Park.
Yongdusan Park
and Busan Tower
From Yongdosan park, located on Mt. Yongdosan, you'll see the best panorama view of almost the entire city. It is called Yongdusan because the shape of the mountain looks like the head of a dragon moving from the sea to the land.
Busan Tower, which stands 118 meters above sea level, has an observatory deck and is the place to take your scenic pictures. In the weekends, traditional folk dances are performed near the tower.
After visiting Yongdusan walk to the nearby markets of Gukje (Busan's largest market) and Jagalchi (fish market).
How to get there: Subway line 1 - Nampo-dong Station. Walk for 10 minutes. Then you have to take the escalator to the top from Gwangbok-dong street.
Review of Elysee Motel
in Busan South Korea

Price per night: 45.000-65.000 won
This love motel is located only two minutes from downtown Busan. My room was large, clean and neat.
You get value for your money! It includes an enormous flat screen TV, PC with internet, jacuzzi and sauna.
The family owning this love motel were accommodating and friendly. The manager studied English in Manila (Philippines), and his English was good!
You can easily see that this is a love motel. This is were young Koreans come to cuddle up with their loved ones.
Address: 46 DongKwangDong 3Ga JungGu Busan City
---
| | |
| --- | --- |
| You'll enjoy: | Like this page? |
Return to top of Busan South Korea

---
---