---
Introduction to
Seoul Korea
---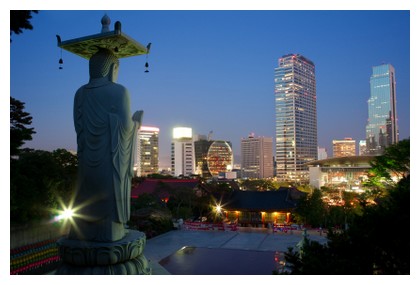 "Seoul Korea" was last updated on Feb 01, 2014
All information below is subject to change
My sister Anna has visited Seoul and will tell you about her experiences from the capital of South Korea:
I've been to many cities around the world, but I have to say that Seoul is by far one of the most exciting metropolitan places I've ever visited.
When people ask me about what I enjoyed most in Seoul, I have trouble giving them a concrete answer because you have to be there, and feel the atmosphere, to really understand how great this city is (and of course the rest of the country).
I lived in Seoul from 2011 to 2012 and...

I LOVED IT!!!
How to get to Seoul
and out
By air:

The International airport in Seoul is called Incheon. From the airport you can take the airport bus to Seoul downtown, and prices range from 9,000-15,000 won (standard/deluxe) per person to downtown Seoul. This is the most common way to travel from the airport to Seoul. The bus trip itself took one hour. You can find the airport buses outside the Arrival area on Level 1, and the ticket booths are inside the arrival area.

The taxi desk is at the arrival terminal, by the exit entrance. When you ask for a taxi, they will make a call and ask if there are any drivers available.
The taxi price depends on distance, ranging from 55,000-75,000 won (plus the expressway toll 7,700 won). I lived in Eungam in Seoul, and each time I paid 55,000 won to get to my apartment.
Cheap flights to Seoul Korea:
By bus:

There are several bus terminals in Seoul. Express buses from other cities in South Korea usually arrive at Gosok terminal.
From Seoul Express Bus (Gosok) Terminal you can take the bus to almost all major cities in South Korea, and vice versa. My experience is that the buses depart on time, and the tickets are cheap! Tickets can be bought at the terminals and you give your ticket to the bus driver on board.
I took the bus to Busan from this terminal. The trip cost me 31.000 won for one-way, and it took 4,5 hours (with a break in between of course).
By train:

There are also trains to many cities/towns in South Korea, including Busan. Taking the train in Korea is more efficient. I paid like 50,000 won for a ticket to Busan. It's better to buy a Korail pass because it's cheaper, but you have to purchase a Korail pass in advance.
I didn't know about advance booking the first time I took the train, and I had to pay 50,000 won for a ticket to Busan.
Click here for prices Korail Pass
Fun Travels in Seoul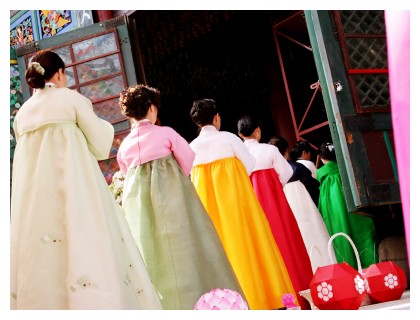 This is what Seoul can offer you as a traveler:
There's just so many things to do in Seoul. I don't know where to start!
You have the royal palaces of Changdeokgung with beautiful Korean gardens, appointed as one of UNESCO's World Heritage Sites. These gardens remind me of the ones Japan is known for - a green paradise with cherry blossoms and luscious garden.
I also enjoyed the great night view of Seoul from Namsan Tower.
You can also absorb the Korean culture by watching traditional dance and music at Chongdong theater.
Another thing you have to try is to locate a Korean tea shop in Insa-dong, sit down and have a couple of tea, and watch the life on the streets. If you want a more tranquil place to relax, go to Seongbuk-dong located at the foot of Mount Bukhansan. This is a home to traditional tea shops and gardens, overlooking Seoul.
From Seoul you can take the subway/bus to mountains like Mt. Bukhansan, Mt. Bugaksan and Mt. Namsan. Get some fresh air and a terrific view of Seoul.

There's also lots of climbing and hiking opportunities. Dobong mountain is one of the most popular mountains to hike in Korea because of its proximity to Seoul and easy access to the trails from bus and subway stations. Nothing beats a lunch at the peak of Dobong mountain!
Since Myeong-dong is recognized as one of Seoul's main shopping districts, this is the place to go shopping and spend your money. Here you'll mostly find international stores, such as HM and Zara.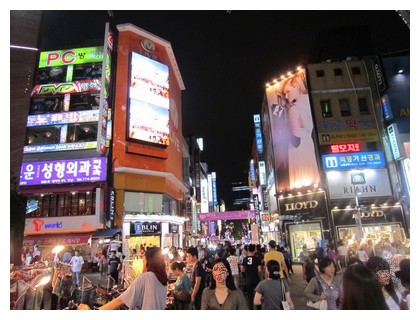 The shopping malls in Dongdameun, which are huge by the way, are a paradise for fashionistas. In Dongdameun, you'll find Korean brands at low to mid-prices.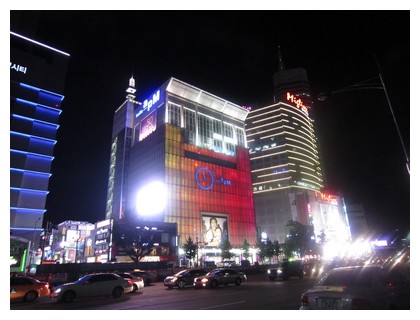 In Namdaemun Market you'll find hundreds of shopping stalls selling everything from kitchenware to toys, cosmetics to clothes. As well as food stalls serving delicious South Korean dishes.
The vintage shops are located in Sinchon and was one of my favorite places to shop in Seoul. They even have a "Exorcist cafe", "Star Wars Cafe" and "Hello Kitty Cafe" in Sinchon :-P
Sinchon is one of the college districts in the city. So don't be surprised to see young Koreans everywhere.
I also noticed a Cat Cafe where of course cats are occupying the place. I didn't go in there because I'm allergic to cats, but it seems like an interesting concept!
Nightlife in Seoul? I've been a personal witness to the vibrant nightlife in this city.

Important places to know about in Seoul Korea:
---
| | |
| --- | --- |
| Like this page? | Search this site |
---
---