---
Getting to Phnom Penh
in Cambodia
---
 Last updated on Dec 30, 2013
All information below is subject to change
Phnom Penh is one of the hidden gems in Asia!
The riverside is the most beautiful part of the city, and some parts in downtown have stunning buildings in french-style architecture.
And not to mention, the great Cambodian food served at the many restaurants.
Another thing that drew me here was the art. Yes, if you're an art-lover or just appreciate art, you're going to love it here! You'll find plenty of art galleries and shops; showing off traditional and contemporary art.
But, let's face it... Phnom Penh has an undeserved reputation of being "dangerous".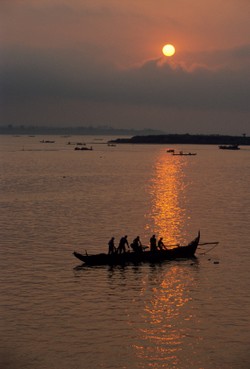 I'm a female and I walked down the streets at nights in Phnom Penh.
No trouble.
No harm.
Just use the same common sense as if you were in New York or another big city.
Otherwise, the city is just chaotic because of its strongly trafficated streets with bikes and occasionally elephants walking down the roads.
Backpackers who come to town are usually here for two reasons: the Tuol Sleng Museum and the Killing Fields.
Sisoqath Quay is where most tourists and flashpackers stay in the city because of the proximity to the river, the endless row of restaurants, shops and bars.
How to get there
By air:

International flights land at the international airport in Phnom Penh.
Have in mind that there's a departure tax at the international airport: $ 25 per person.
After you've checked in your baggage, you'll find escalators to the depature halls. Before that there's a small counter to the right (same floor as the check-in). Here's where you have to pay the departure tax.
So don't get rid of all your dollars just yet!
Search for cheap flights to Phnom Penh:
By boat from Siem Reap:

A daily boat leaves Siem Reap at 07.00 am and arrives in PP at 13.30 pm. Bring refreshments!
By bus:

You can take the bus to PP from major cities/towns like Battambang (5-6 hours), Siem Reap (6 hours), Sihanoukville, Koh Kong (if you're coming from Koh Chang in Thailand) Kampot, Ban Lung, Kampong Cham, Stung Treng (if coming from 4000 Islands in Southern Laos), Kratie etc.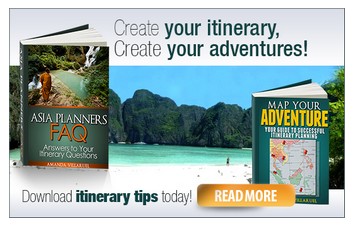 Check if the guesthouse you're staying at provides transportation, or contact a travel agent. Sorya Transport is one of the most used bus companies. But I never tried it, so I don't have any personal reviews.
For more information on Sorya Transport, click here (opens in a new window)
In April 2010, we took a minivan from Siem Reap to PP. It was efficient and comfortable (the road between Siem Reap and PP has improved significantly since I visited Cambodia the first time in 2007). The driver dropped us off close to Sisowath Quay, just outside the evening market.
A ticket for minivan cost $ 10 per person and we arranged it at one of the travel agents in Siem Reap called Neak Krorhorn Travel & Tours.
Departures from Siem Reap to PP with Neak Krorhorn Travel:
07.30 am, 08.00 am, 13.30 pm, 14.00 pm
From Bangkok by train and bus:

Take the 05.30 am train from Bangkok (Hualamphong station) to Aranyaprathet - takes about 6 hours. From Aranyaprathet, take a Tuk-Tuk or the bus to Poipet. Cross the border. Then take a bus from Poipet to the capital, via Battambang or Siem Reap.
From 4000 islands in Laos/Stung Treng:
There's no problem arranging transportation from Don Det or Don Khong island all the way to PP. Just contact a travel agent at one of the islands - that's how I did it. It's common to arrange a trip all the way from Laos to Cambodia.
A (mini)bus will be ready to take you the border crossing of Voen Kham/Dom Kralor.
The driver will drop you off at Voen Kham so you can stamp out of Laos. Then you have to walk to the Cambodian side, and pay for a Cambodian tourist visa there. When you're done, a minivan will be ready to drive you further. Just make sure your backpack is on that minivan.
The minivan will most likely stop in Stung Treng, so you can switch to another means of transport (another minivan...yep, a lot of switches here). A minivan will normally carry passengers who are going to Siem Reap and Phnom Penh. It will stop by PP first, and then onto Siem Reap.
Map of Phnom Penh:

A: Sisowath Quay (riverside)

B: Independence Monument (Golden Mile on street 278 - the area is known as Boeung Keng Kang 1 (BKK 1)).

Important places to know about: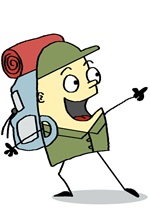 PSSSST...
Don't know where to travel in Asia? How to set up an itinerary?
Get all the help you can get with this step-by-step guide on how to create an itinerary. Learn how to create a good and realistic itinerary for Asia.
---
| | |
| --- | --- |
| Like this page? | Search this site |
---
---