---
Introduction to Sihanoukville
Cambodia and how to get there

---
Last updated on Jan 11, 2014
All information below is subject to change

So why should you visit Sihanoukville?
When you're backpacking in Cambodia, and want to take a break from the scorching sun, visiting Sihanoukville is your best bet! There's nothing more refreshing than taking a dip in the ocean when the temperature hits over 30 degrees! ;-)
But I think Sihanoukville is a place you're going to either love or hate.
I neither loved it nor hated it. We visited in April 2010 and I liked the fact that the beach was spacious, and the water was clear.
Compared to other beaches I've seen in Southeast Asia, like Thailand and Malaysia, Serendipity beach is not the best beach I've visited; the accommodation right on the beach is expensive, trash everywhere and the lack of atmosphere. I can overlook a trashy beach, but when it lacks atmosphere - that sets the score for me!
And you'll notice the poverty in Cambodia.

The limbless beggars walking on the beach was a big minus… It's not relaxing or comfortable when they come to you and beg, and it certainly doesn't feel good when you have to reject them :-( And since there were few travelers in the area, the beggars came to us more often. It was hard. And it was depressing.
Unfortunately, we didn't have the time to visit the other neighboring beaches in Sihanoukville. A couple of travelers we met at Monkey Republic told that Otres beach was a lot nicer than Serendipity, and that Sokha was a lot cleaner.
So check them out if you have the time! ;-)
Map of Sihnaoukville:

A: Ekareach street (downtown)
B: Sokha beach
C: Serendipity beach
D: Ochheuteal beach
E: Otres beach

How to get to
Sihanoukville
By air:

There's an airport located 17 km from downtown Sihanoukville. There are direct flights to Sihanoukville from Siem Reap and Phnom Penh, by Cambodia Angkor Air. The cheapest way of getting to downtown is by airport bus ($6) or by taxi ($20-30).
From Bangkok by bus:

This is one way of getting to Sihanoukville from Bangkok -
A) Take the bus from Ekamai bus terminal in Bangkok. Your final destination is the town of Trat. It cost us 241 B with Cherdai Tour, and the bus left at 9.30 pm.
B) From Trat, you can take a Songthaew to the border. We paid another 150 B for that ride.
C) The Hat Lek/Koh Kong border opens at 07.00 am.
D) The bus from Koh Kong to Sihanoukville leaves at 08.00 am.
From Koh Kong, it takes 4 hours with the bus company Virak Buntham. We paid 500 B for the bus from Koh Kong to Sihanoukville.
PS: There's no longer a boat service between Koh Kong and Sihanoukville. They shut down the service a couple of years ago due to lack of demand.
By bus from other towns in Cambodia: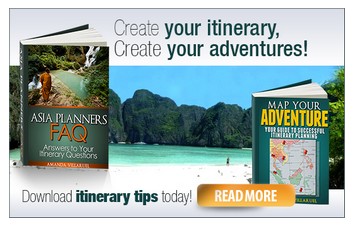 Frequent buses leave for Sihanoukville from most major towns like Phnom Penh, Siem Reap, Koh Kong and Kampot.
You can get a bus from Siem Reap to Sihanoukville, but it usually means that the bus stops by Phnom Penh. We traveled the other way around: Sihanoukville to Siem Reap with Virak Buntham, and it stopped by Phnom Penh. The bus ride took 10 hours. The road from Sihanoukville to Siem Reap was paved and in good condition.
Where's the bus station in Sihanoukville?
North of Ekareach street. From the bus station, you should to take a tuk-tuk or a moto to the beaches. There are at least a couple of kilometers from the bus station to Serendipity beach and the other beach destinations.

Leaving Sihanoukville
Cambodia
---

Sihanoukville to Phnom Penh with Sorya Transport: leave at 7.00, 7.30, 8.00, 9.00, 10.00, 11.00, 12.00, 13.00, 14.00, 15.30 and 17.30. 

---

Sihanoukville to Ho Chi Minh (Saigon) with Sorya Transport: leave at 7.00 and 08.00.

Vietnamese tourist visas are not available at the border.


---

Sihanoukville to Kampot with Sorya Transport: leave at 07.30, 09.30, 12.00 and 14.30.

---

Sihanoukville to Battambang with Sorya: (change bus in Phnom Penh) See schedule above. Bus from Phnom Penh to Battambang leave at 7.00, 8.00, 9.00, 10.00, 12.00 and 13.30.

---

Sihanoukville to Siem Reap with Sorya Transport (change bus in Phnom Penh): see schedule above. Bus from Phnom Penh to Siem Reap leave at 7.30, 9.30, 11.30, 14.30 and 17.15.


---

Sihanoukville to Siem Reap with Virak Buntham: Great, comfortable air-con buses. Leave at 8.00 pm.
To save time on traveling, you should consider taking the night bus to Siem Reap. If you want to get picked up and you're staying near Serendipity, the Virak Buntham buses will wait outside Seahorse guesthouse near the main road.
Otherwise, buses to Kampot and Koh Kong leave the bus station.
Important places to know about in Sihanoukville Cambodia:
Ambulance: 119
Police : 117
Fire: 118
CT Clinic is known for providing the best medical service in Sihanoukville. Address: 47 Borei Kamakor Street 
Pharmacies is a 10-15 minutes walk from the Golden Lion roundabout. Otherwise go to downtown, to Ekareach Street. You can also get basics at the local supermarkets near Serendipity
Banks and ATMs available around Ekareach Street, and a few ATMs near the roundabout. ATMs dispense in $ dollars. Try ANZ Royal.

You can get internet access at your bungalow/guesthouse. Otherwise, there are small internet shops along Serendipity beach and in city center (4000 riel per hour).
Vietnamese consulate: 310 Ekareach street. Bring a passport photo.

Post office: Makara street in city center.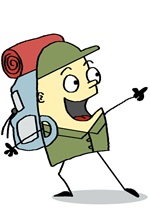 PSSSST...
Don't know how to set up an itinerary for Cambodia and Southeast Asia?
Get all the help you can get with this step-by-step guide on how to create an itinerary. Learn how to create a good and realistic itinerary for Southeast Asia.
---
| | |
| --- | --- |
| Like this page? | Search this site |
Return to top of Sihanoukville Cambodia

---
---